Exhibition Stand Builder in Vienna
Exhibition stand builders in Vienna for your international trade show or conference. We represent an exhibition management agency, build memorable exhibition stands, and help you attract the maximum number of guests to your event. Our team provides services:
Display stand construction in Vienna.
Exhibition project management.
Exhibition stand design.
Fabrication of intricate structures.
Typography for crafting lifelike exhibition graphics.
Installation crew for setting up exhibition stands.
Catering services.
Development of visitor engagement concepts for exhibition stands in Vienna.
Production of event souvenirs.
About thirty different exhibitions are held in Vienna every year. The most popular exhibition center in Vienna, the Messezentrum Wien, attracts numerous visitors from all over the world every year. Stand construction in Vienna guarantees that your business aims will be achieved.
GET ALL SERVICES FROM ONE EXHIBITION AGENCY
CONCEPT
DESIGN
CONSTRUCTION
CONTROL
LOGISTICS
EXHIBITION SERVICES AND STAND DESIGN IN VIENNA
The stand design is always created after the client's team has decided on the objectives for the upcoming exhibition and selected the location where the stand will be built. You can create a creative exhibition stand design in Vienna with this information.
You can hire an exhibition stand designer or order this service from us. With five designers on our staff, we are guaranteed to offer you a concept that emphasizes the individuality of your brand.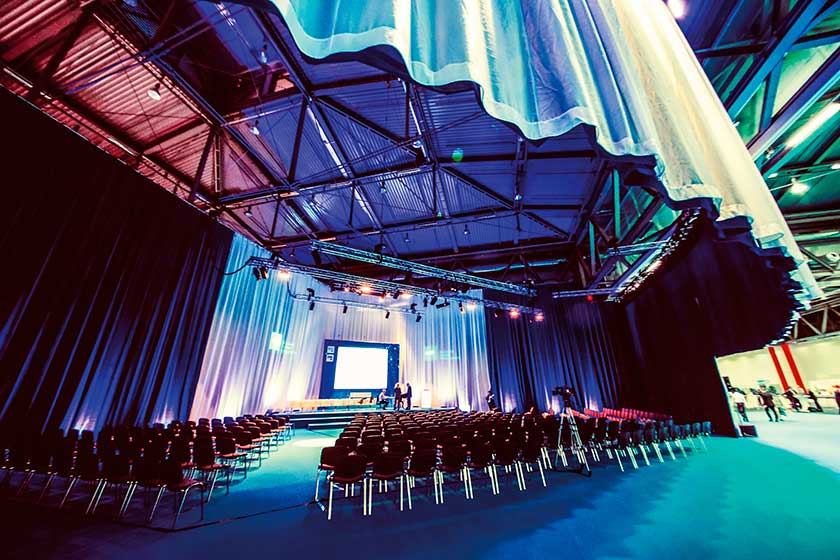 The design of the stand will depend on the space available, the location of the frame, and your objectives for the exhibition. Before the design process begins, our project manager will briefly meet with you and the designer. After a few days, we will present you with the finished stand design project.
If you plan to participate in a trade fair in Vienna, the work on the stand design can take up to a month. During the project realization, the client adds ideas to improve the stand's appearance or functionality even after the approved stand design. This results in frequent revisions to the design and a longer time before the final sketch is sent to production.
EXHIBITION SERVICES AND STAND DESIGN IN VIENNA
Why ESBAU is the ideal choice for your stand-building needs in Vienna:
EU Registration: We are an EU-registered company, ensuring reliability and compliance.
Extensive Experience: With over 15 years of combined experience in the market, we bring valuable expertise to your exhibition projects.
Global Consultancy: We offer exhibition consultancy services to companies worldwide, helping you make a lasting impact at international events.
Multilingual Team: Our team is proficient in six languages, facilitating effective communication and understanding of your specific requirements.
Advance Consultations: We proactively organize exhibition consultations to ensure a clear understanding of your objectives and vision.
Modern, Safe Materials: We use contemporary and safe materials to construct our stands, prioritizing quality and safety.
Comprehensive Solutions: As a one-stop shop, we handle every aspect of your exhibition needs, from design to implementation.
Winning Designs: Our creative team excels at crafting stand designs that captivate and engage your audience.
Responsible Approach: We are committed to responsible stand-building practices, including safe disposal of exhibition structures post-event.
Cleaning Services: We provide post-event cleaning services to ensure your stand remains in top condition.
Additional Services: We offer various supplementary services to enhance your presentation in Vienna.
Storage Solutions: Our warehouses offer secure storage for your exhibition structures, saving you the hassle and expense of building new stands for future events.
Worldwide Delivery and Setup: We can deliver and set up your stand at various international trade shows across Europe, ensuring you're well-prepared for your next important event, regardless of location.
Choose ESBAU as your stand builder in Vienna and experience a dedicated partner who goes above and beyond to bring your ideas to life and help you succeed in the exhibition business.
PLAN YOUR EXHIBITION WITH ESBAU – AN EXHIBITION STANDS BUILDER IN VIENNA
Message us in any way that suits you. We are available to you 24/7. You can text us on Facebook or use any suitable messenger. Just begin a chat on Facebook Messenger with us. You can also give us a call. However, please be aware that we could decline your call if you are from a country with a different time zone. We will call you back as soon as possible. We always respond quickly to our customers and business partners.
Please let us know at which Vienna trade fair you would like to book an exhibition stand construction. And also, if you need an exhibition project management service.
Guide us to the type and size of your trade show booth.
This is enough for us to offer you creative stand design and guide you on the cost of an exhibition stand builder in Vienna.
WE ARE READY TO START YOUR PROJECT
DO YOU WANT TO KNOW THE COST OF YOUR PROJECT?
SEND US THE REQUEST AND WE'LL DISCUSS IT!