[ EXHIBITION STAND DESIGN ]
PORTFOLIO
EXHIBITION STAND DESIGN AND BUILDING
Our passion starts with exhibition stand design. Every and each piece of our work is unique. Your exhibition booth communicates with your clients the clearest way possible.
Our works reflect your business values. Your trade show stand design always stands out. Trust and will to cooperate – this is what your potential clients feel when approaching your exhibition booth made by Maverick.
EXHIBITION BUILDER AT DMEXCO IN COLOGNE, GERMANY
MGID | EXHIBITION IN COLOGNE | 2022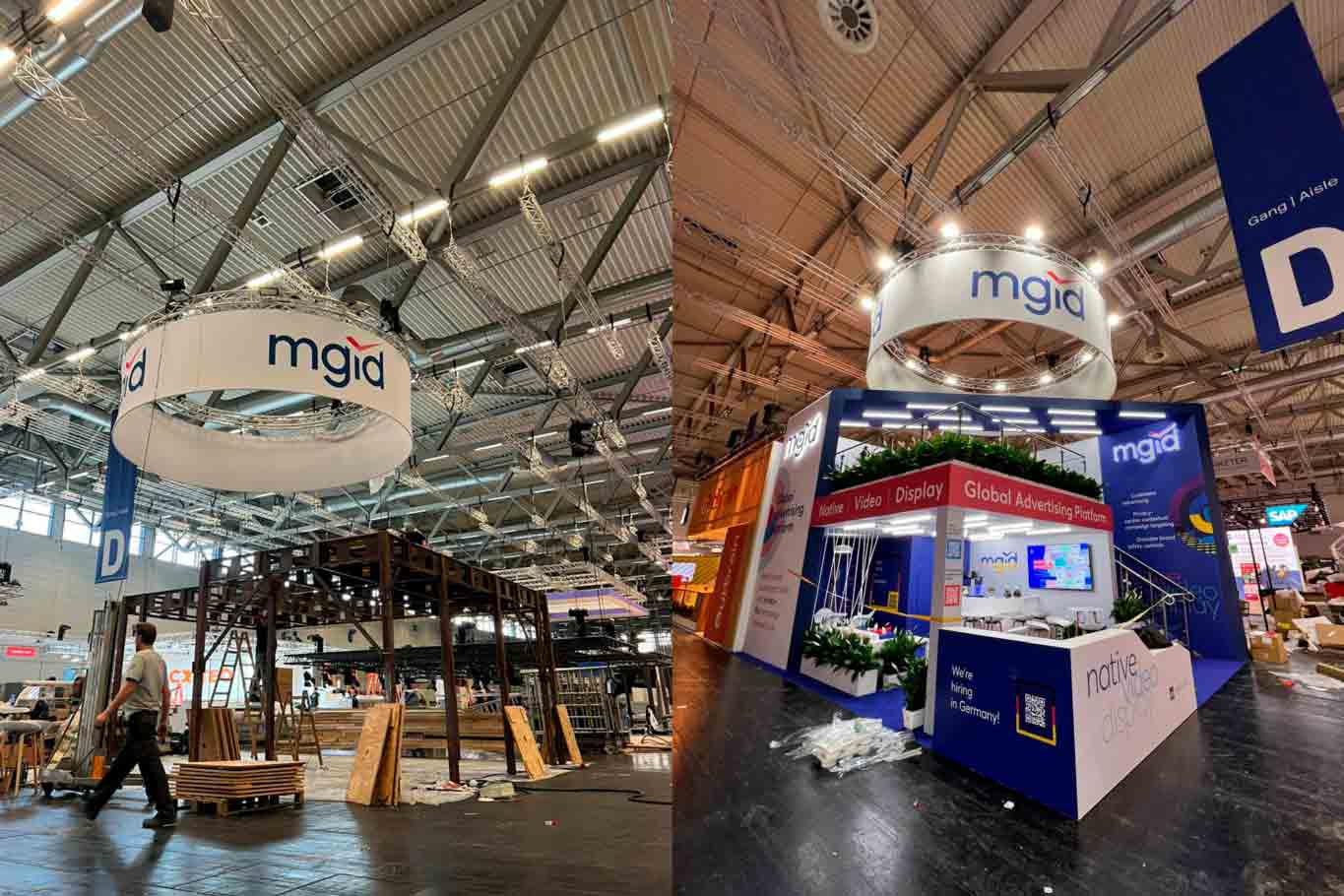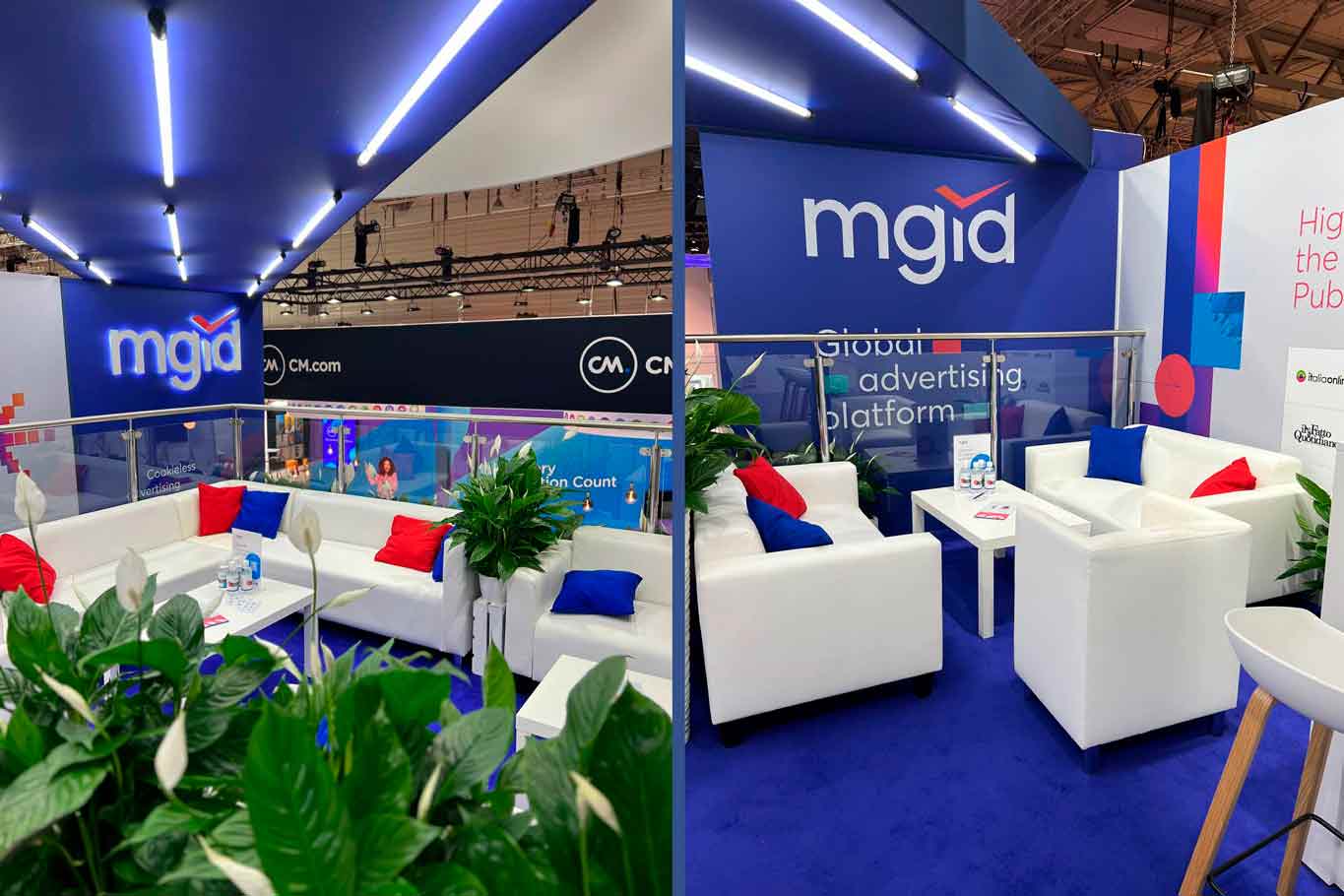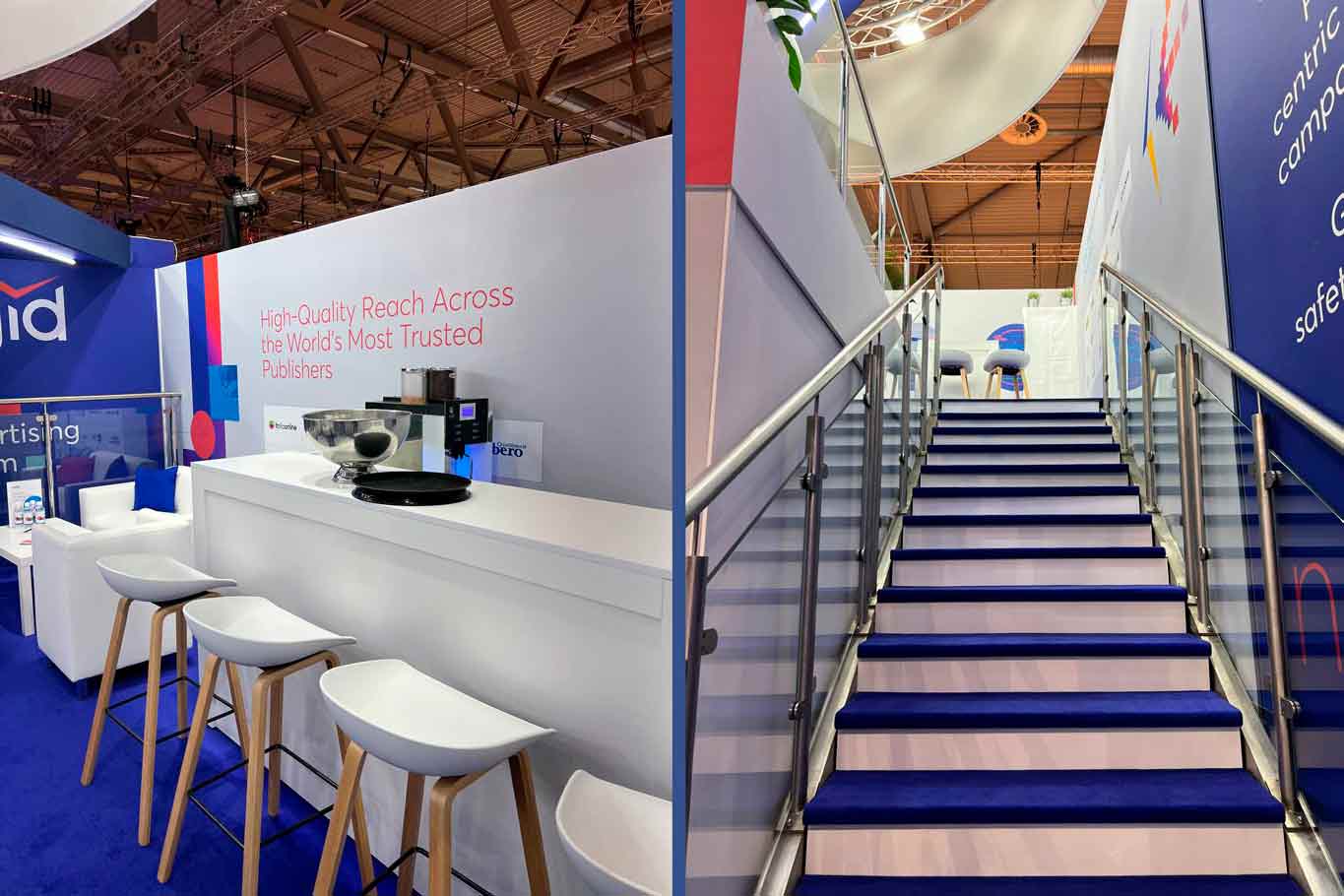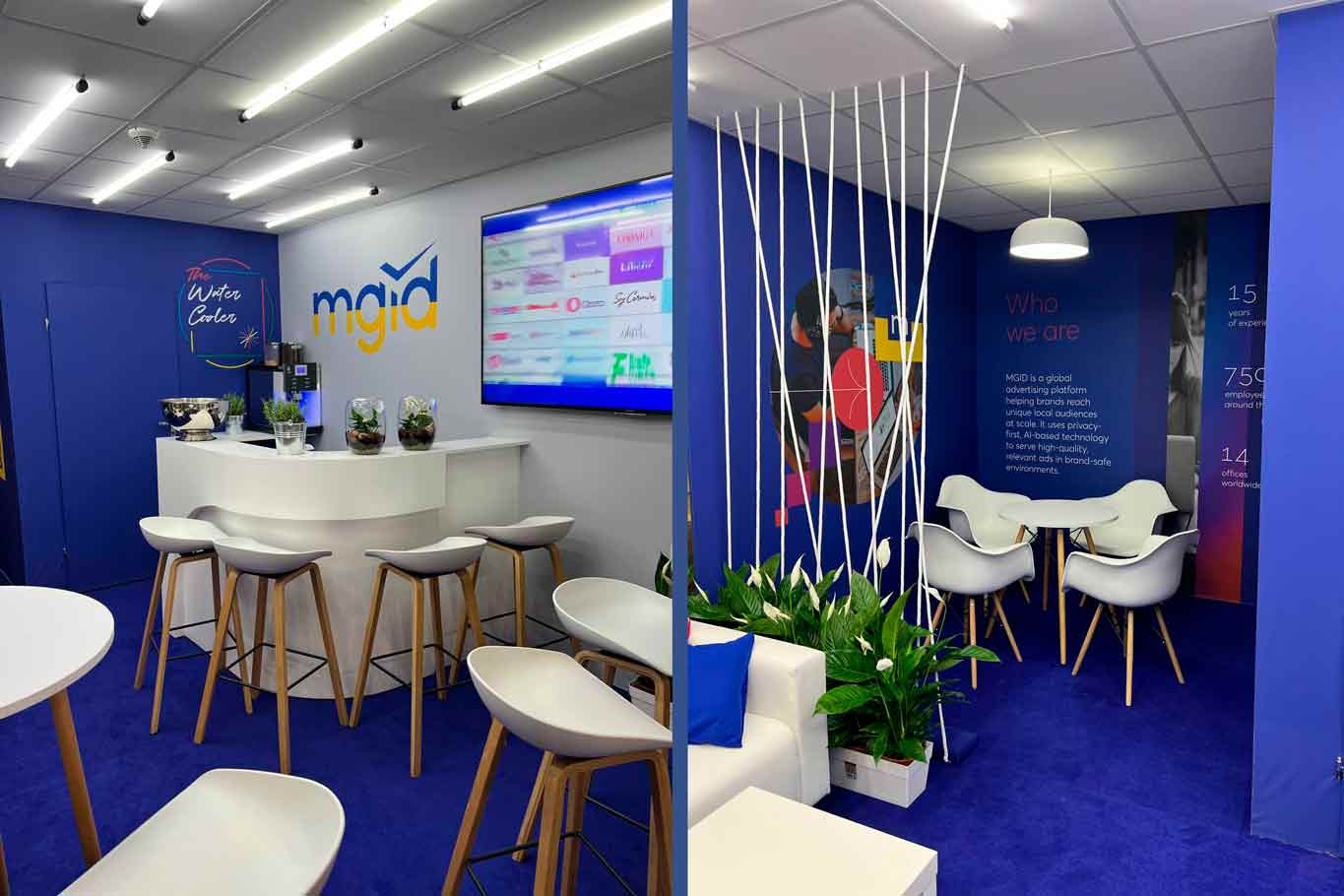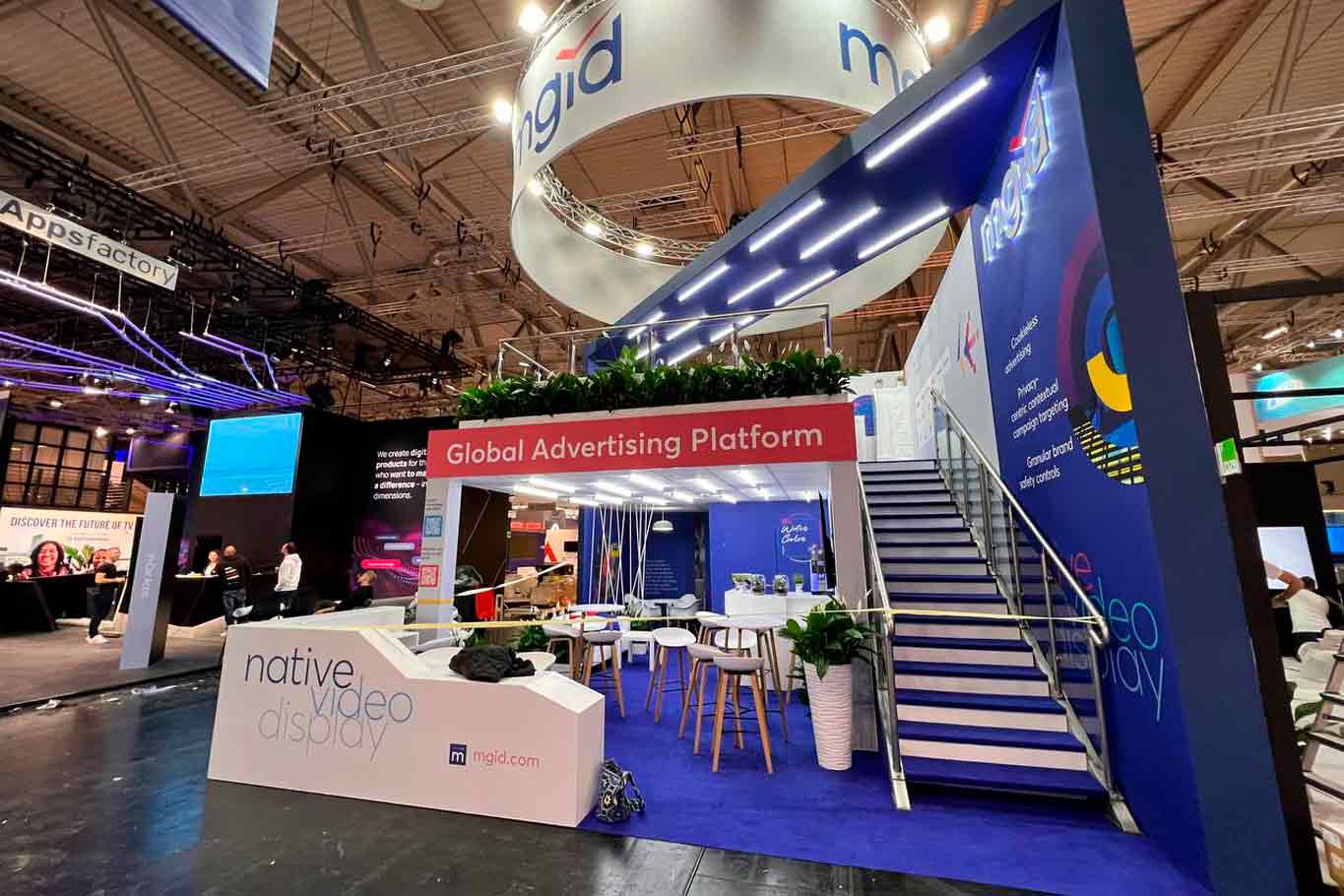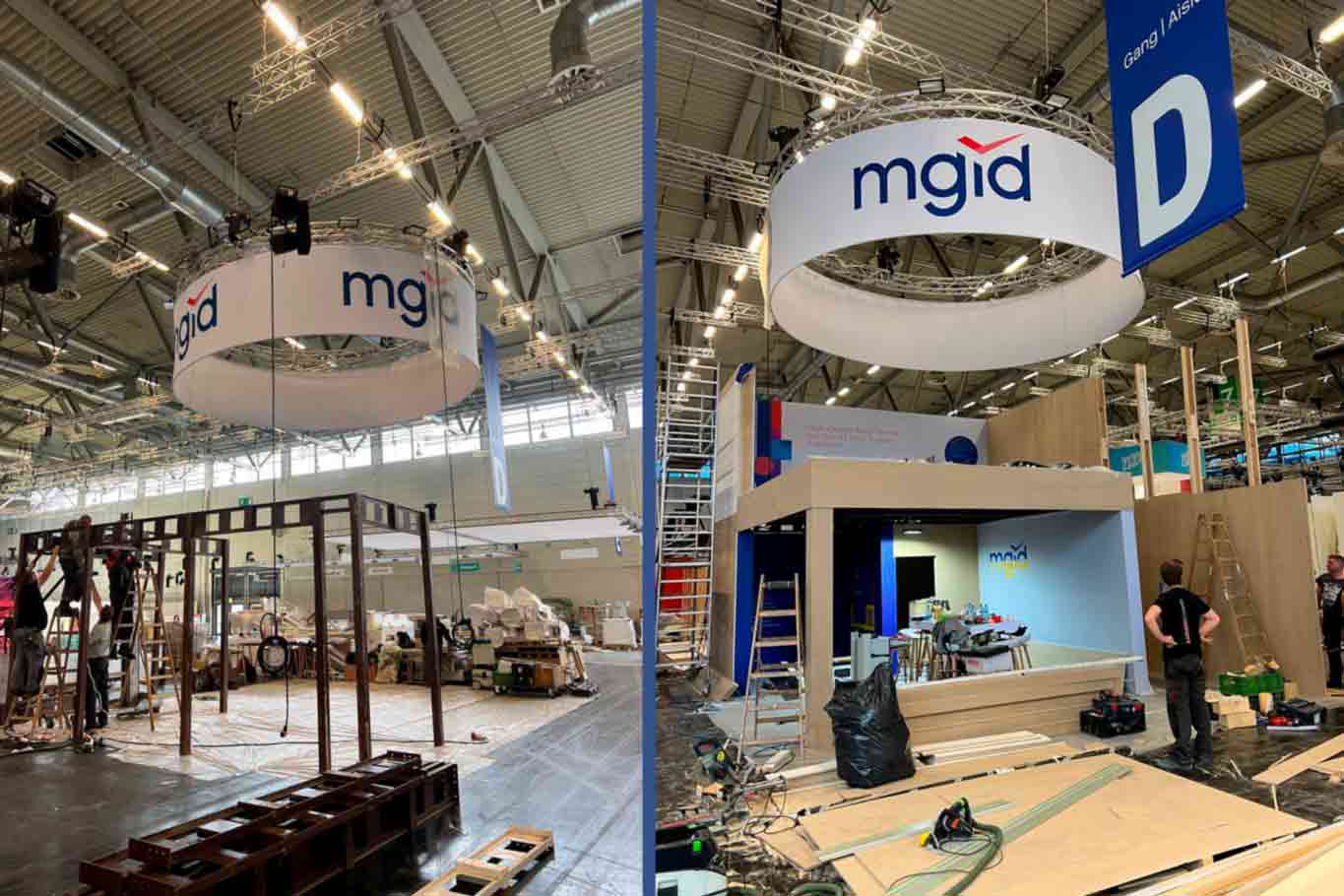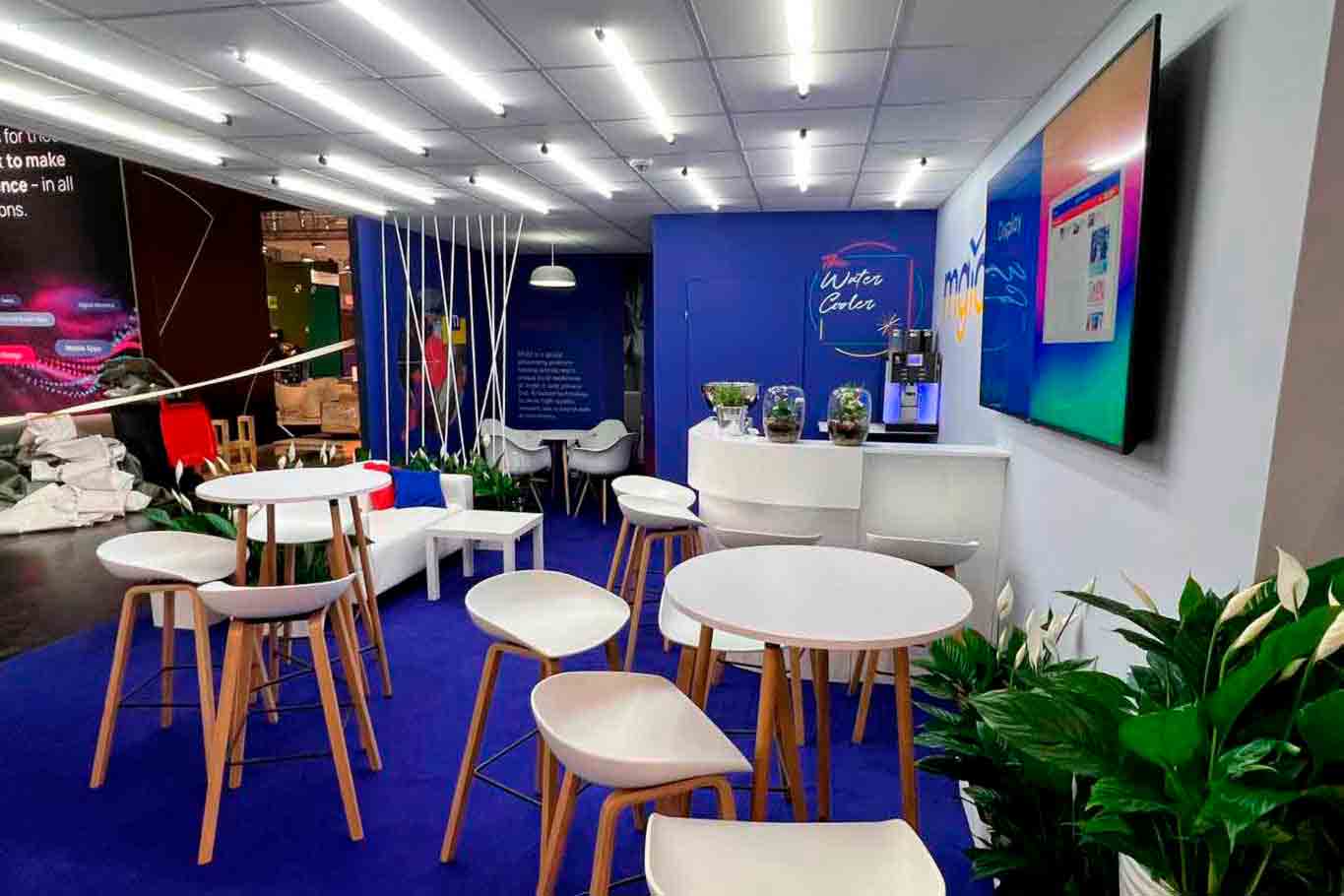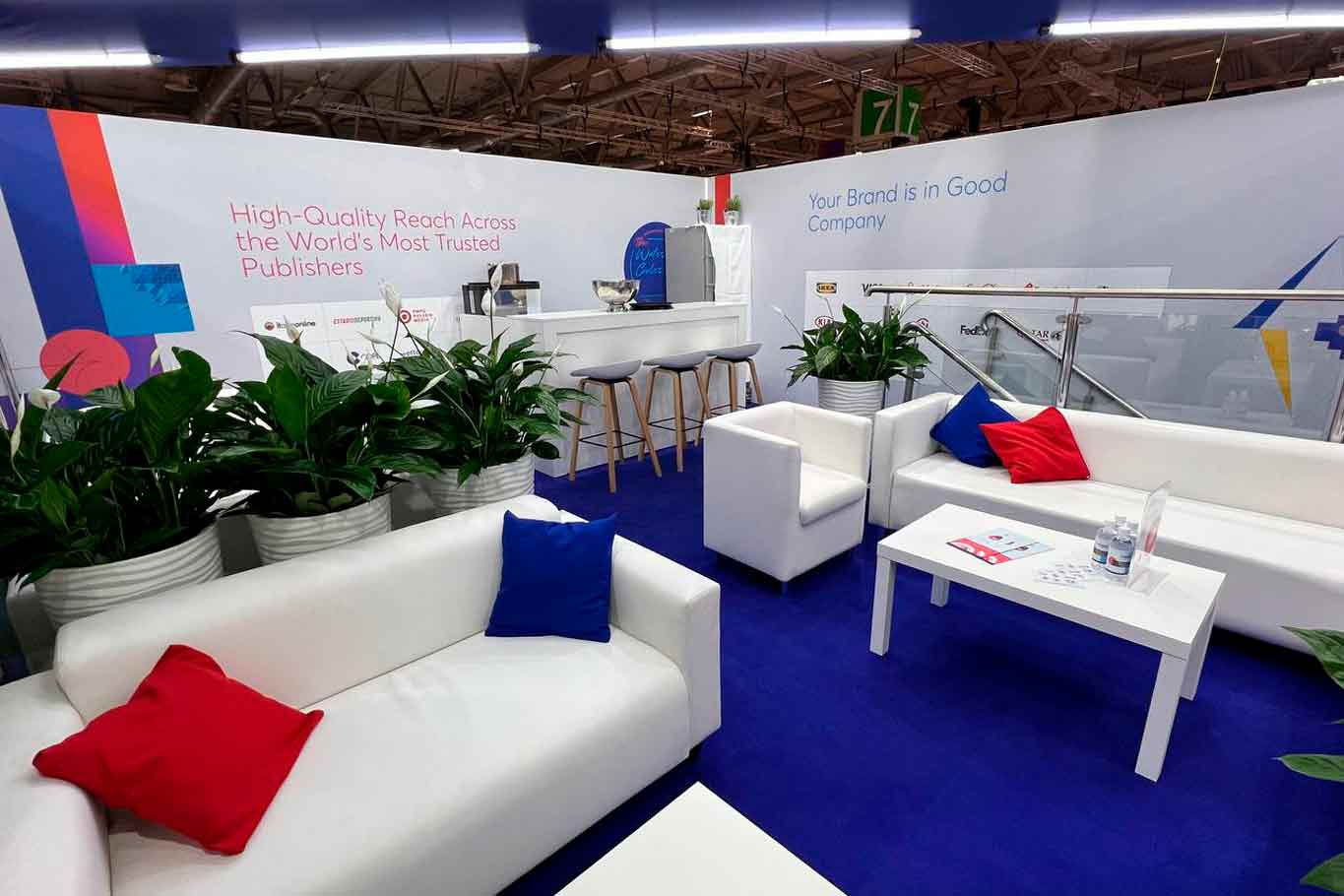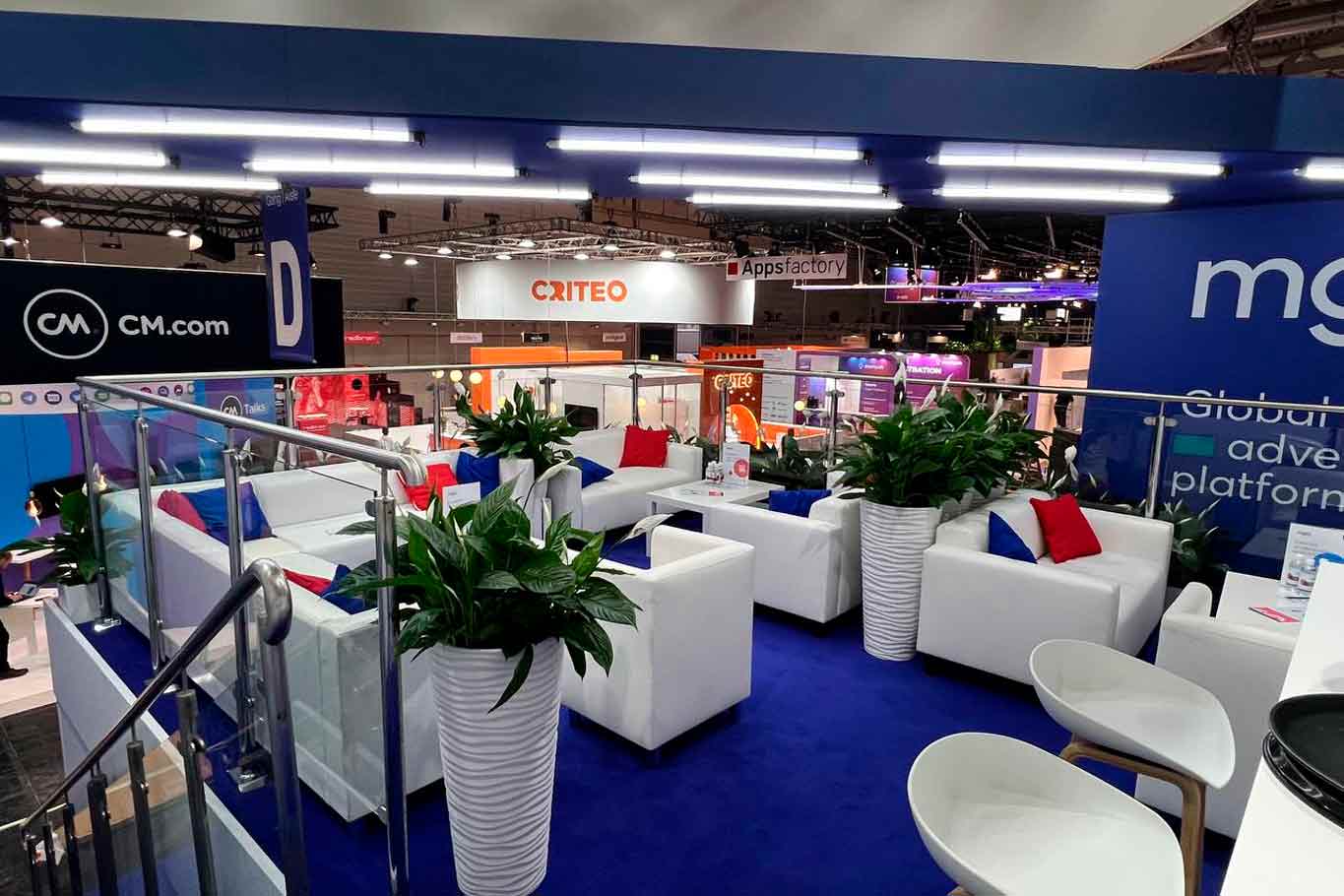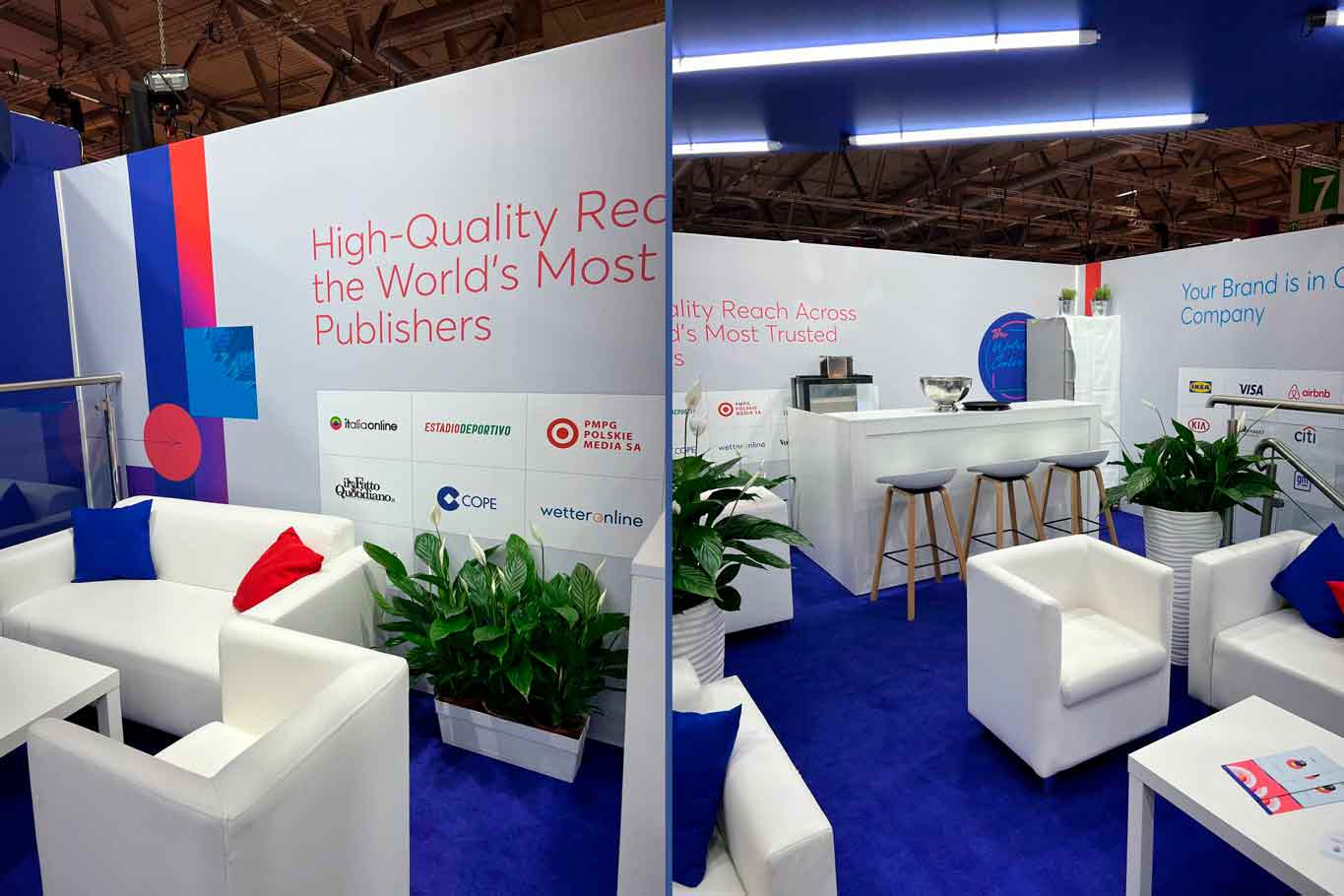 The Maverick team built a two-story booth for MGID Inc. at DMEXCO in Cologne, Germany. What can I say? It was awesome! Working with an excellent team on an exciting project is always a double win. The client wanted to stand out from the competition. It's hard to stand out at this exhibition, especially when your neighbors are Google and YouTube. Our booth space was small. But the client made the right strategic decision and ordered a two-story booth. But look how only 55.25 sqm looked cool at this show.
Working with the customer's team was a pleasure! We hope we can continue to be helpful to this great company in its marketing efforts!
At the booth, there is a storage room with a washbasin and warm water, a boiler for heating water, shelves for products and personal belongings of participants, 2 bars, one reception, and much space for negotiations.
And over 100 units of fresh flowers adorned this trade show booth and completed the image the customer was striving for.
EXHIBITION STAND BUILDERS IN FREIBURG (GERMANY)
VITAFLO | EXHIBITION IN FREIBURG | 2022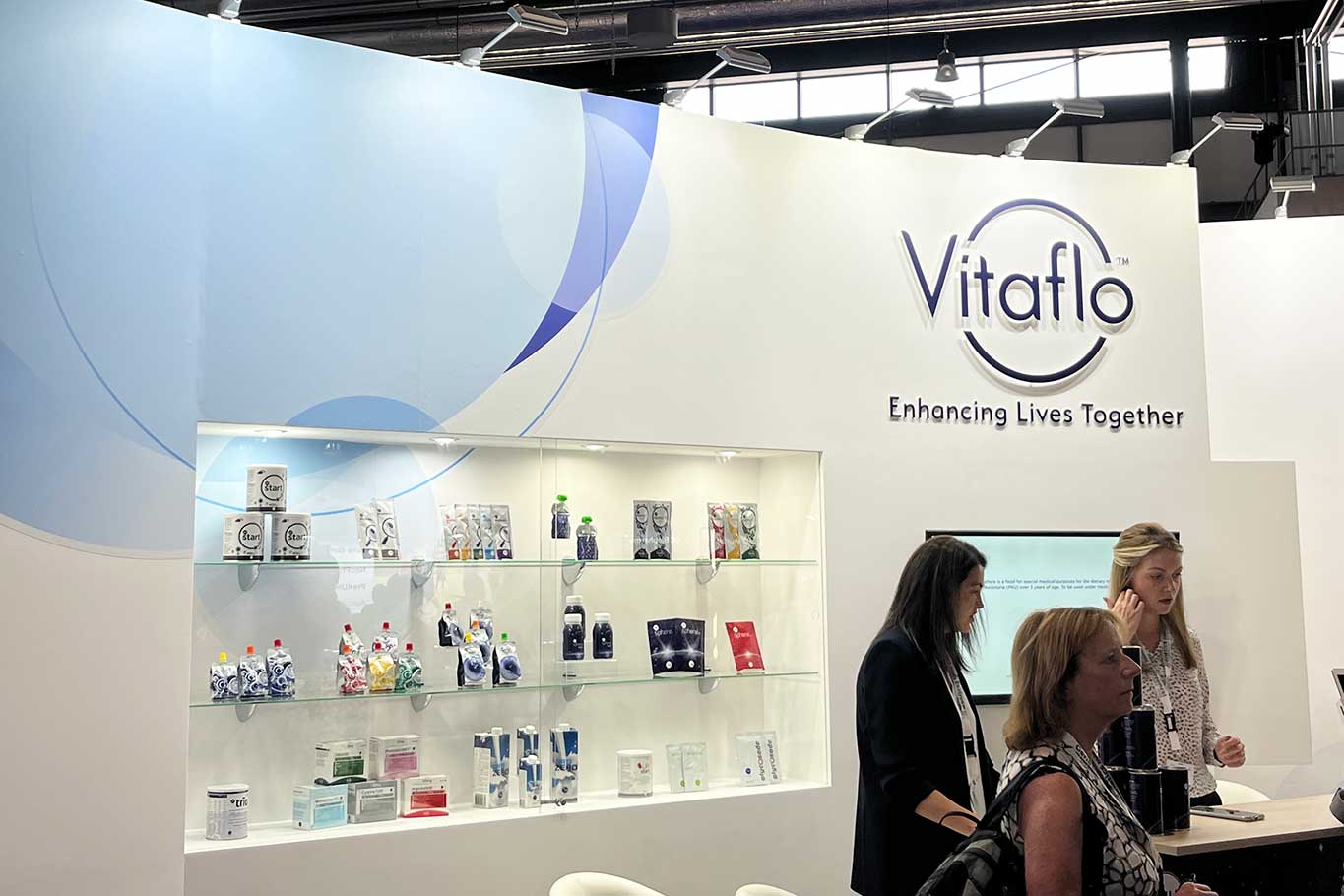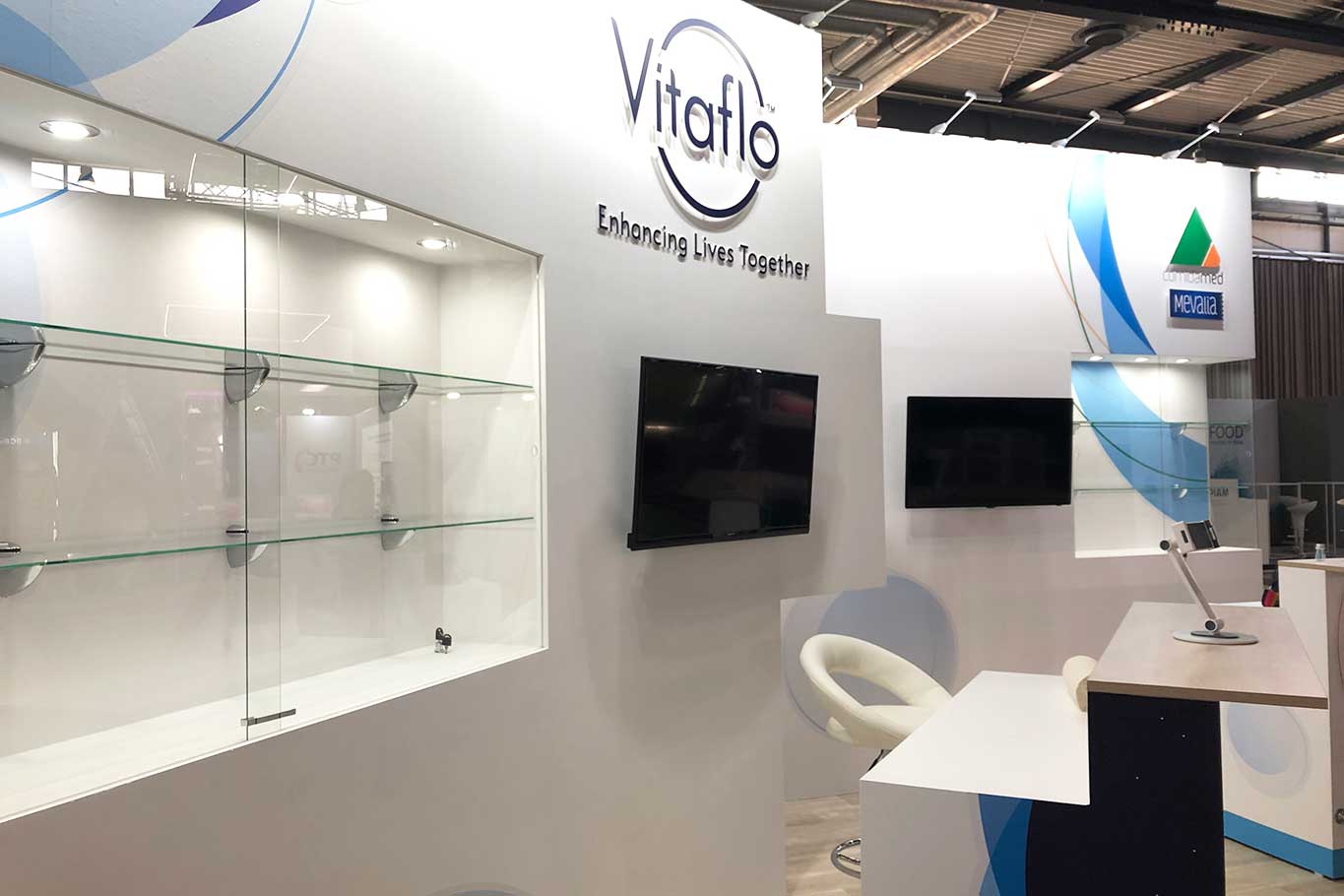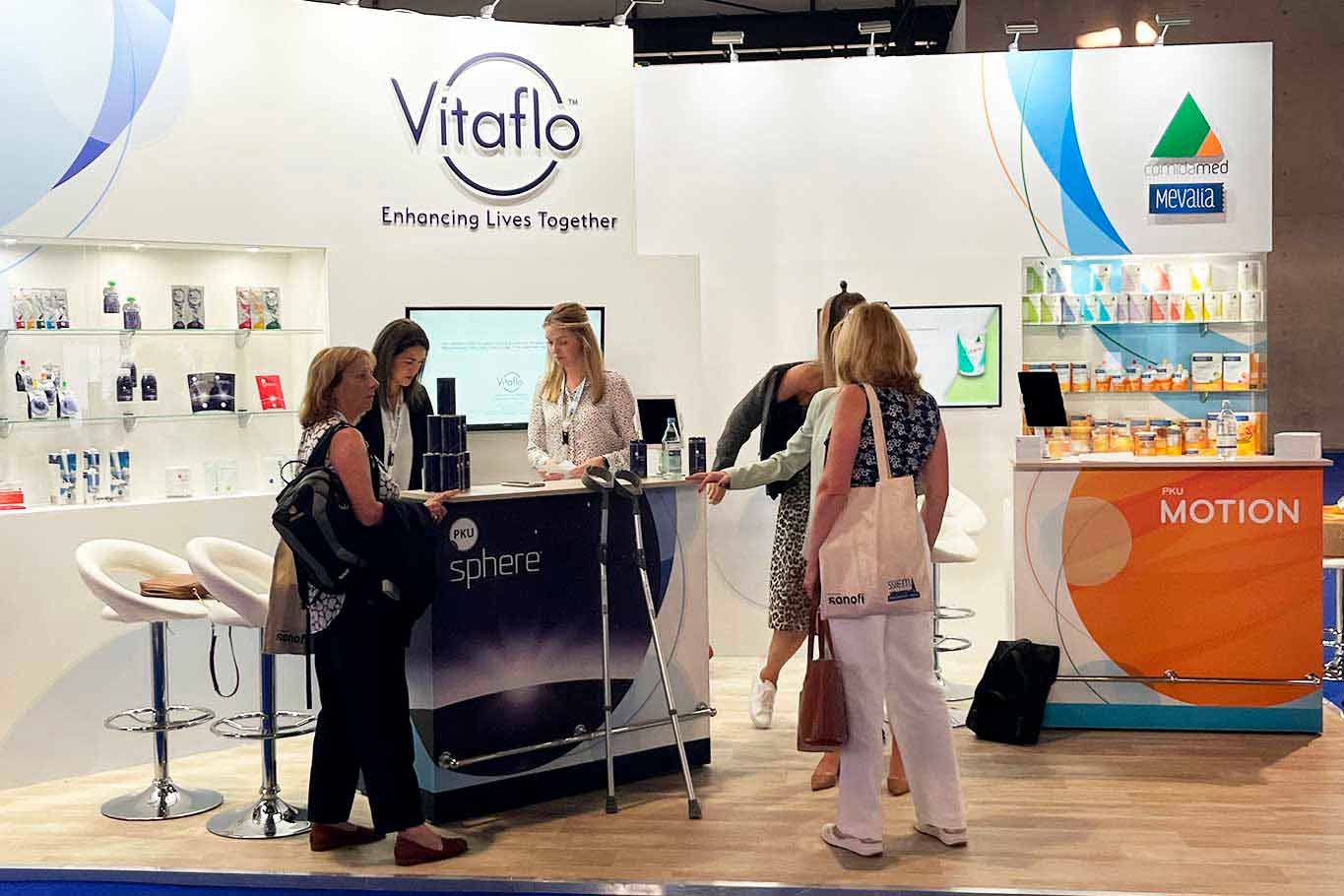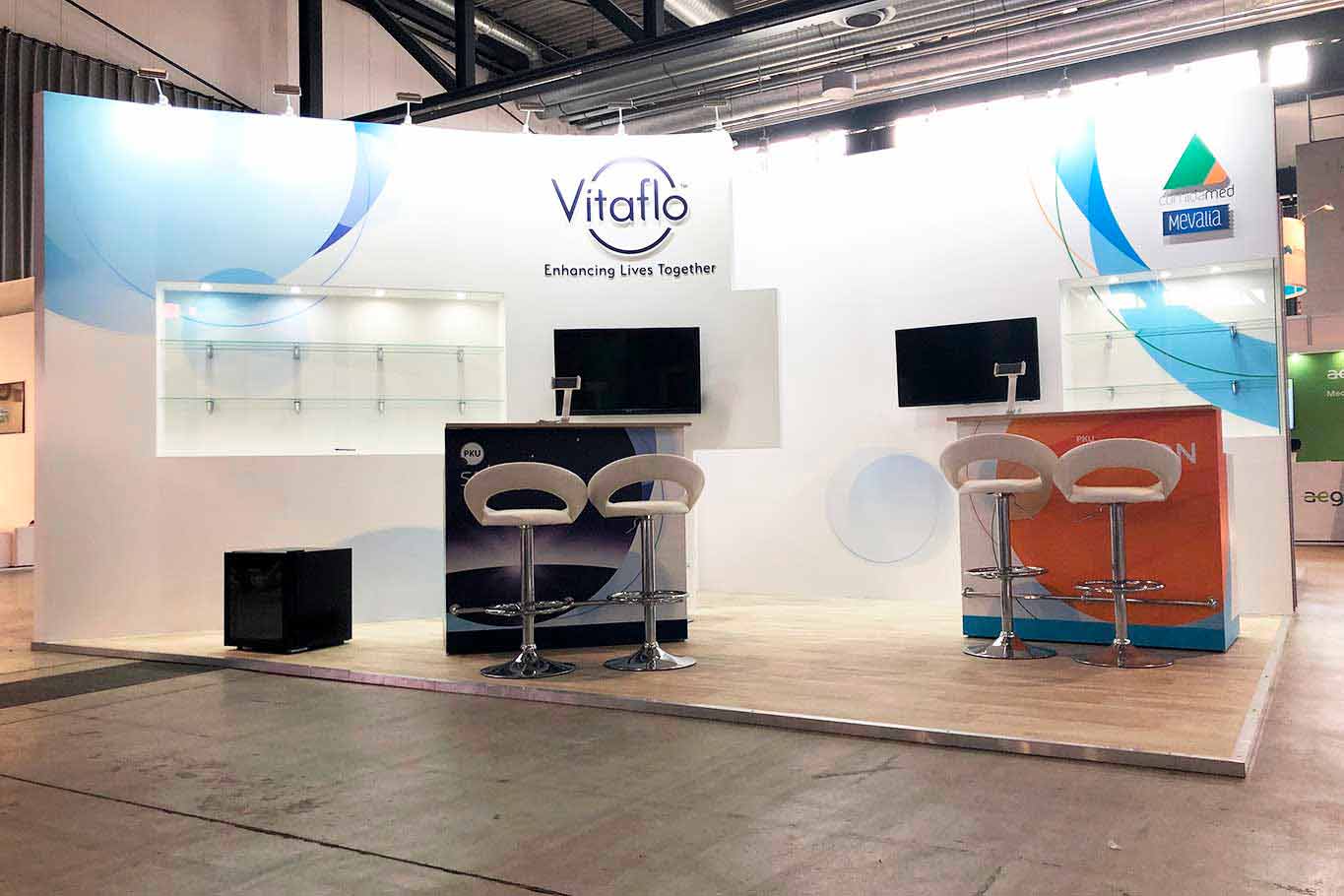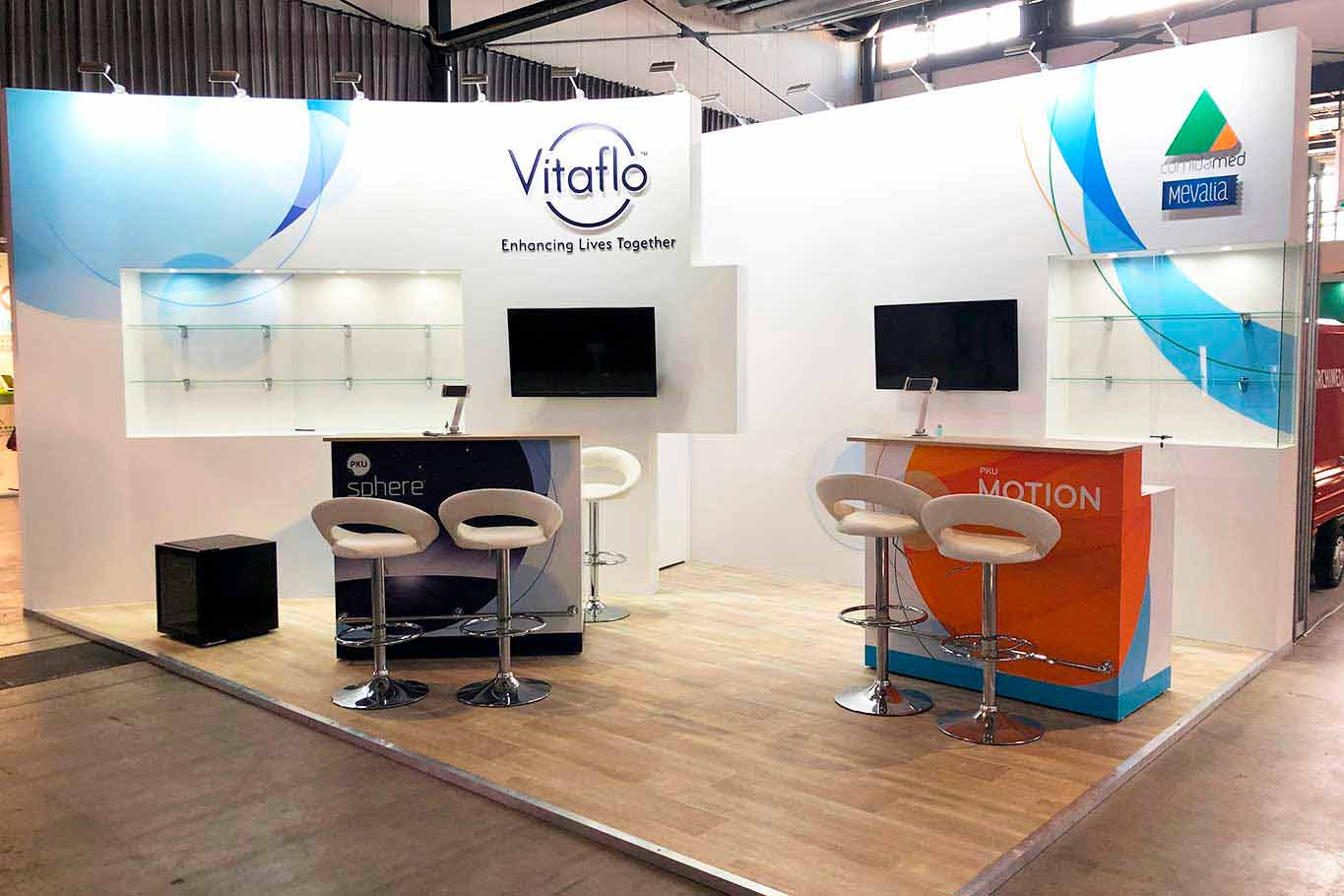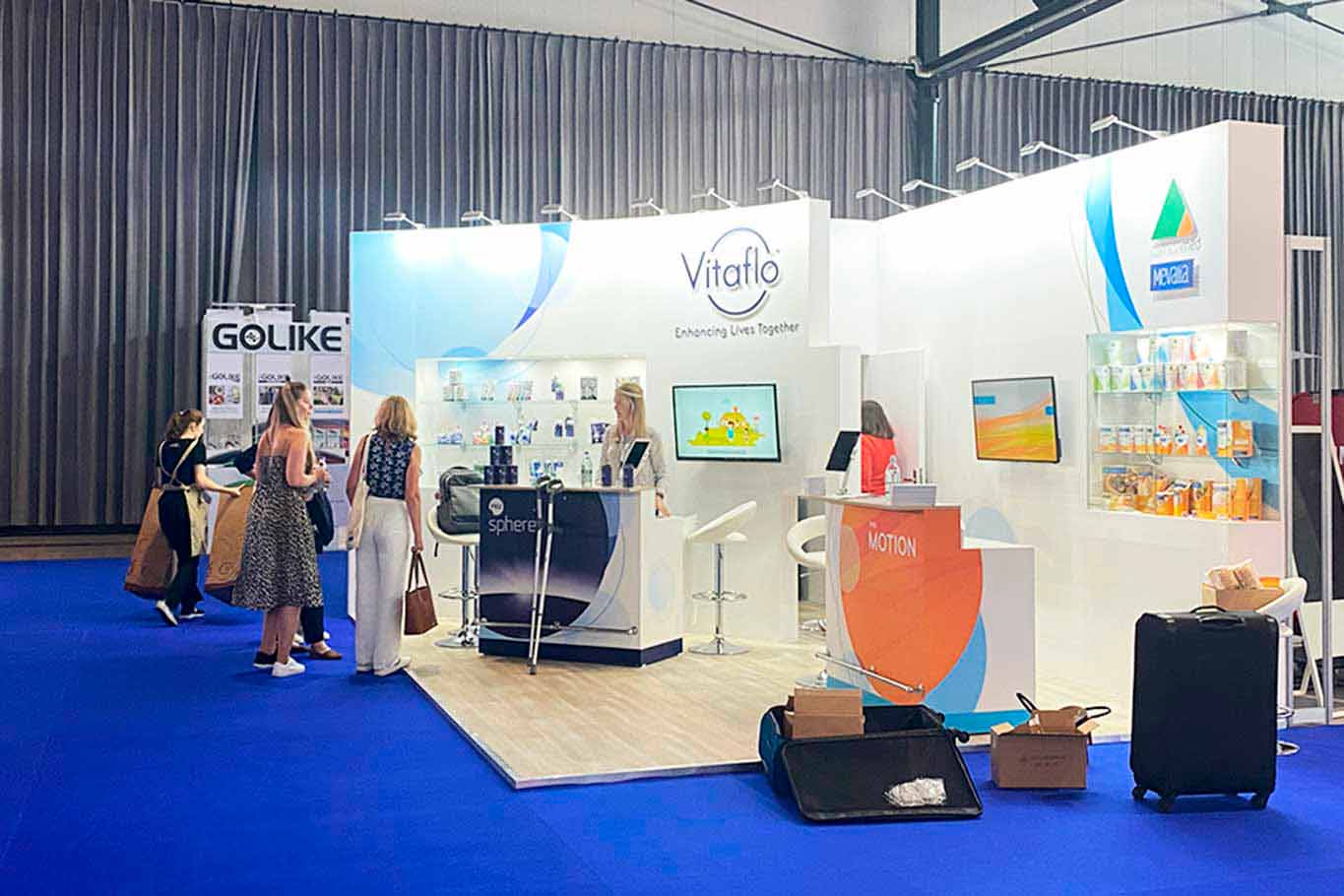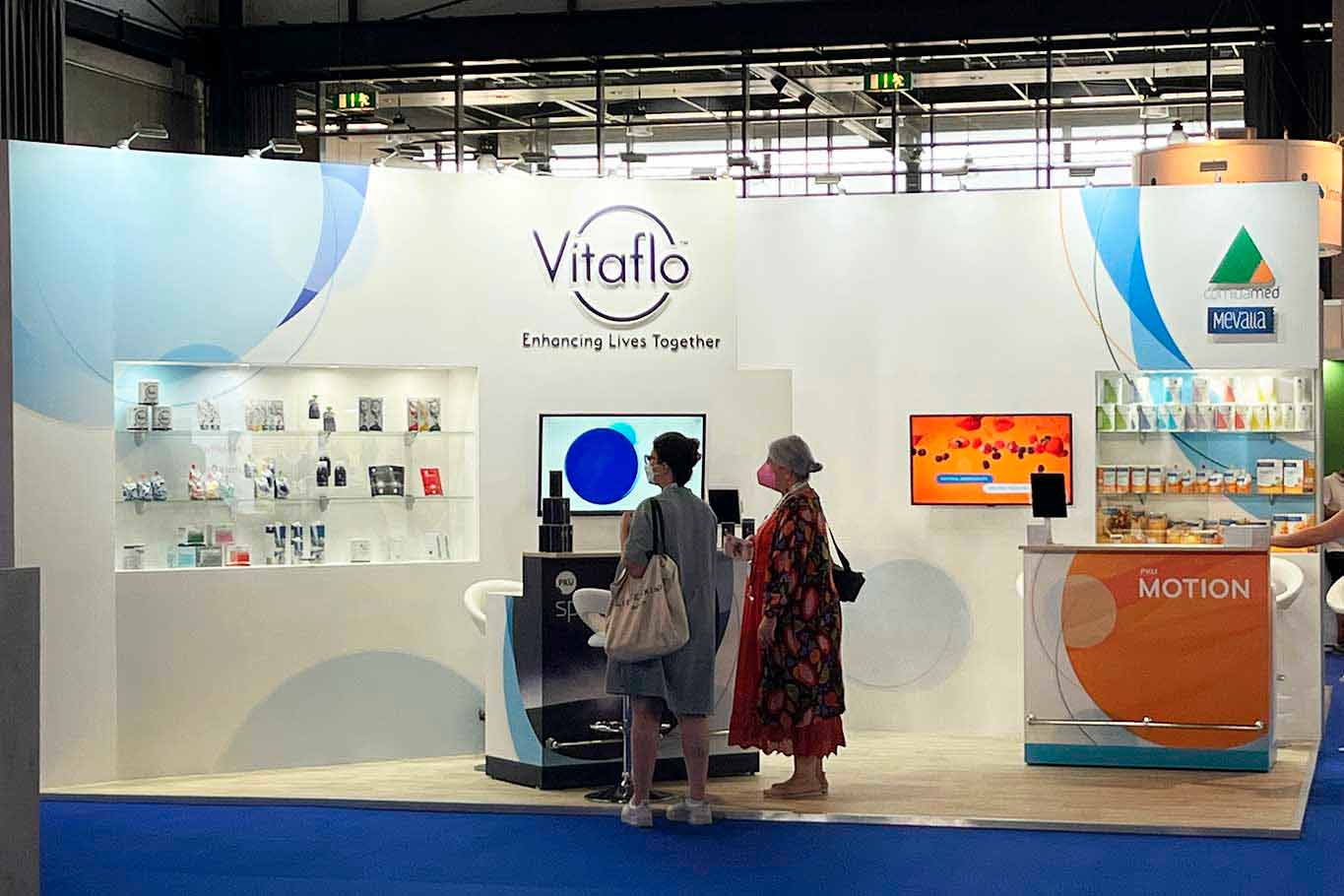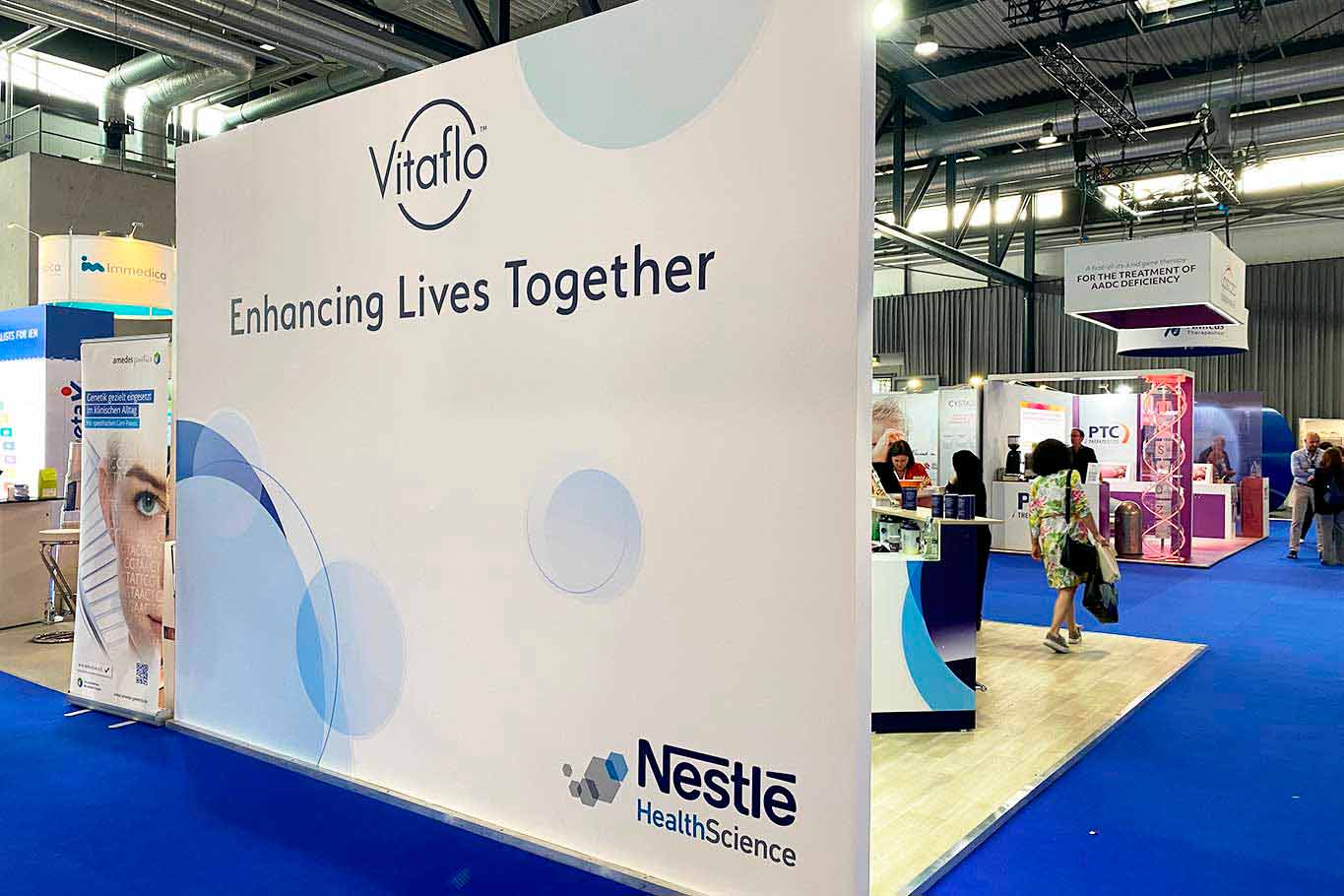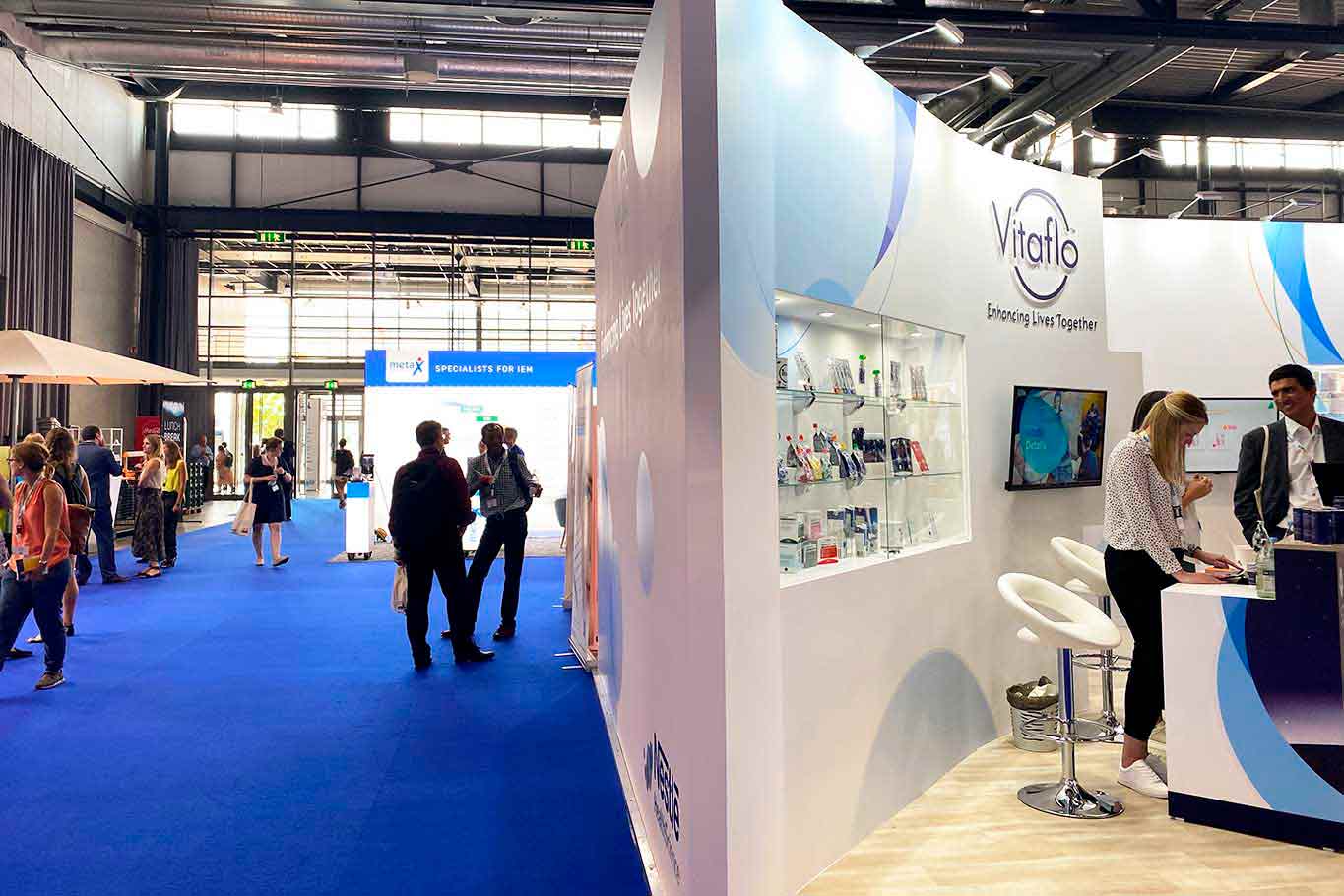 The SSIEM conference takes place every year in different locations around the world. In 2022 it was held in the City of Freiburg im Breisgau. More than 2,500 guests attended this specialized event. Our company designed and built the exhibition stand for the event's Platinum Partner, the Vitaflo brand from Nestle. To show the uniqueness of the products and to stand out among the small number of participants was the task facing our team on this project.
We coped with the task, and the Vitaflo team was satisfied. The stand had showcases for product demonstration, two reception desks, and a storage room equipped for staff needs. Despite the small area of the stand, we fit everything the customer's team wanted to show their guests. We have only fond memories of this project. We will participate in the following tender, which the fantastic Vitaflo team will hold in 2023!
SANDHAR | EXHIBITION IN NURNBERG | 2022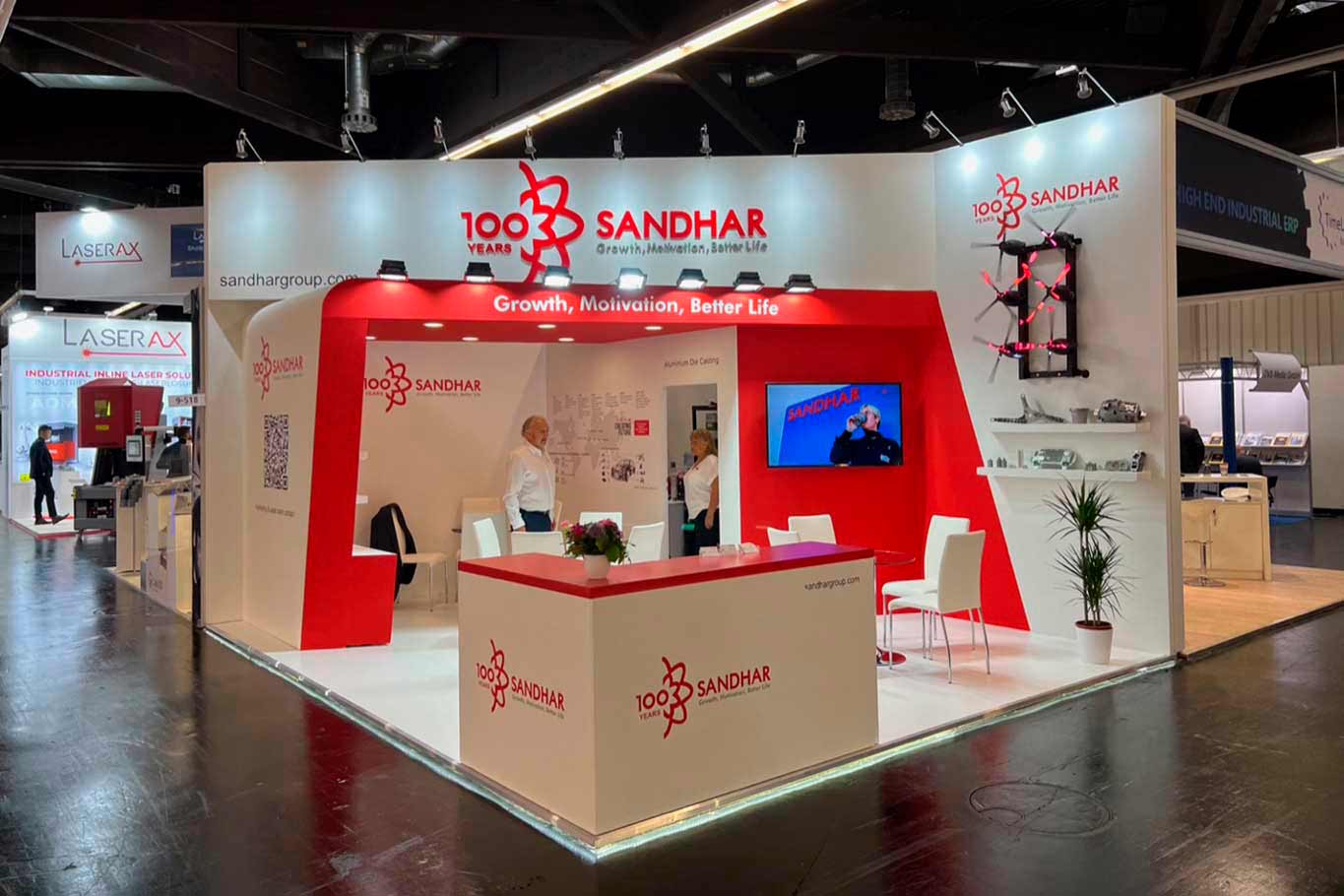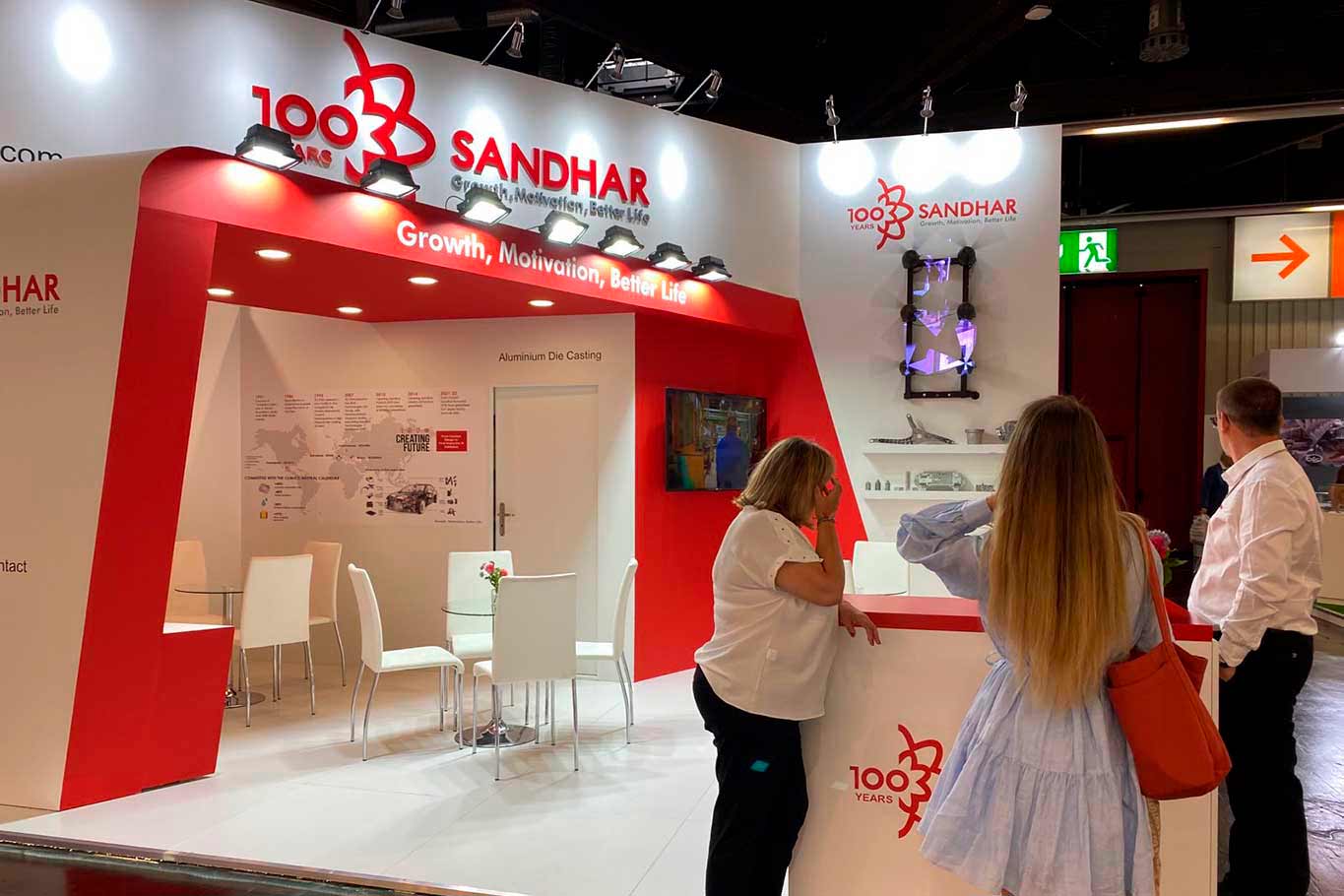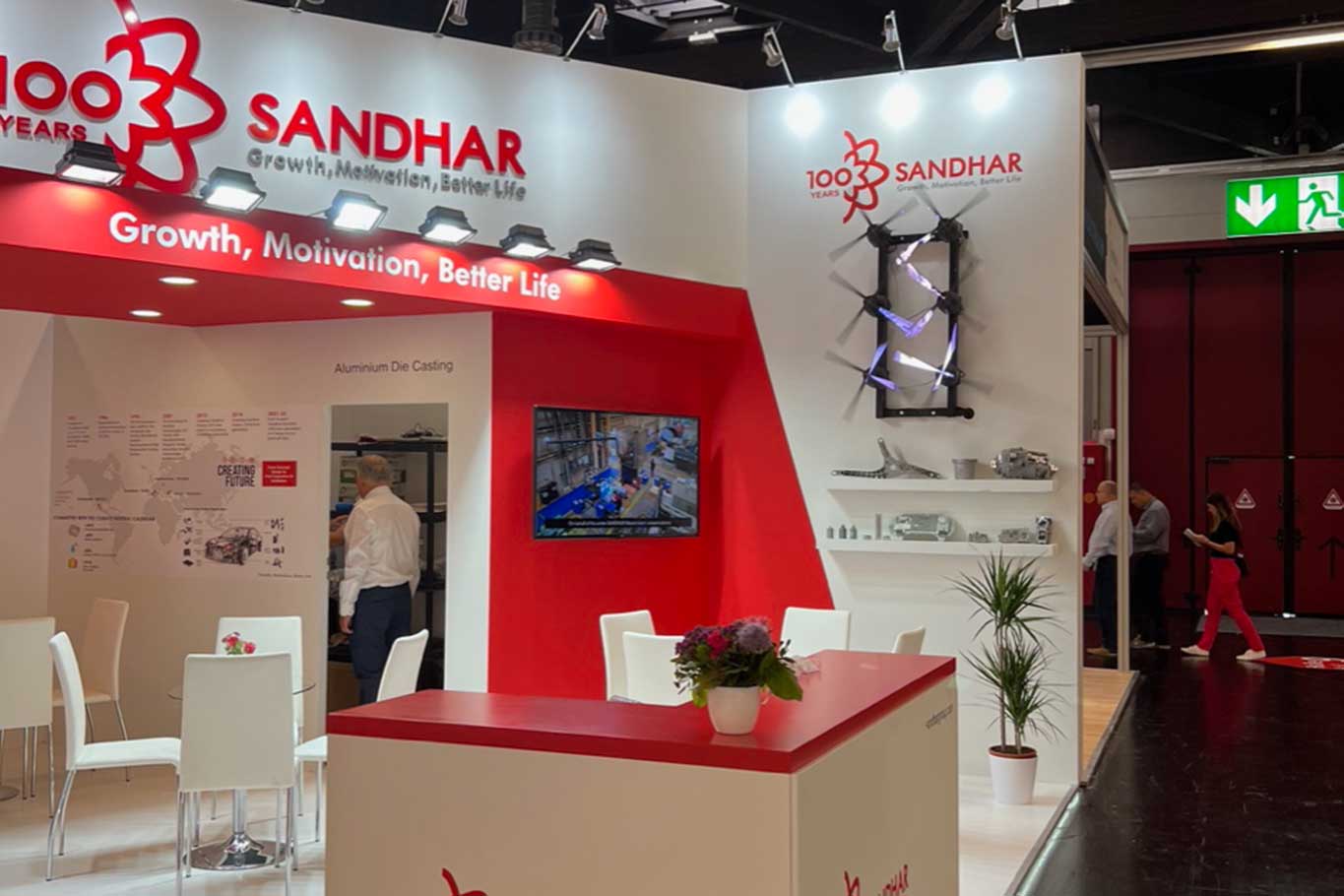 At Euroguss 2022 in Nuremberg, our company built an exhibition booth for a client from Spain. Our task was to attract visitors to the booth and organize a comfortable stay for the company's staff during the event.
Since our client had an excellent brand book and bright corporate colors, we were able to ensure that the booth was noticeable and bright. The client's logo standing out from the rest of the company attracted attention, and the hologram installation grabbed the visitors' attention and facilitated the start of the dialogue.
The booth was 30 sqm in size. This space housed the reception area, three meeting areas, and a storage room.
The client achieved his goal and was happy with the result of the joint work. It is cool to be a team with the client in the process of creating an exhibition booth, it encourages us and inspires interesting design solutions.
RUSAL | EXHIBITION IN ISTANBUL | 2022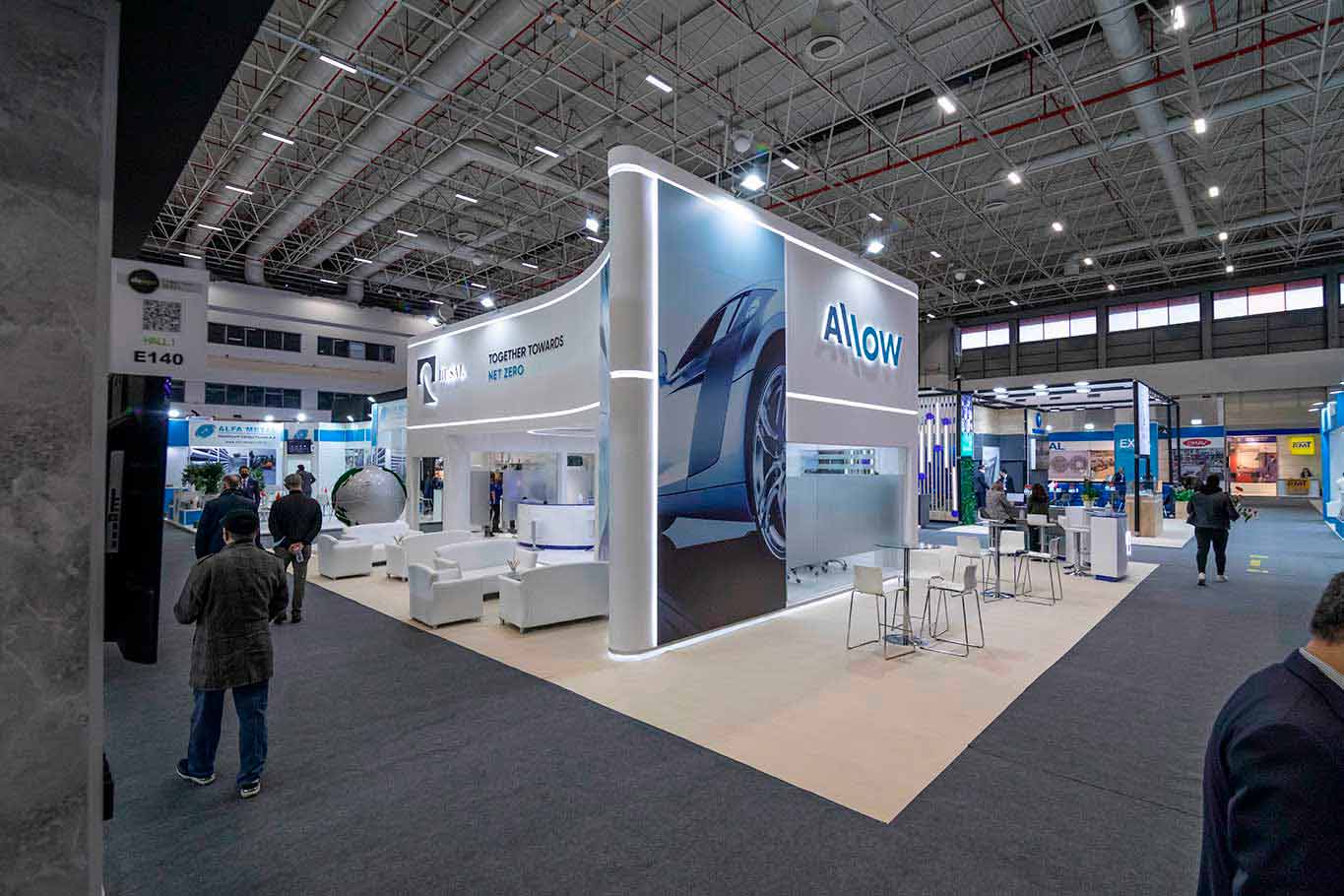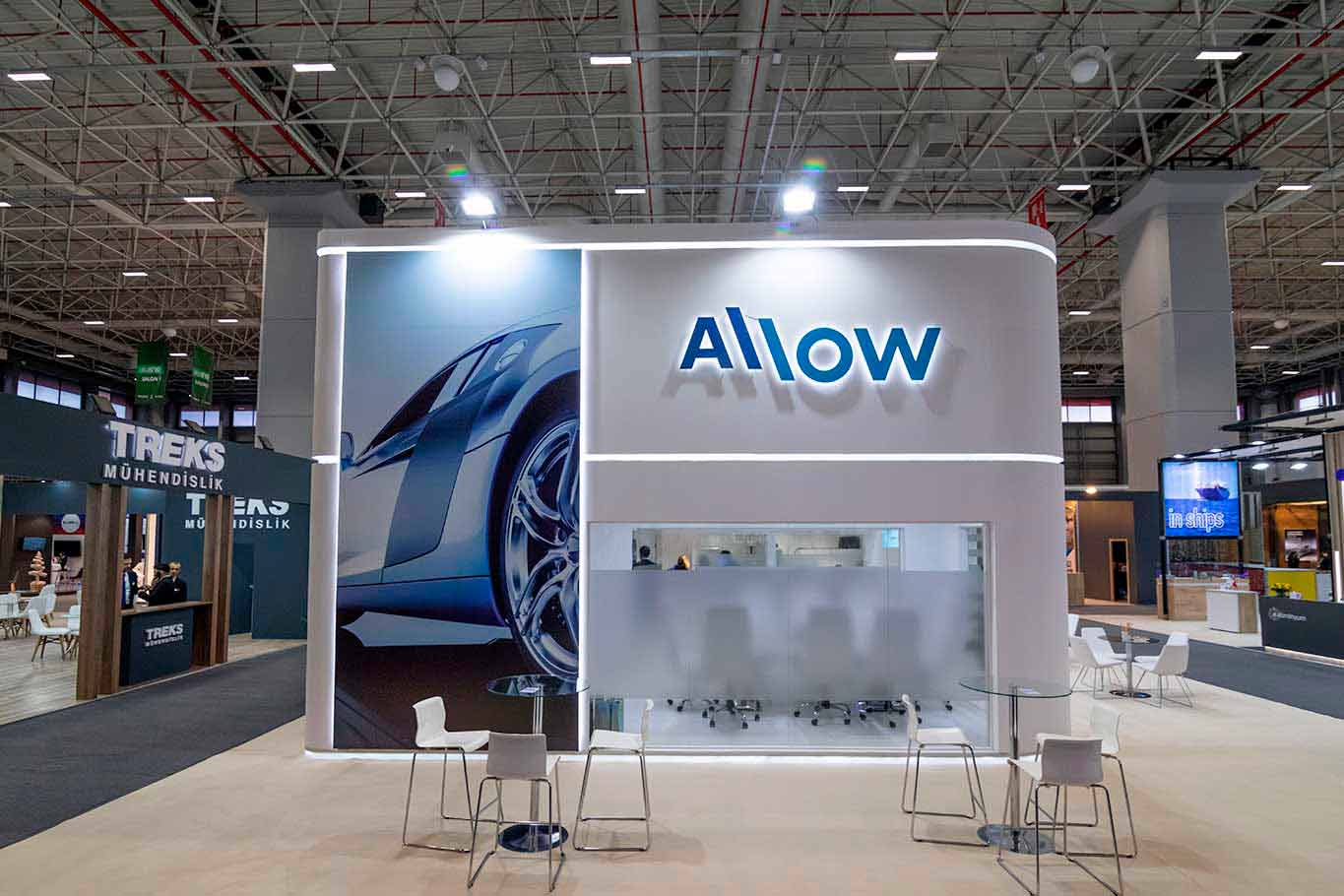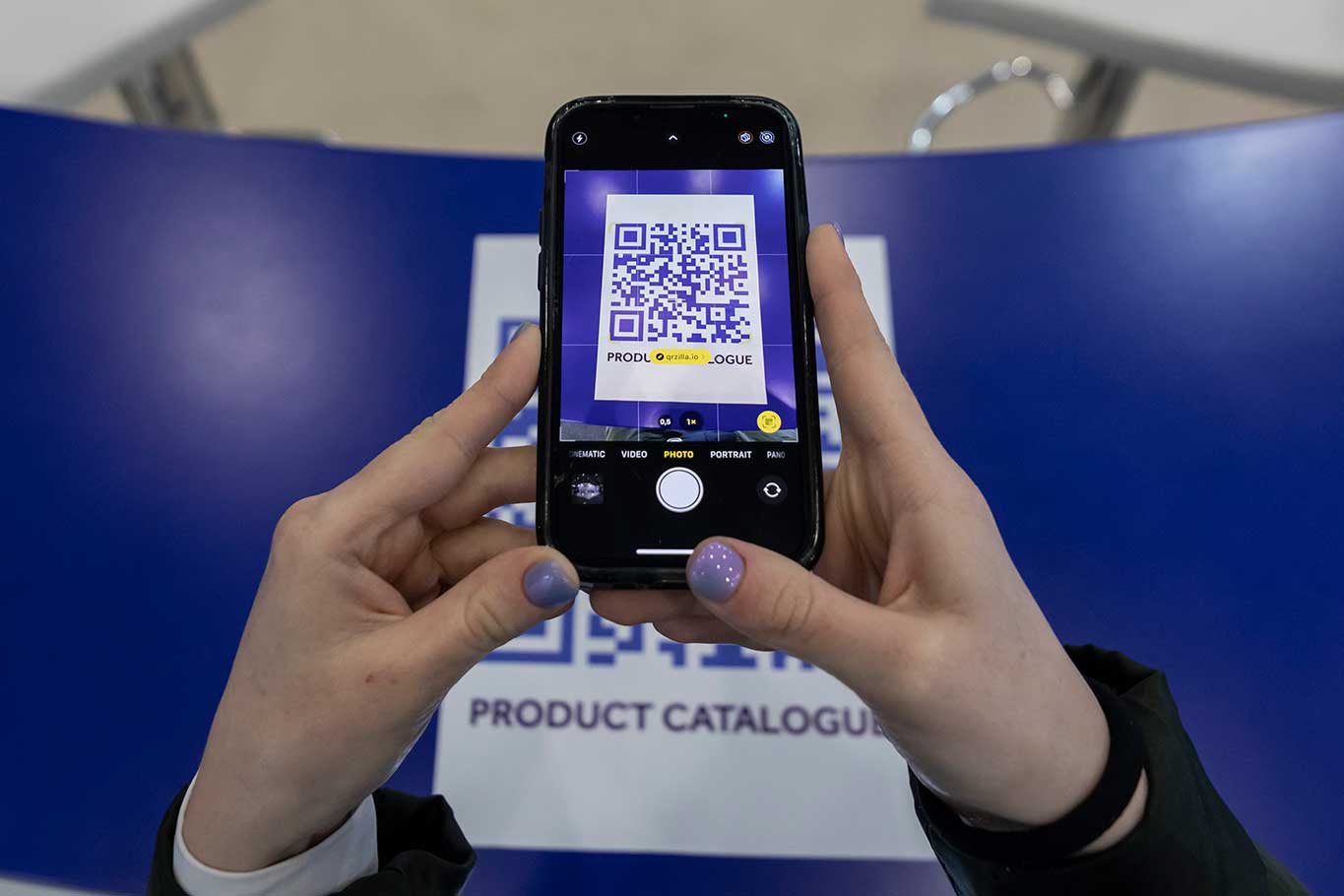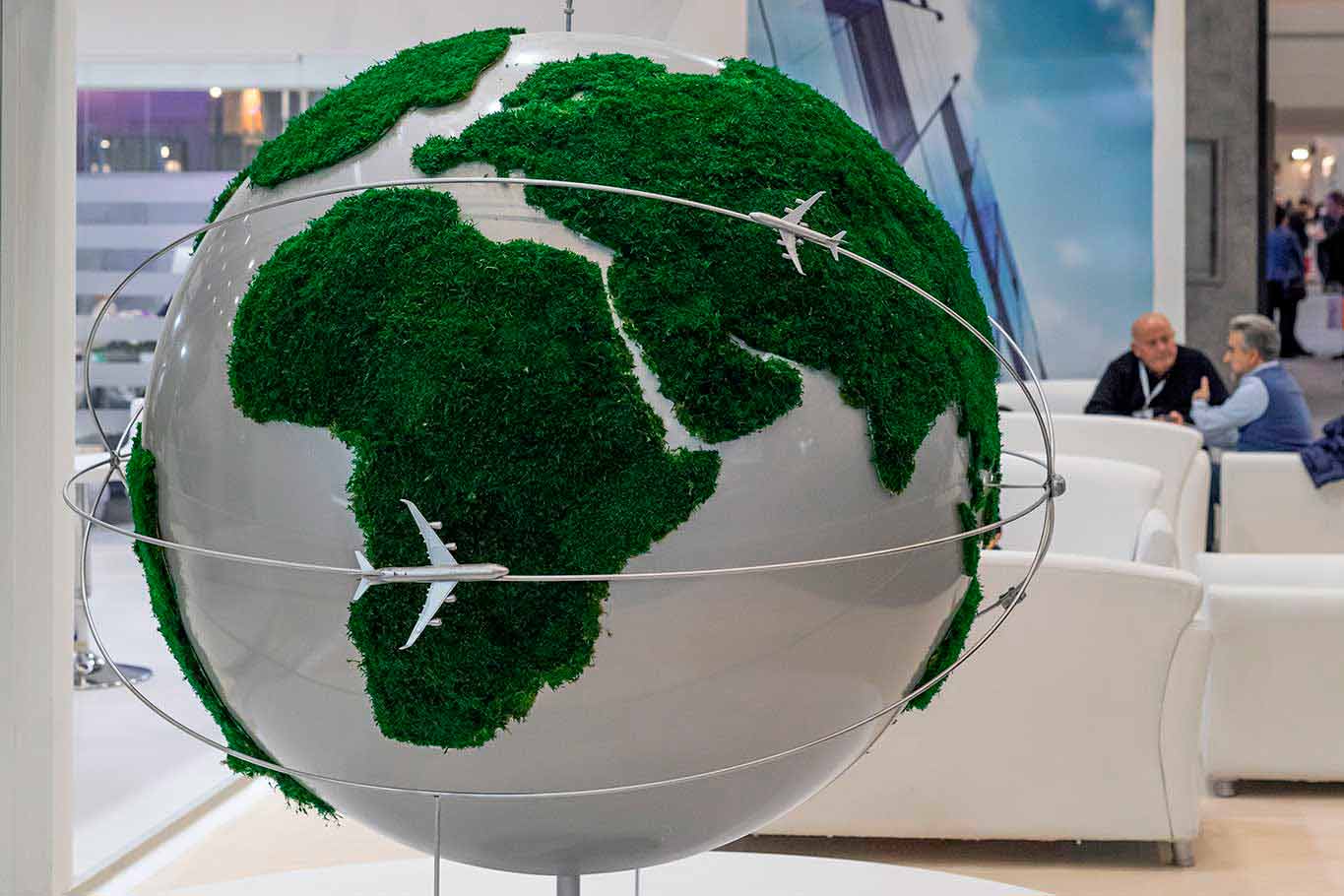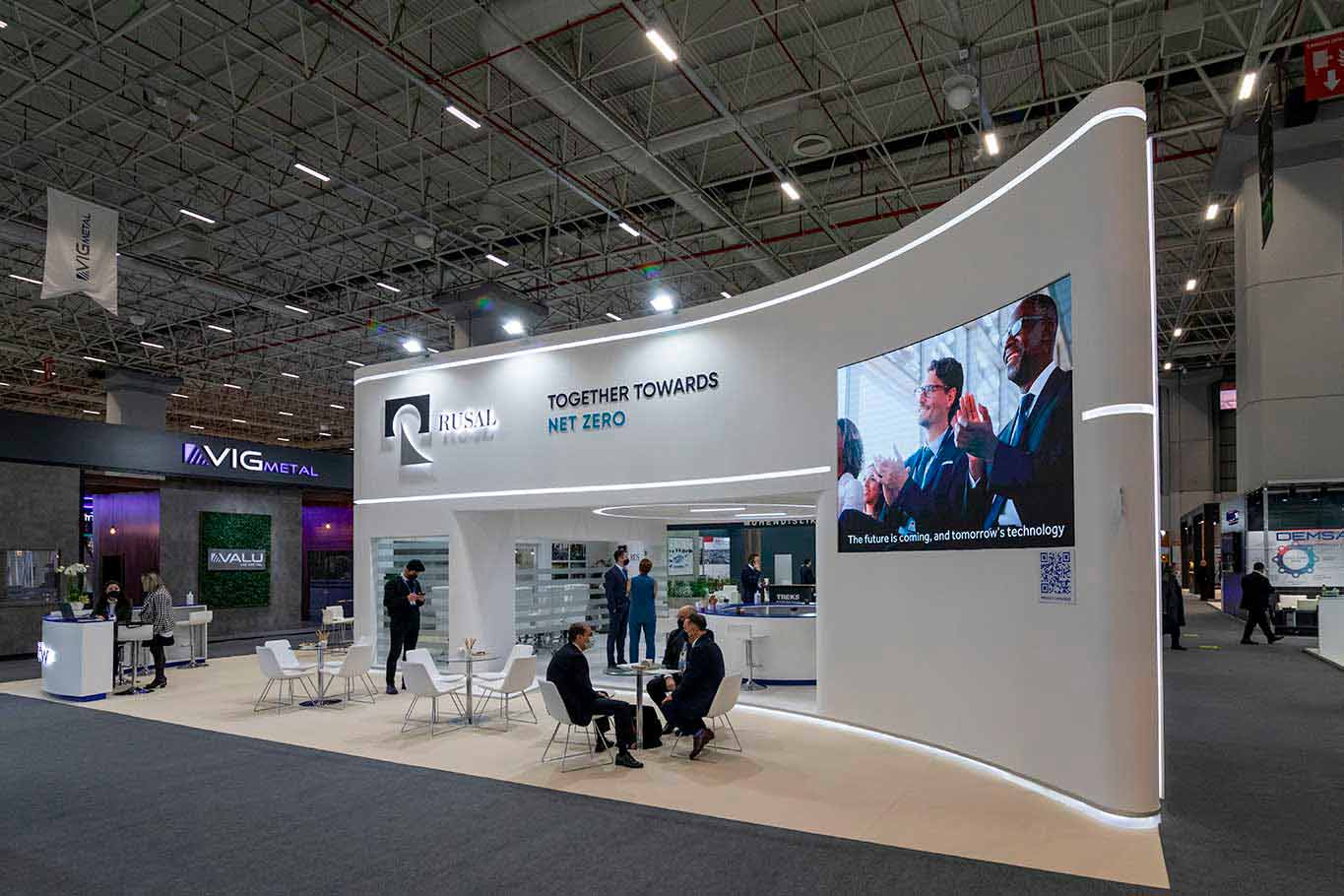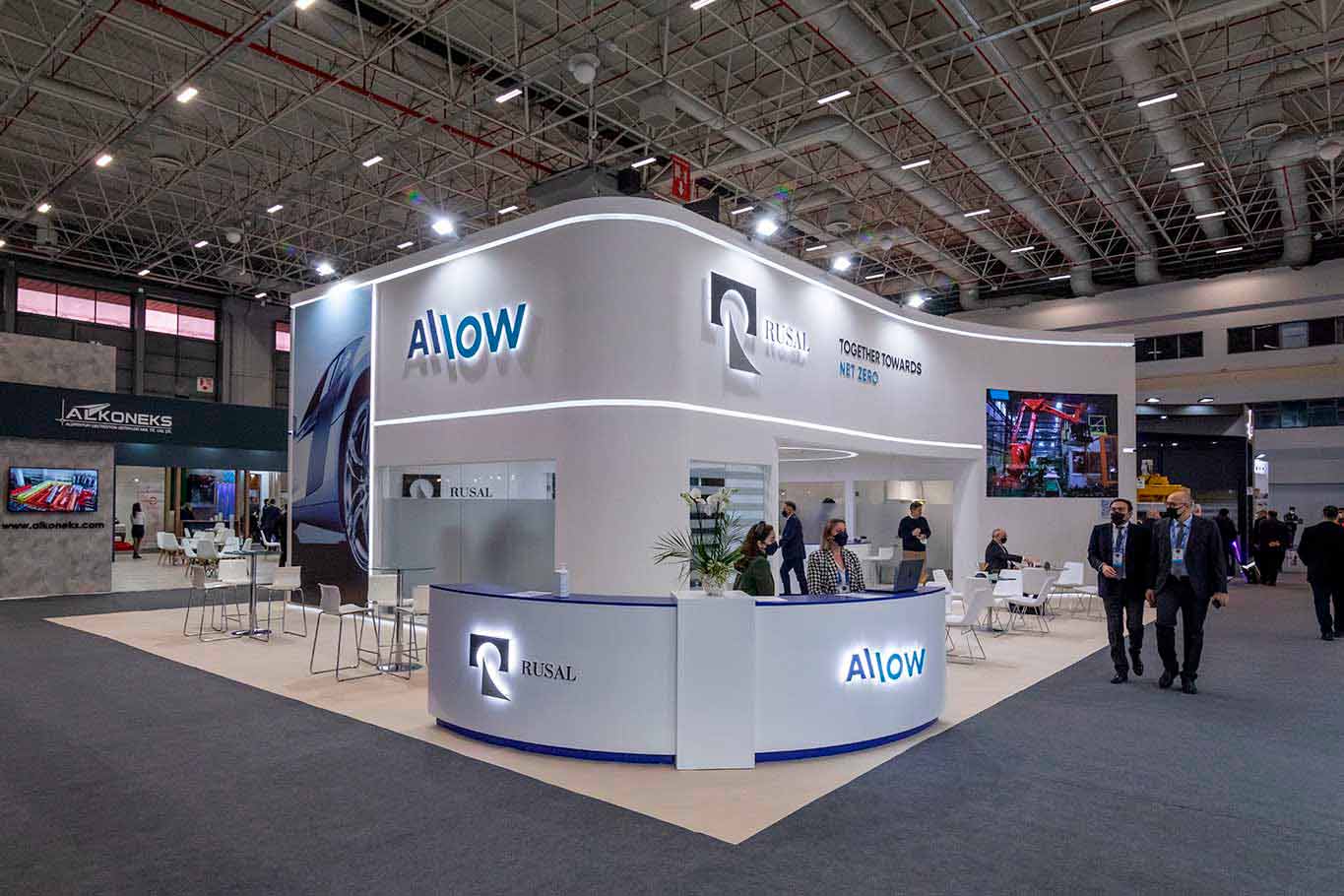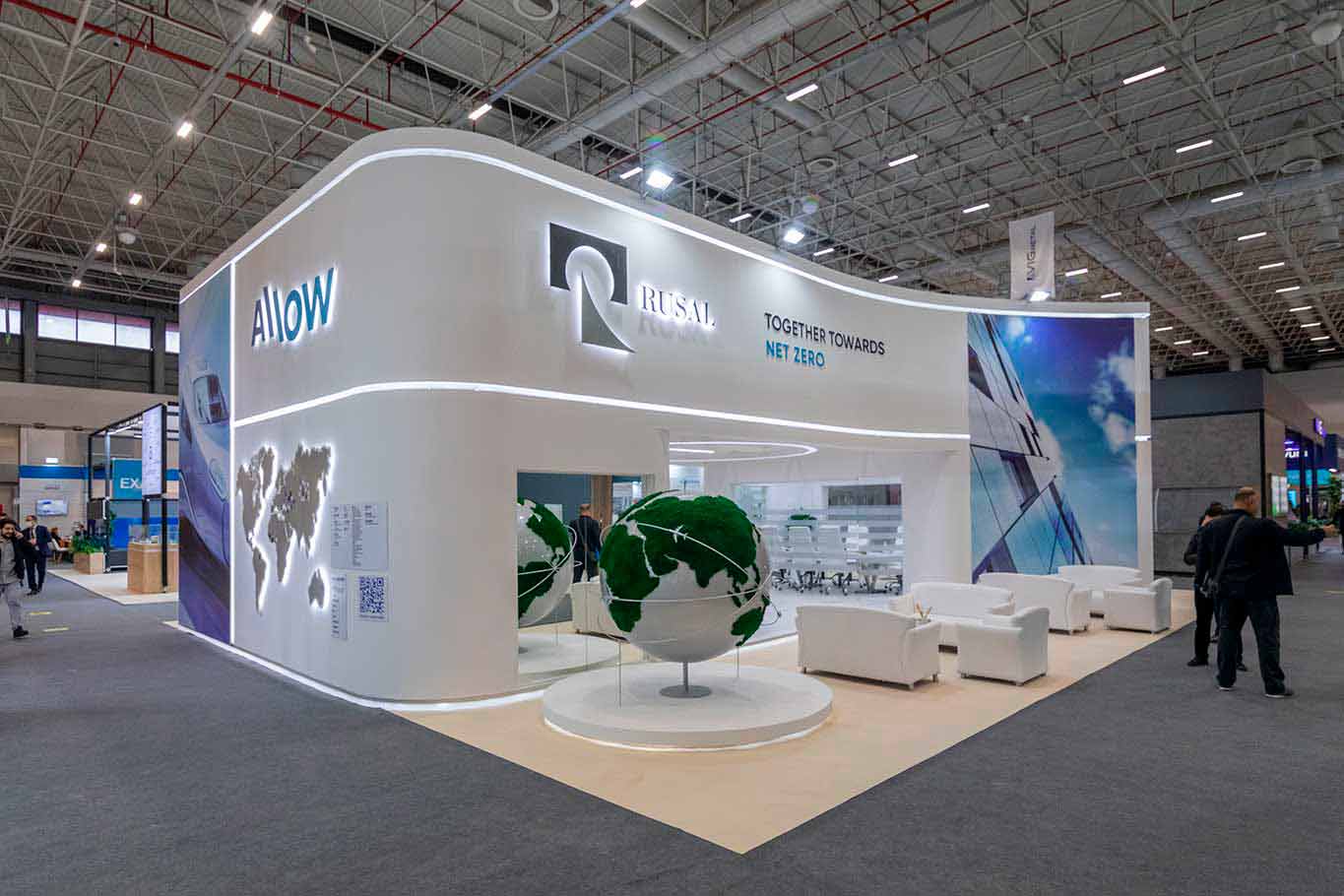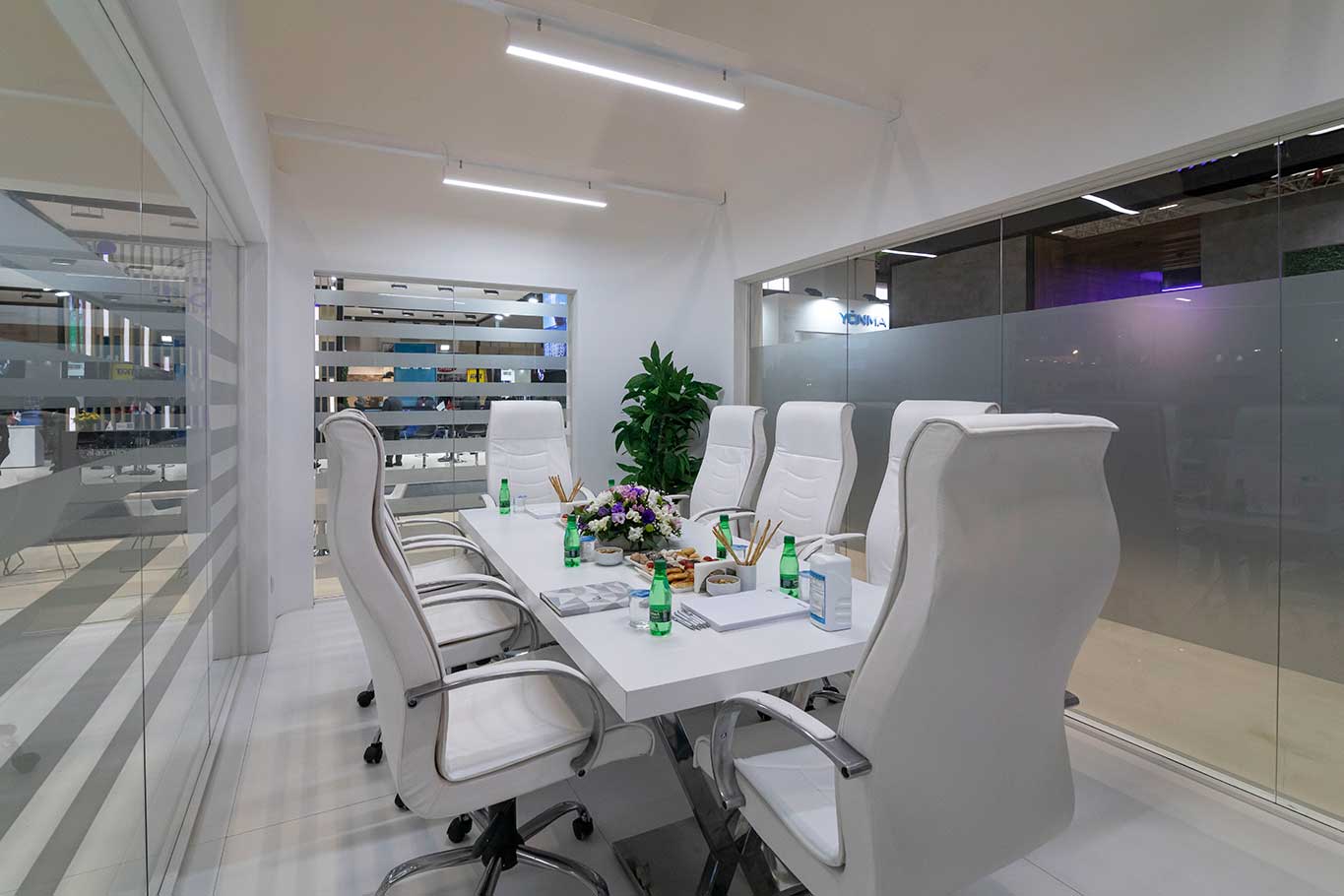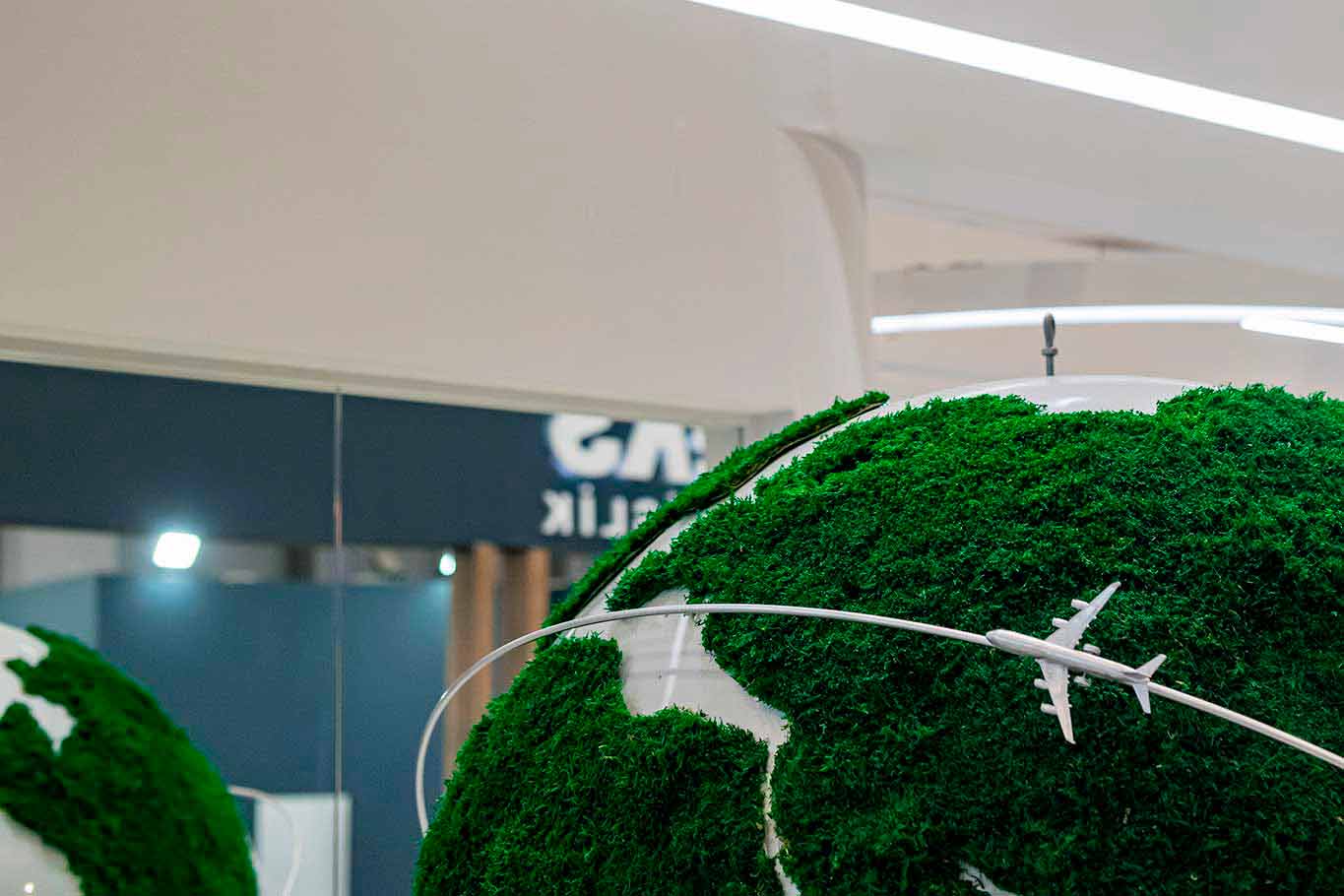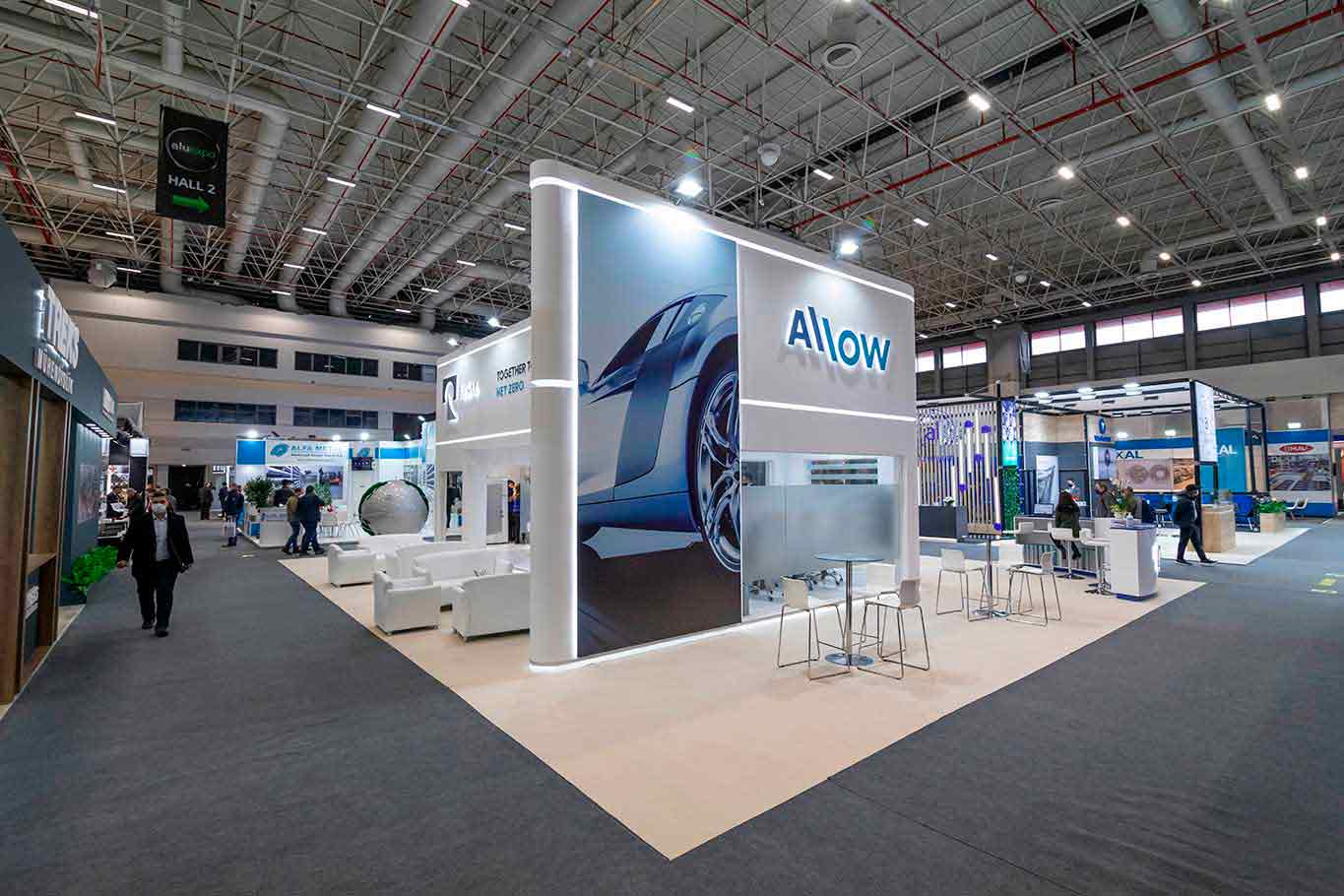 Maverick Design won the tender to build an exhibition stand for the international EXPO AluExpo 2021 in Istanbul for the production company Rusal. The size of the area to build the stand was 180 sqm. Big enough area to fulfill all customer's wishes and designer's creative ideas.
The client knew exactly which areas of the stand he needs. The booth area includes: an outside reception to greet guests and distribute information materials, an inside reception to control guests inside the booth and in the meeting room, a spacious meeting room, a storage room, a room for the staff and an open area for guests and negotiations.
As a bright element we created a model of the planet on which we placed aluminum goods that can be made from the company's primary products. The presence of interactive elements at the booth gave brightness to the entire design.
The booth from Maverick, an exhibition booth builder, stood out from all the other booths at the show. As a result, the client fulfilled all the tasks and was satisfied with our work. Our collection of thank you letters added to our collection, the client got more work after the contracts were signed!
STAND CONSTRUCTOR IN MONACO
AESTHEFILL | EXHIBITION IN MONACO | 2022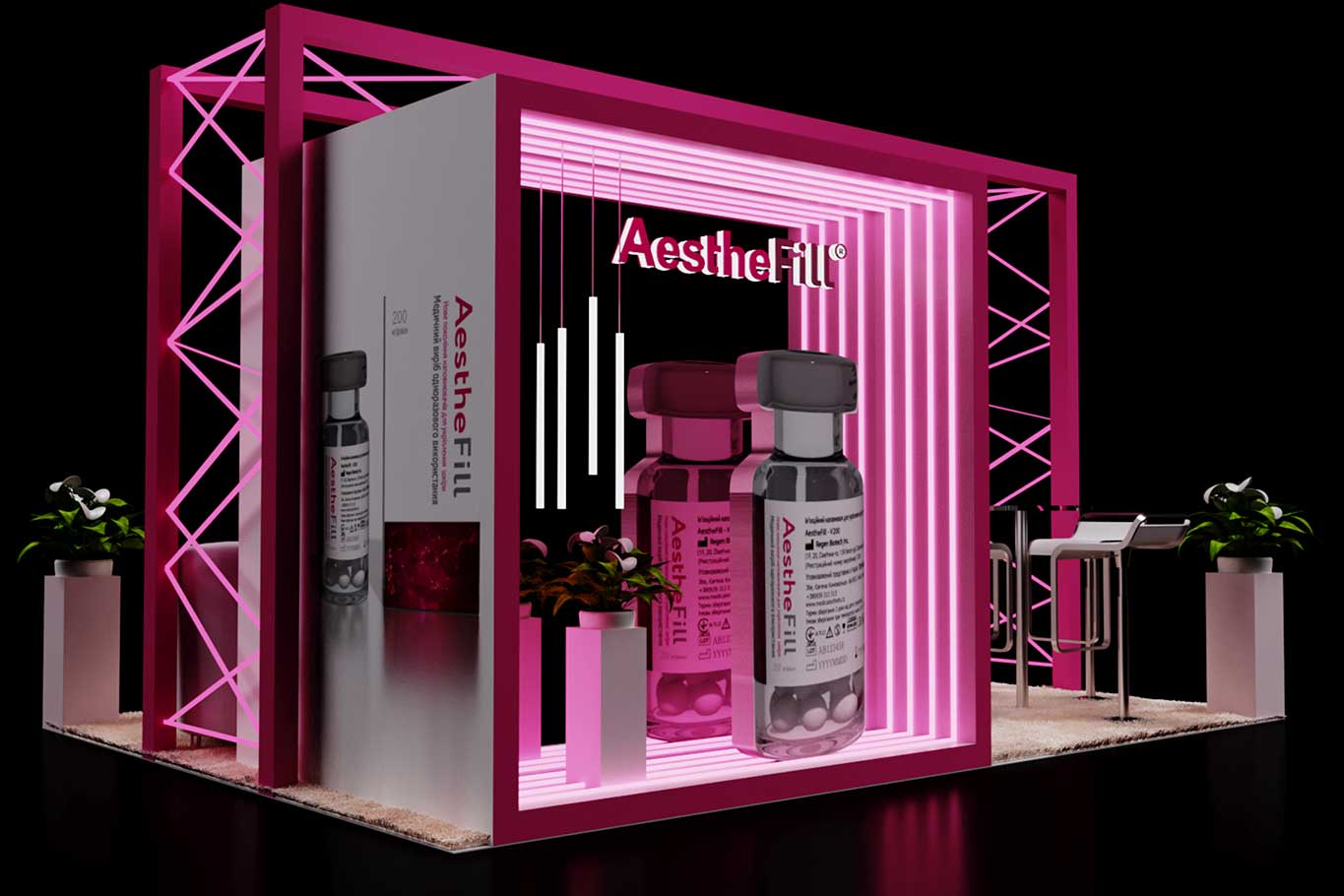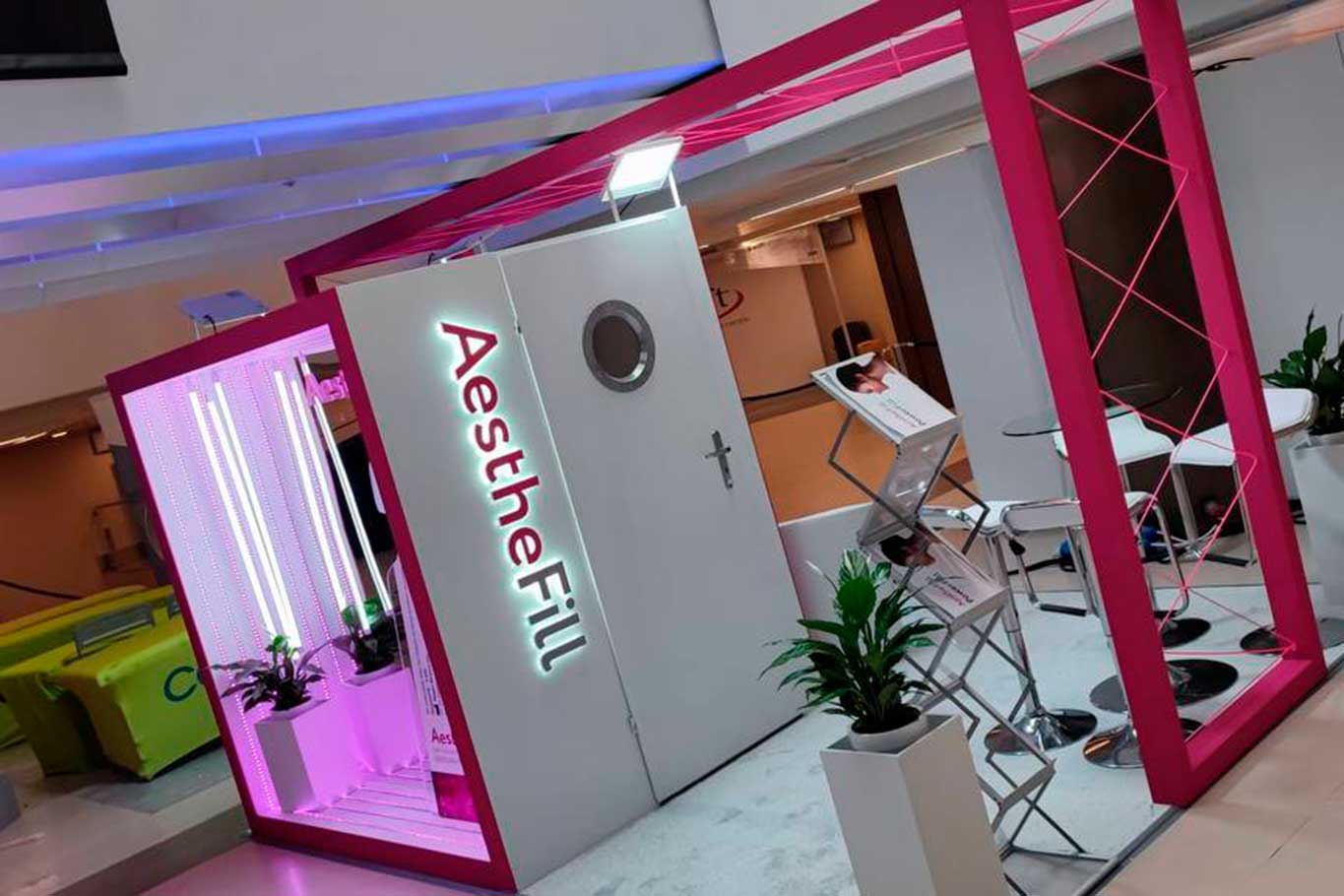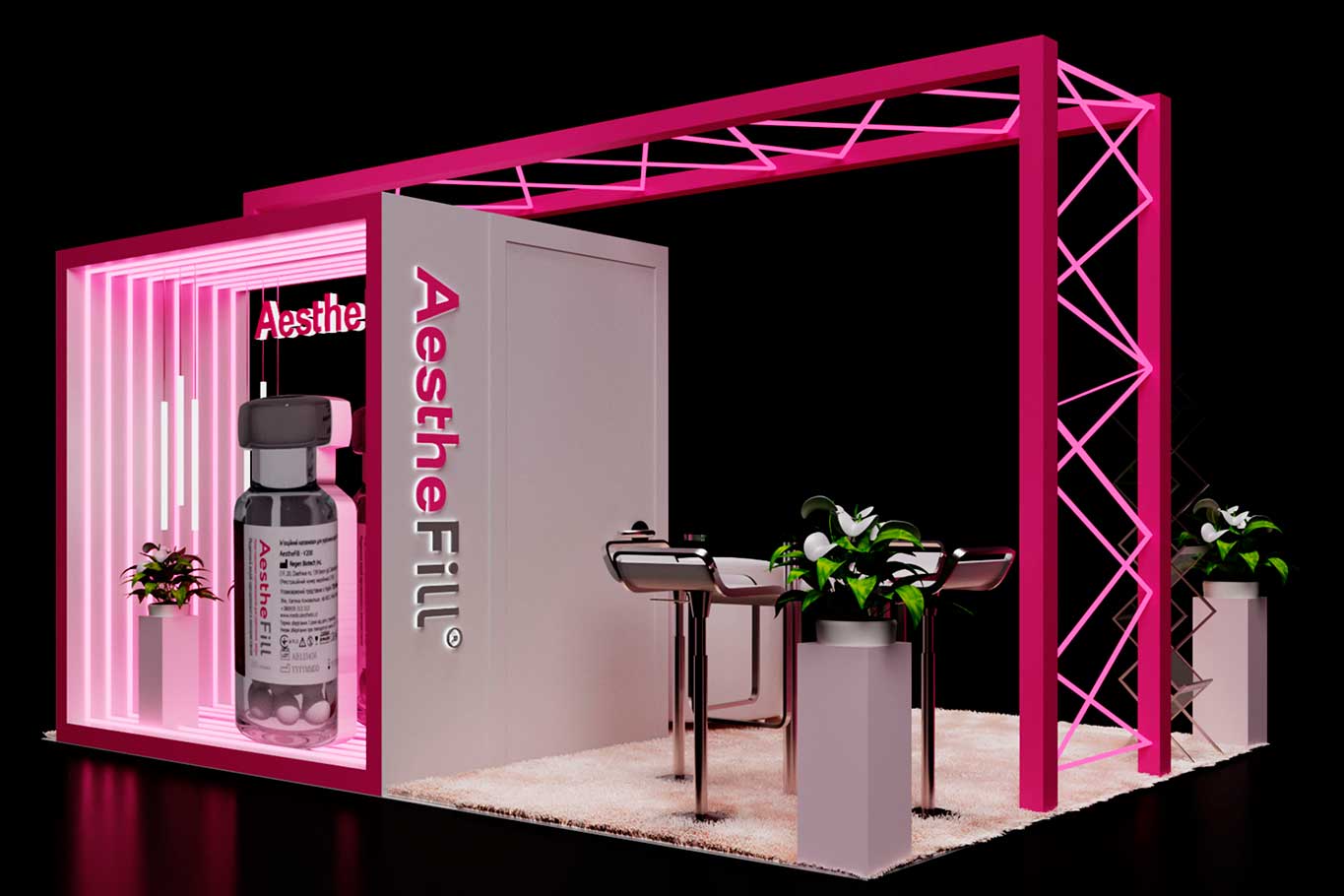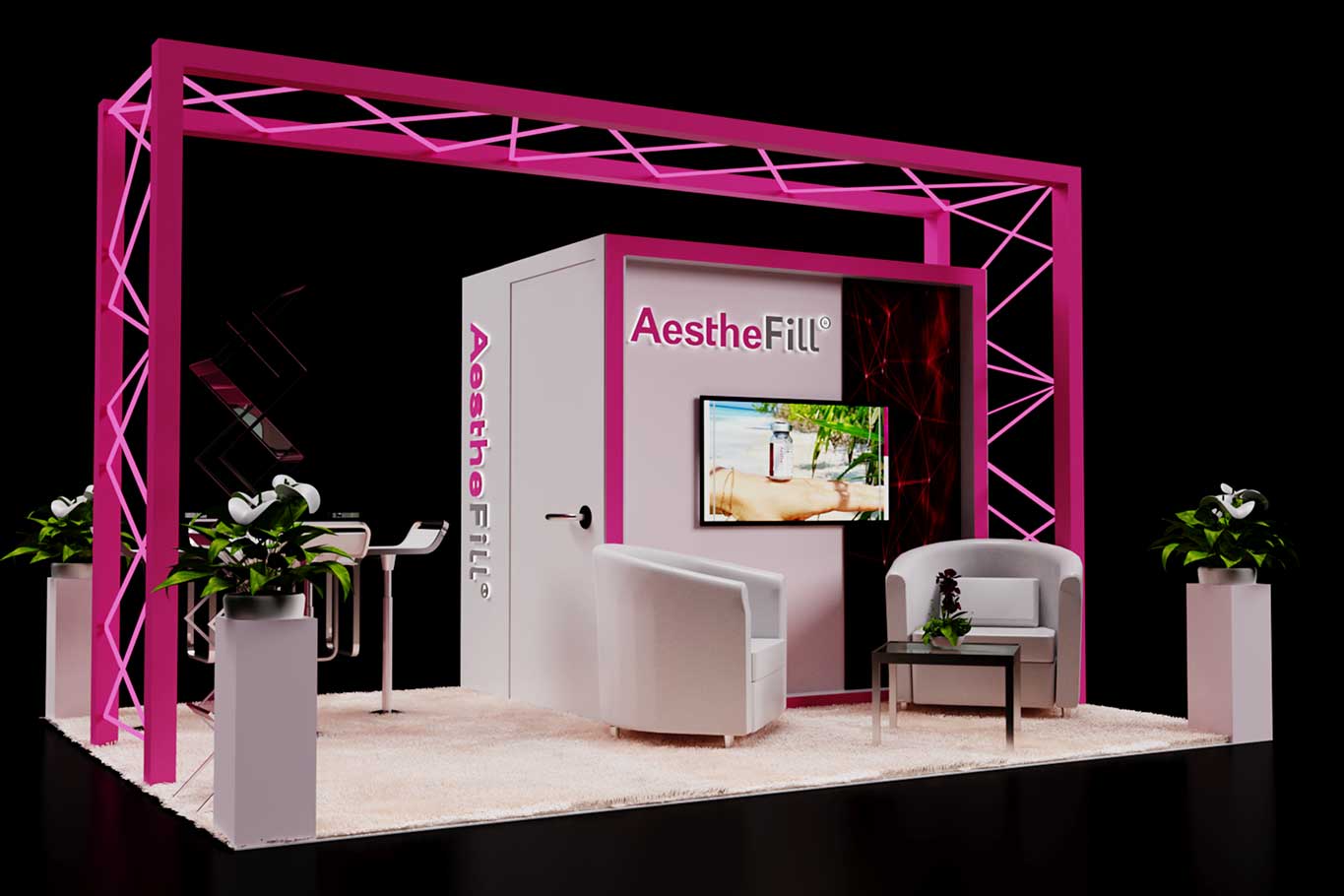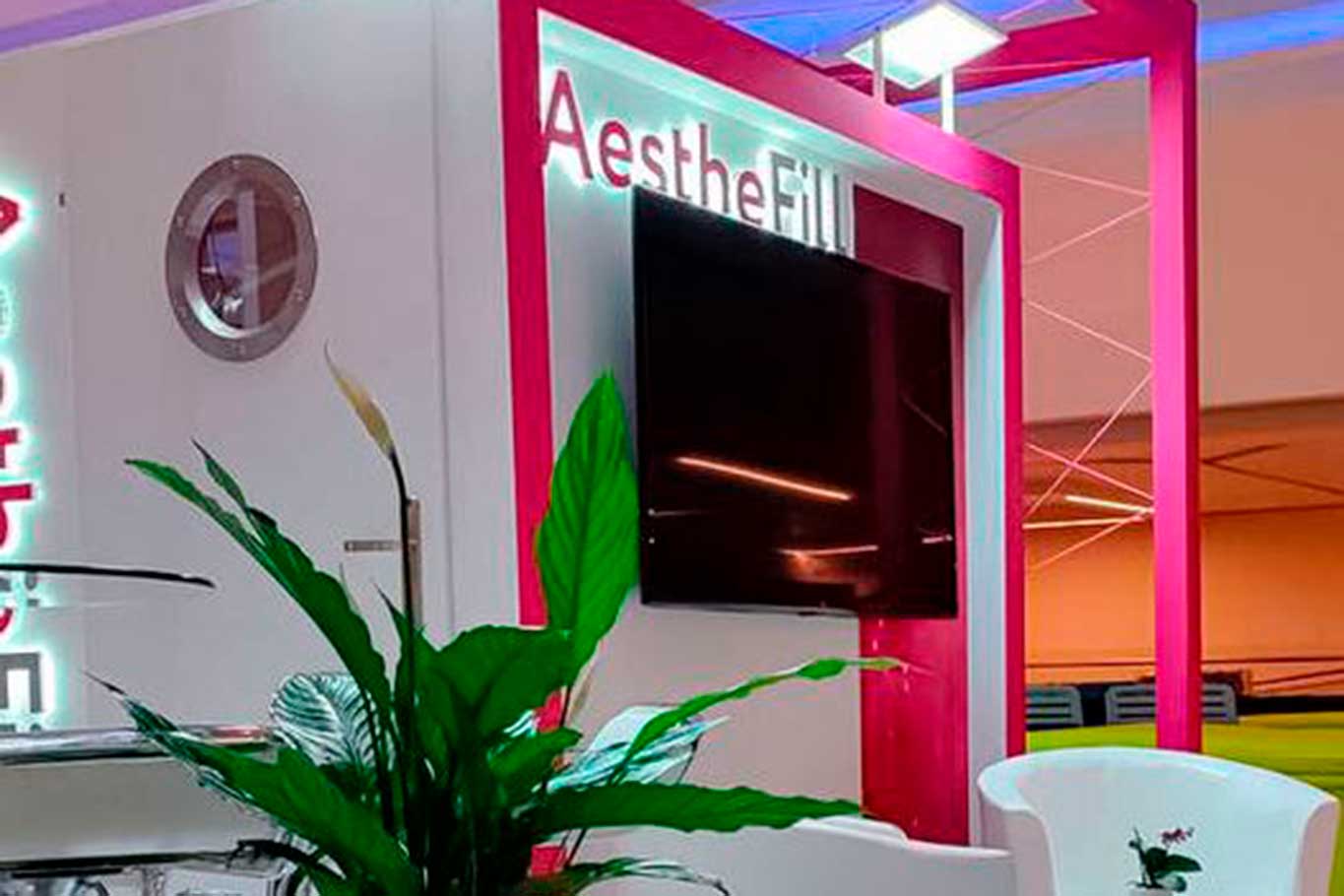 Monaco hosts a large number of famous international exhibitions, even though the country itself is not very big. Representatives of the beauty industry are the most frequent customers of the exhibition centers in Monaco.
For one of these companies an exhibition stand was constructed in Monaco in 2022. The company was launching a new product on the European market and wanted to make customers interested in it. In addition, the company planned to find new partners in Europe to expand its distribution network.
The client company's corporate colors were chosen as the main colors. Our designers offered a creative solution with the emphasis on the product, which had to be demonstrated to potential customers.
The stand area was not large, so in the design ideas for the exhibition stand we took into account the wishes of the customer about the presence of the necessary working areas: reception, meeting room and storage area.
The marketing specialists of Maverick helped the client to think over a digital strategy for organizing direct sales in the booth area. We also suggested and created a mechanism of attracting and further gathering of interested leads.
As a result, the client was satisfied with the event and his stand. The stand stood out brightly against the competition and attracted a large number of guests at the Monaco exhibition.
RUSAL | EXHIBITION IN JAPAN | 2019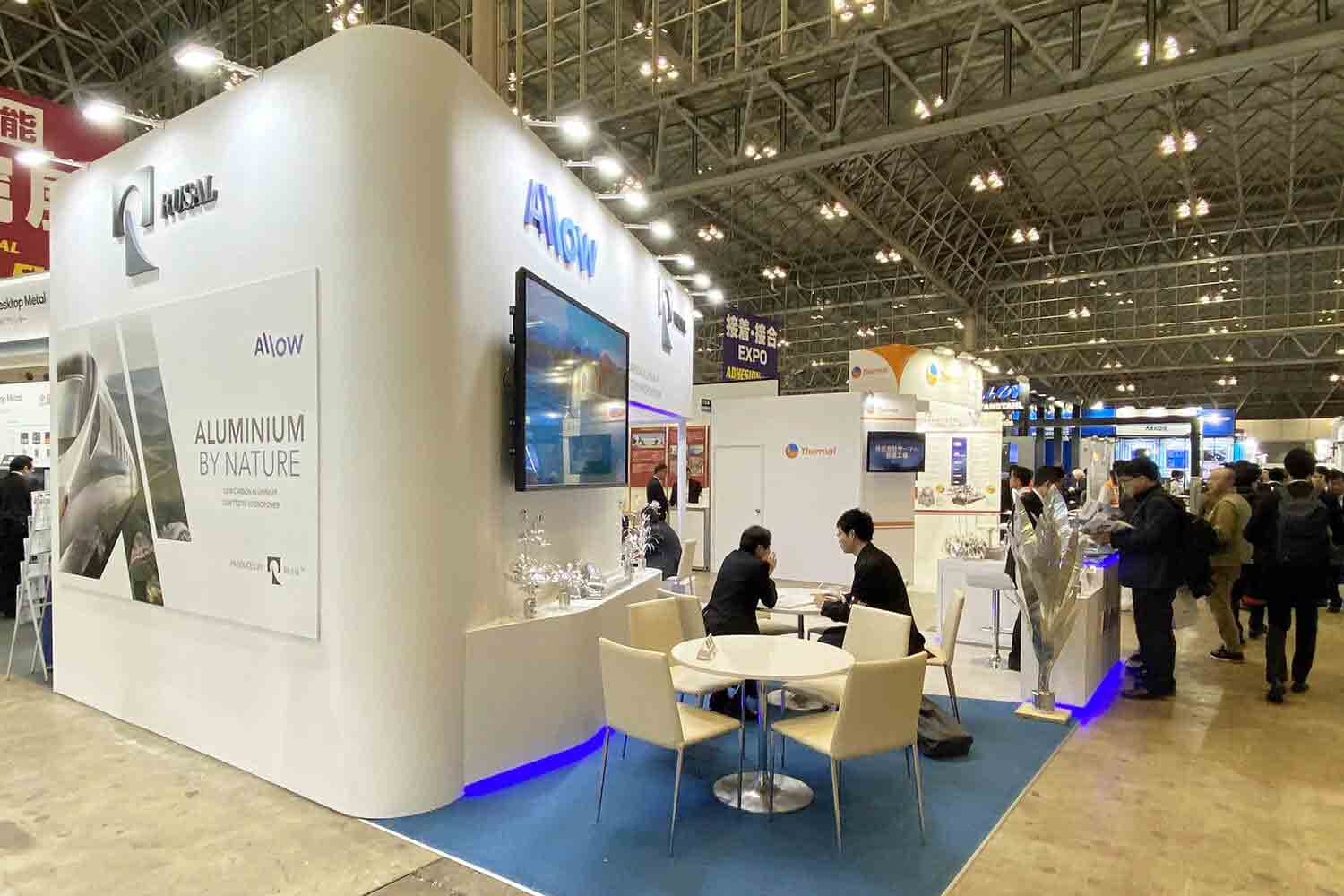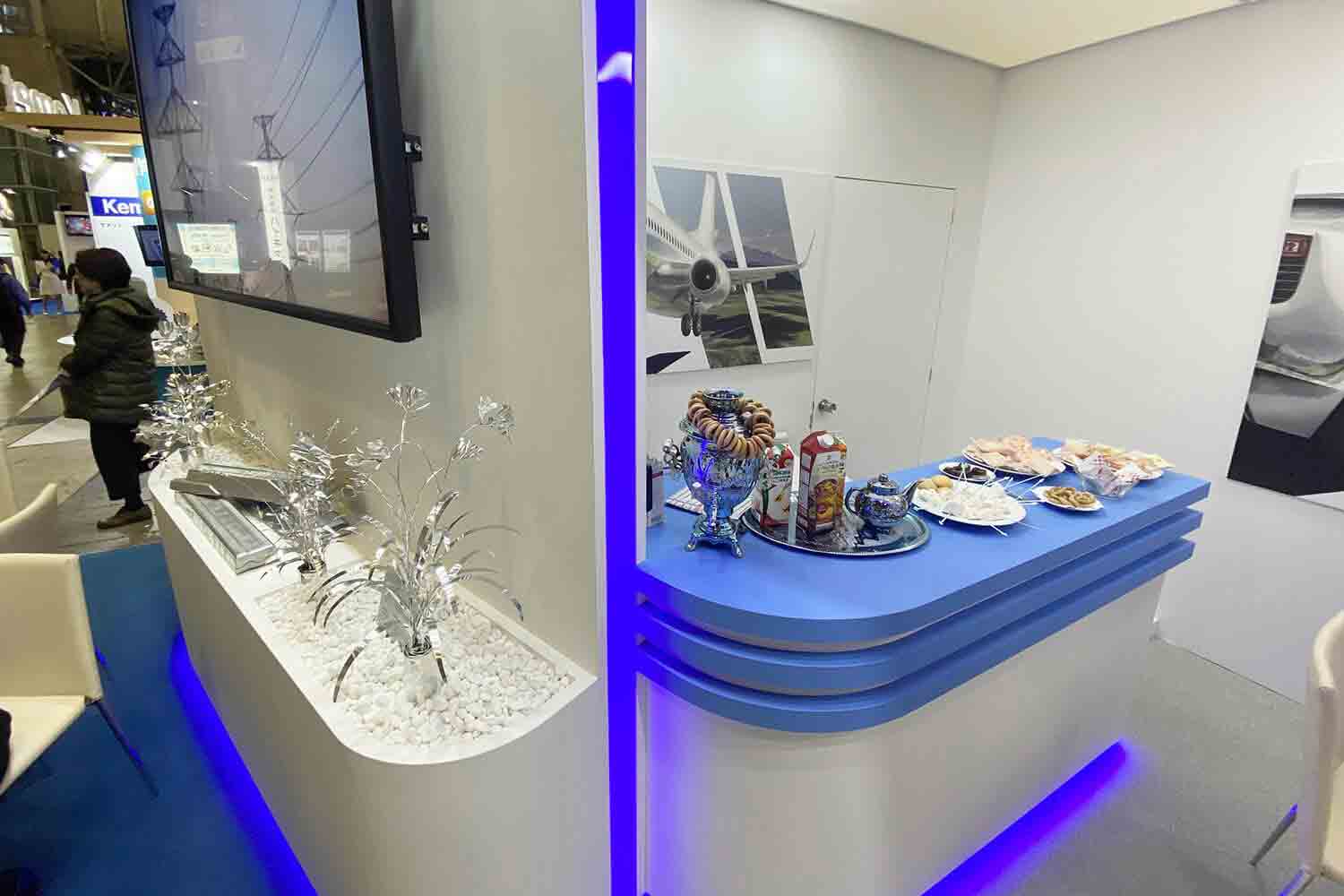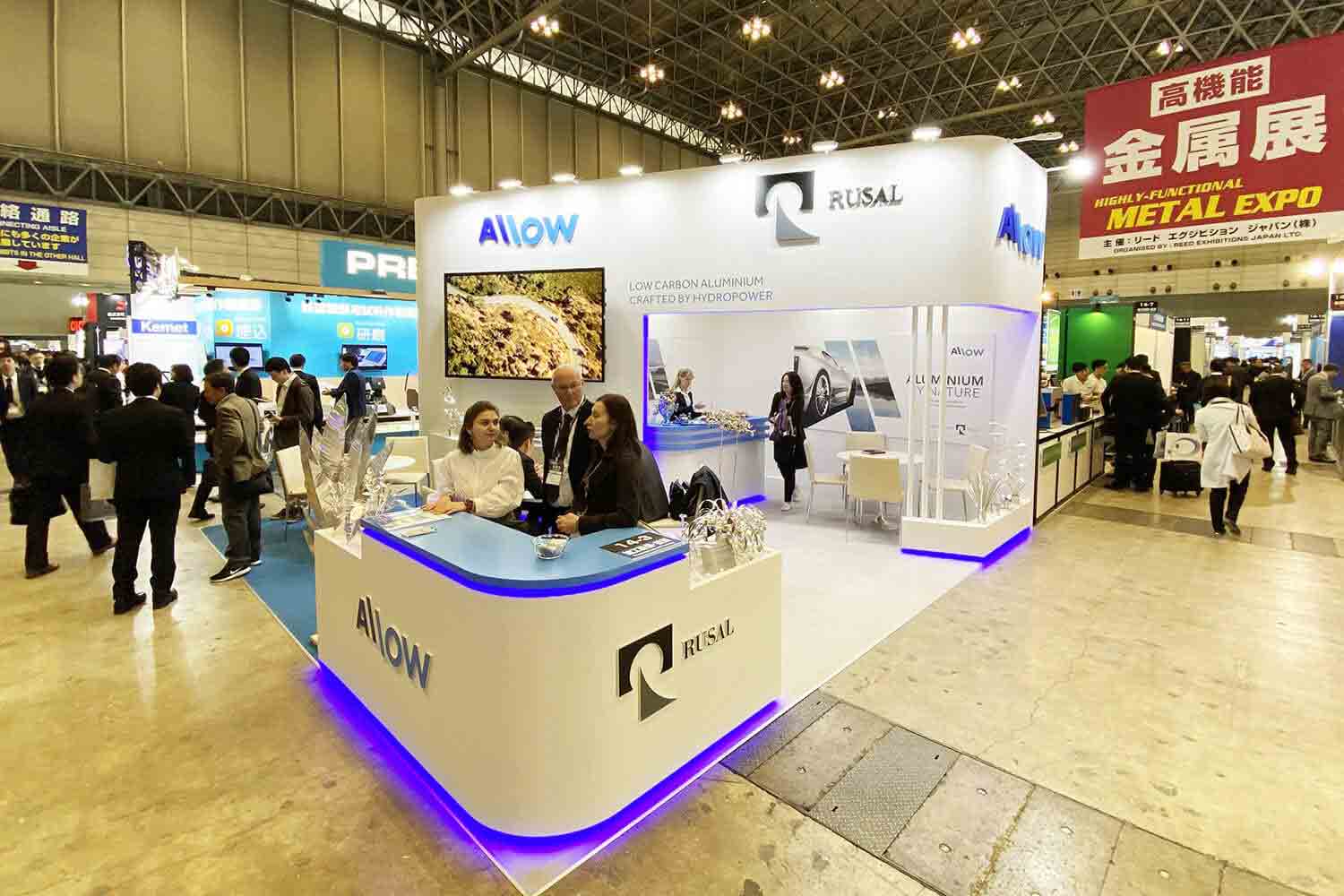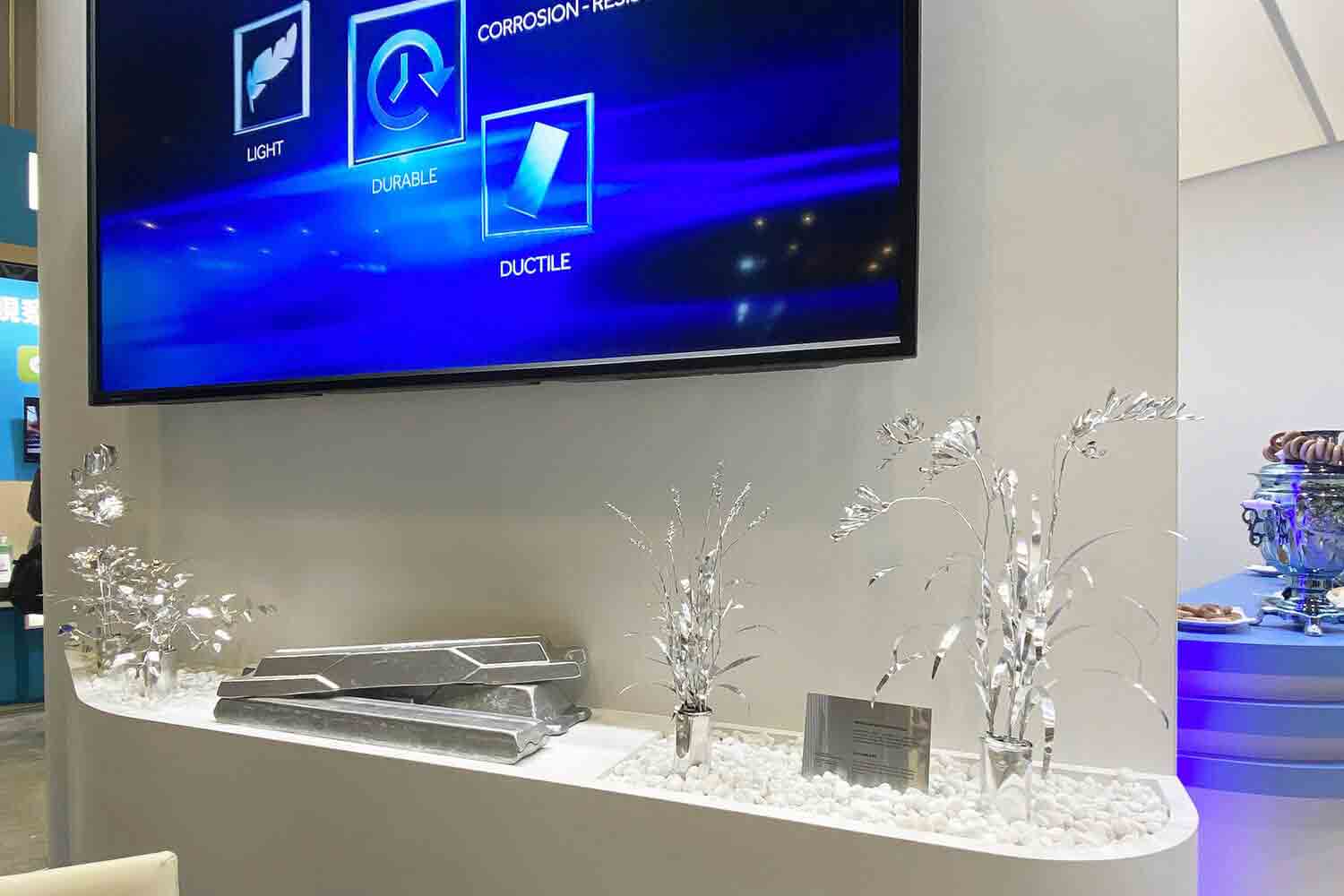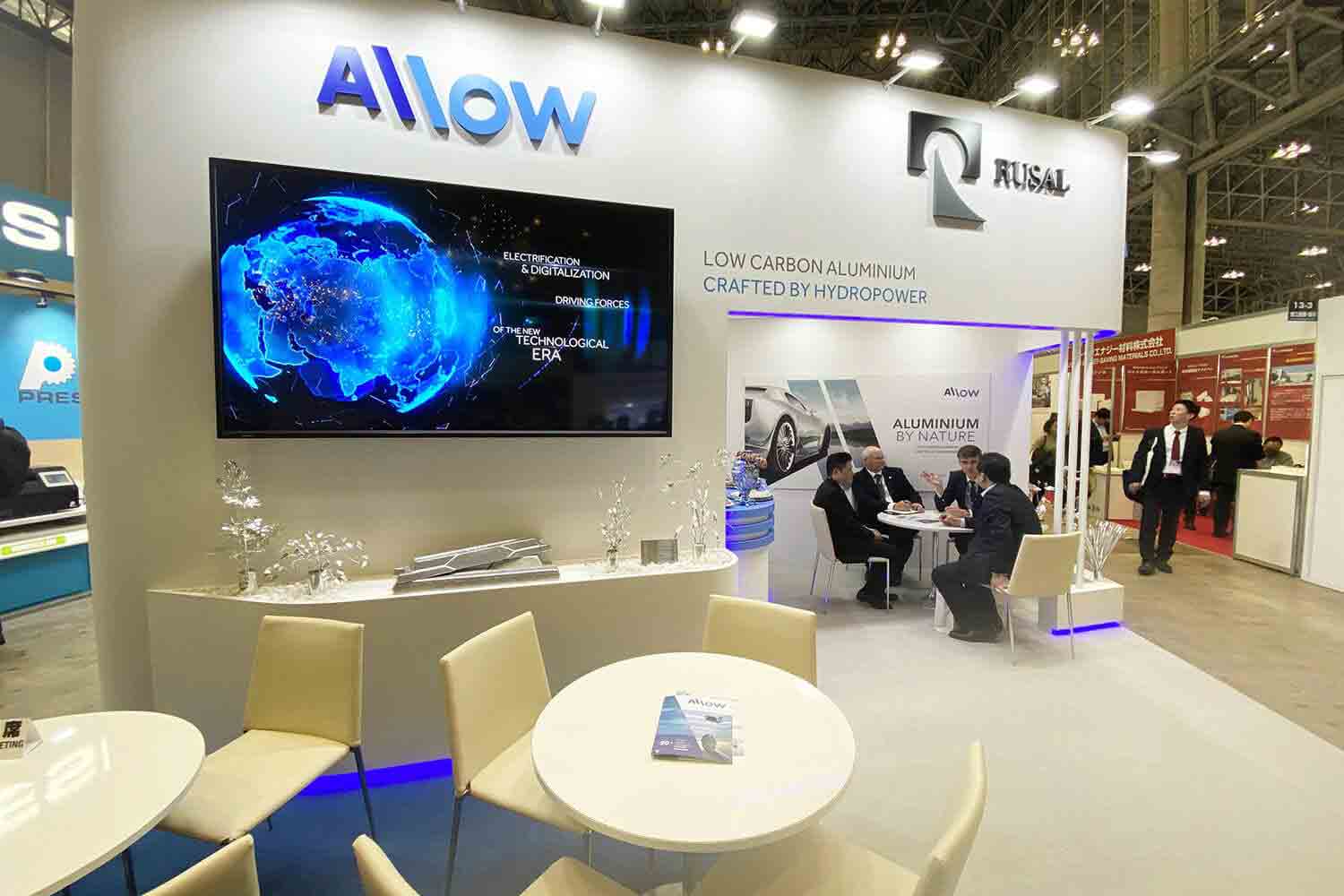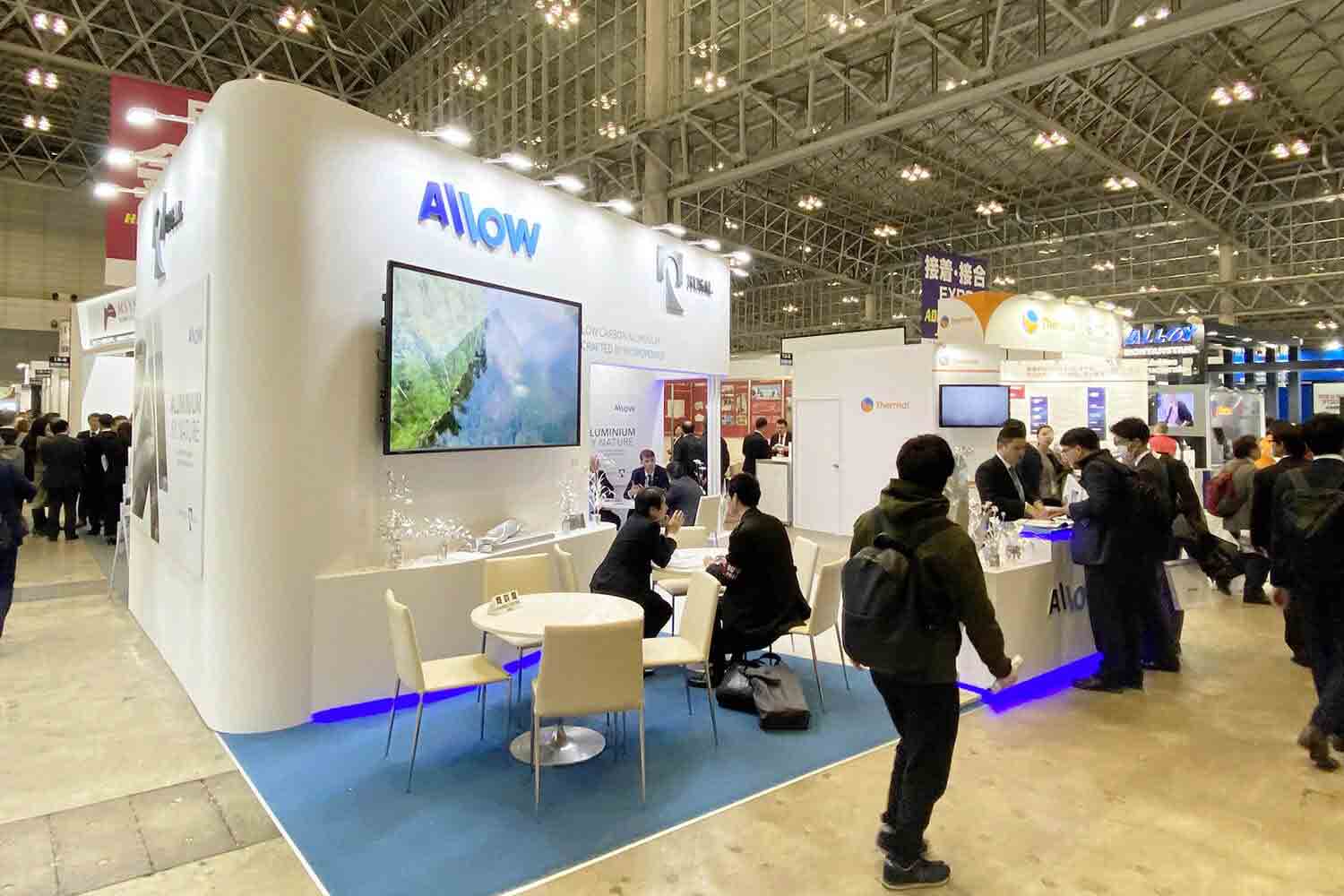 This case was elaborated for the biggest Russian aluminum producer RUSAL. Exhibition took place in Tokyo, Japan, in 2019. Client's brief required that Japanese stand builder creates an outstanding exhibition booth design with a specific zone for communication and contract prolongation. A leading brand of a low carbon aluminum was as well presented to an Asian market during this trade show. Maverick GmbH was chosen as a winner amidst various exhibition stand design ideas.
As a result, client had a huge success at the show and reached his goals in terms of contracts' volume.
One should know that every stand builder in Japan is required to use exceptionally the nature friendly materials. Another challenge was presented as the total build up time – three days for entire installation! The project of course was prepared on time and client thanked us for a great job.
FTP INDUSTRIAL | EXHIBITION IN DUBAI | 2019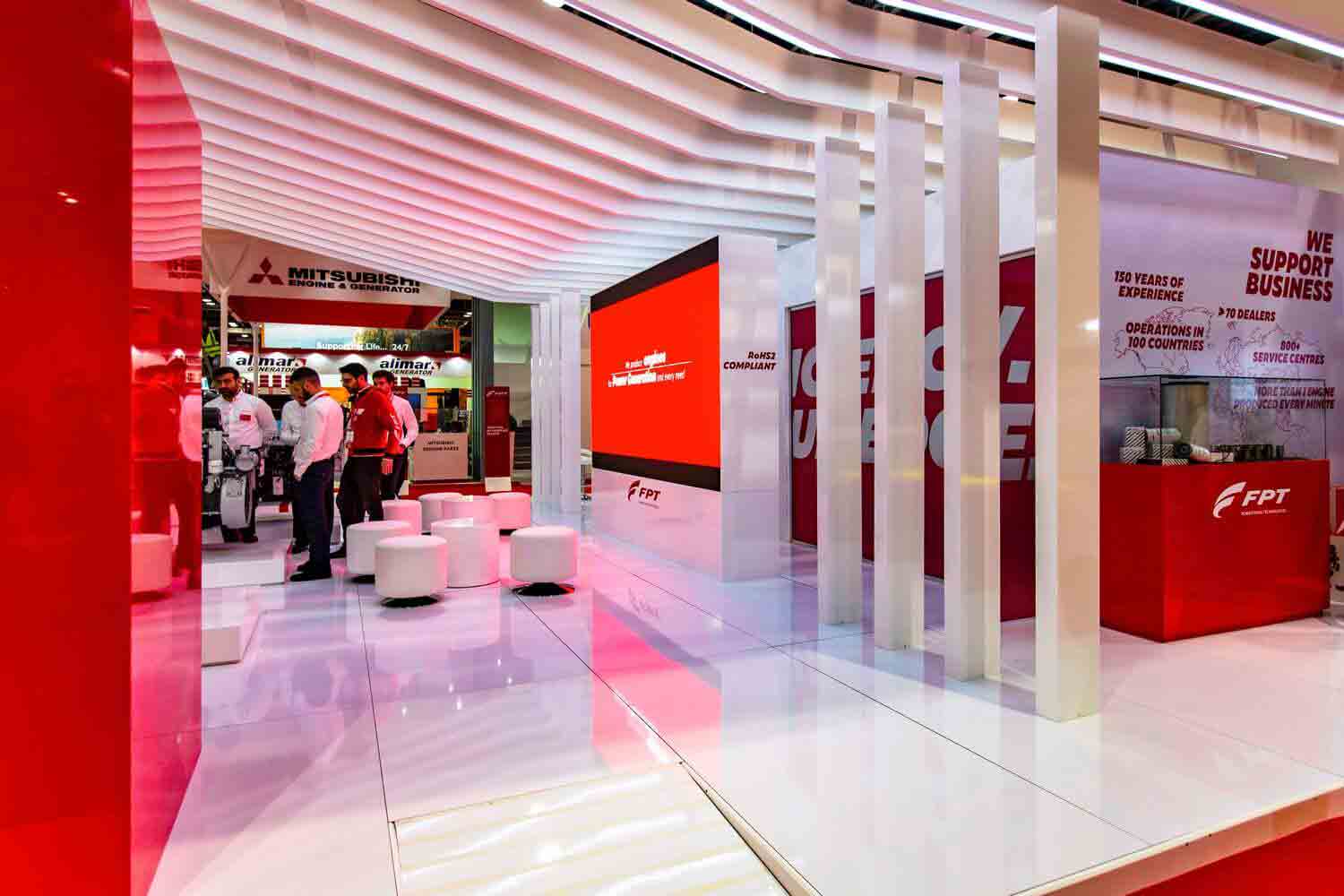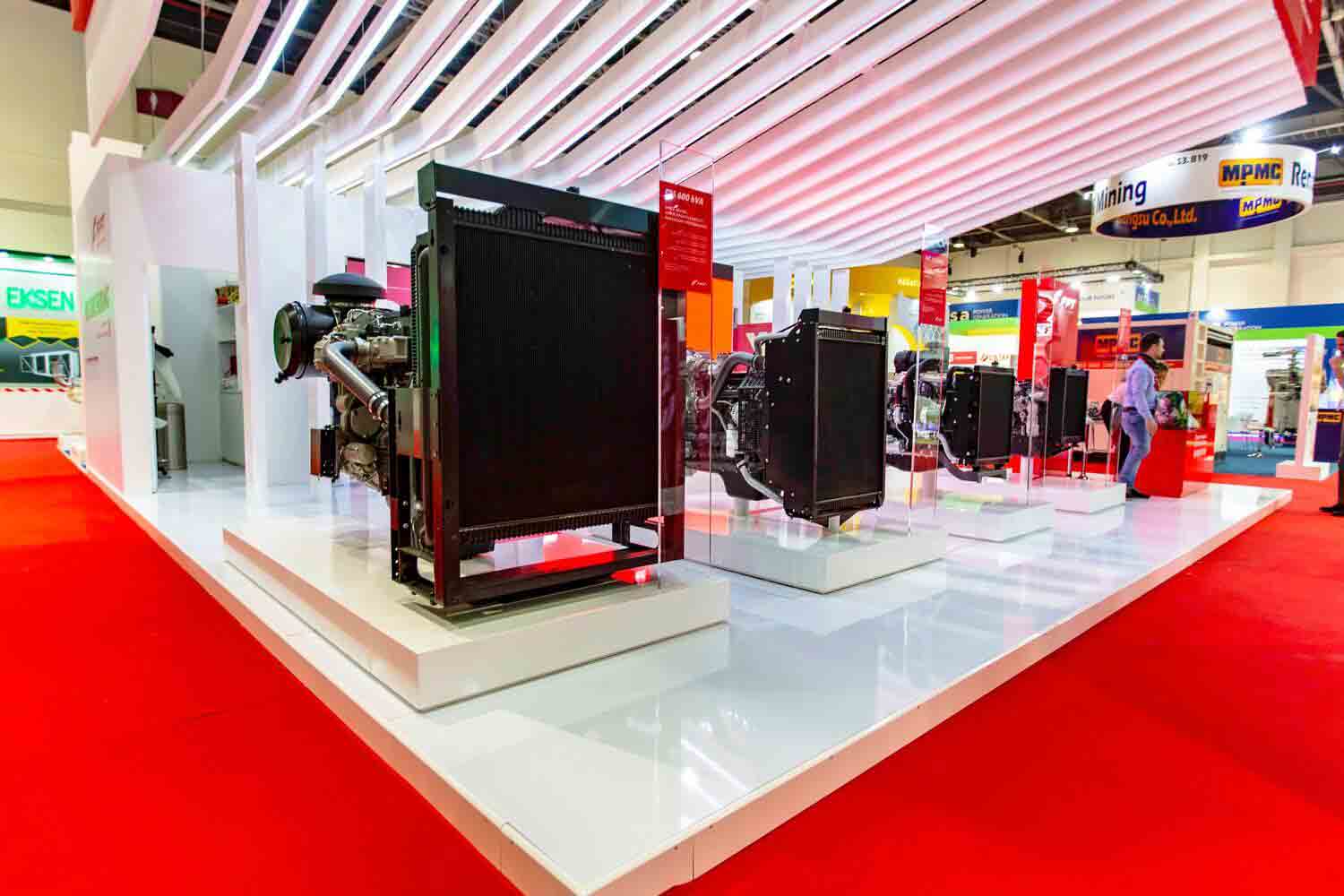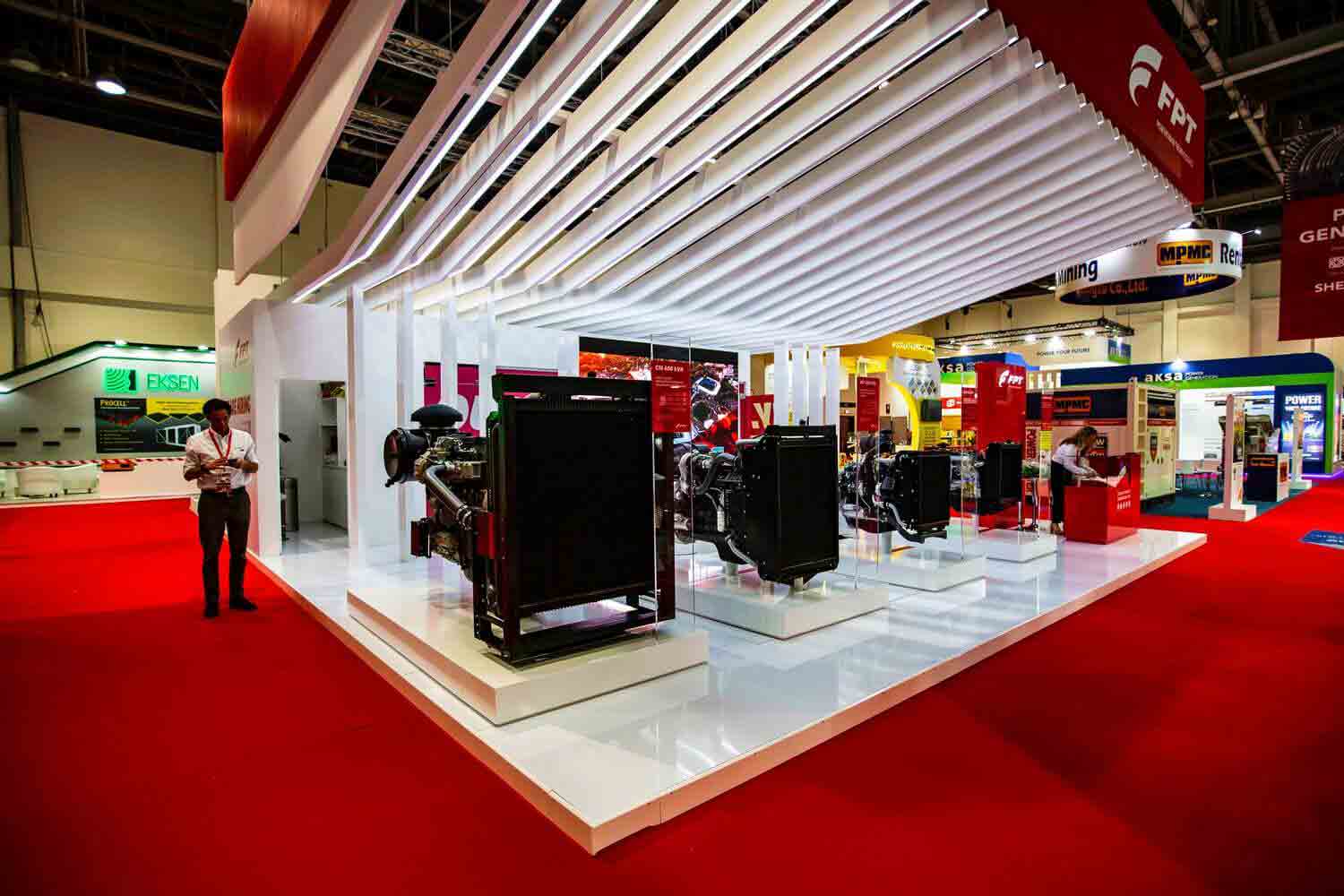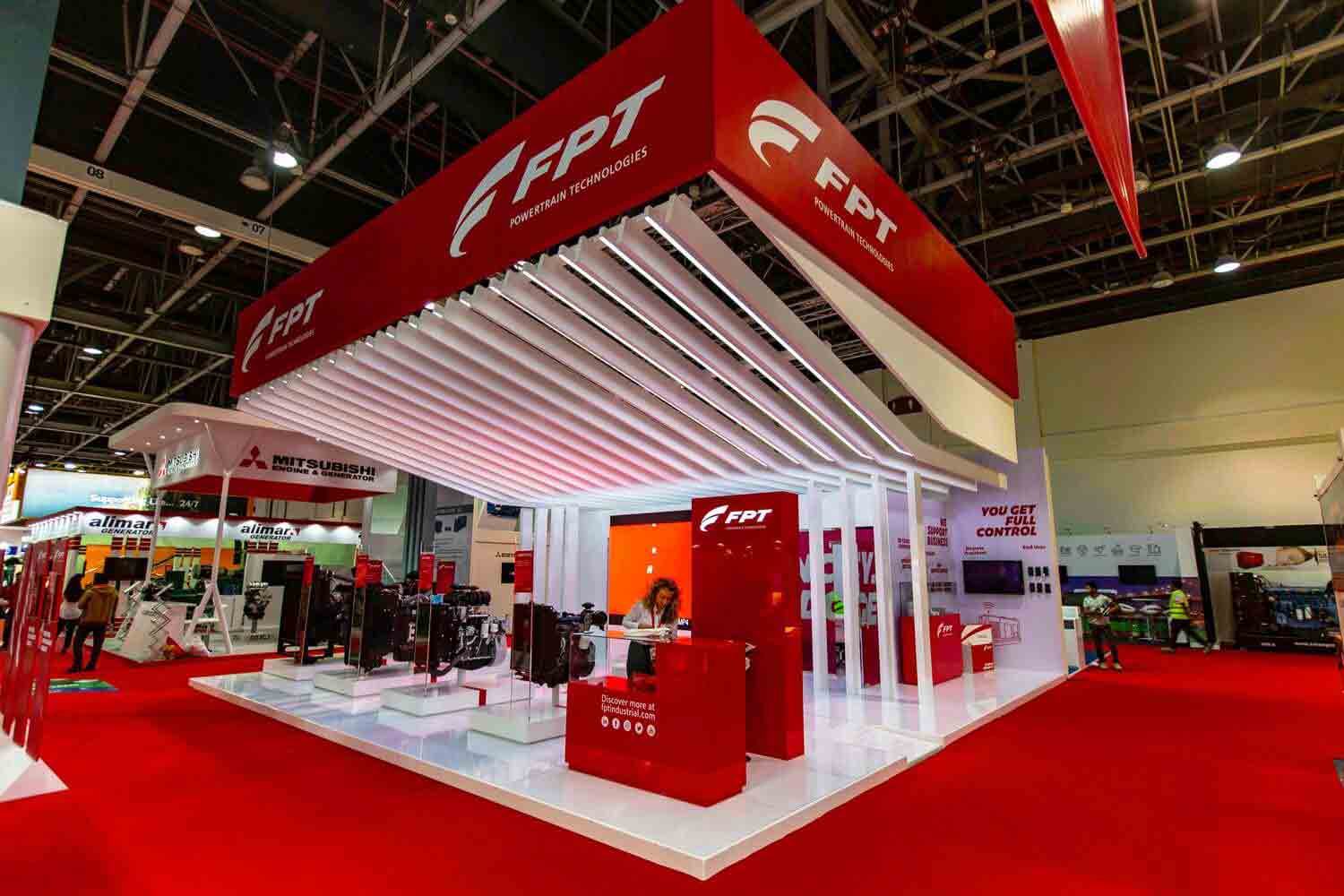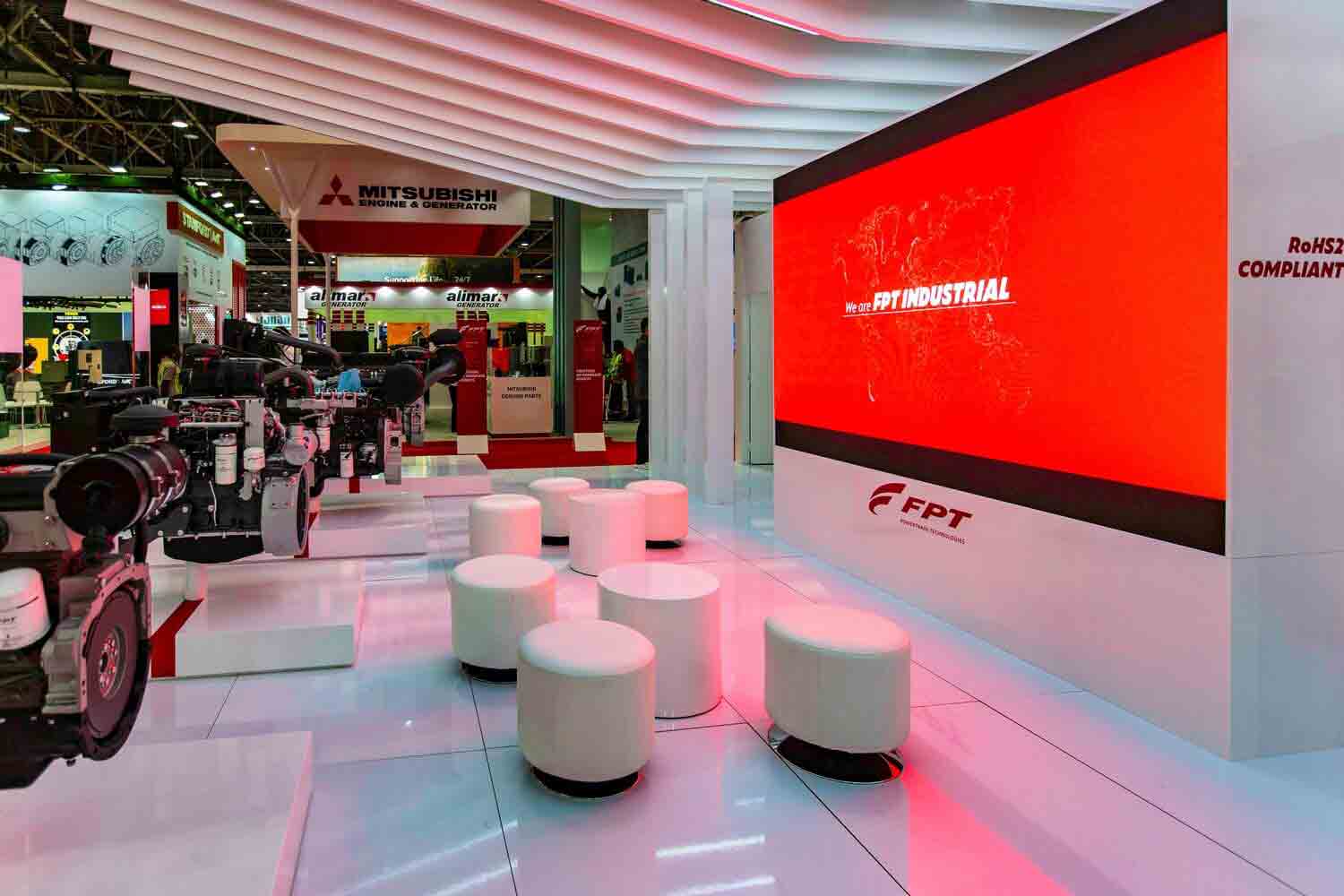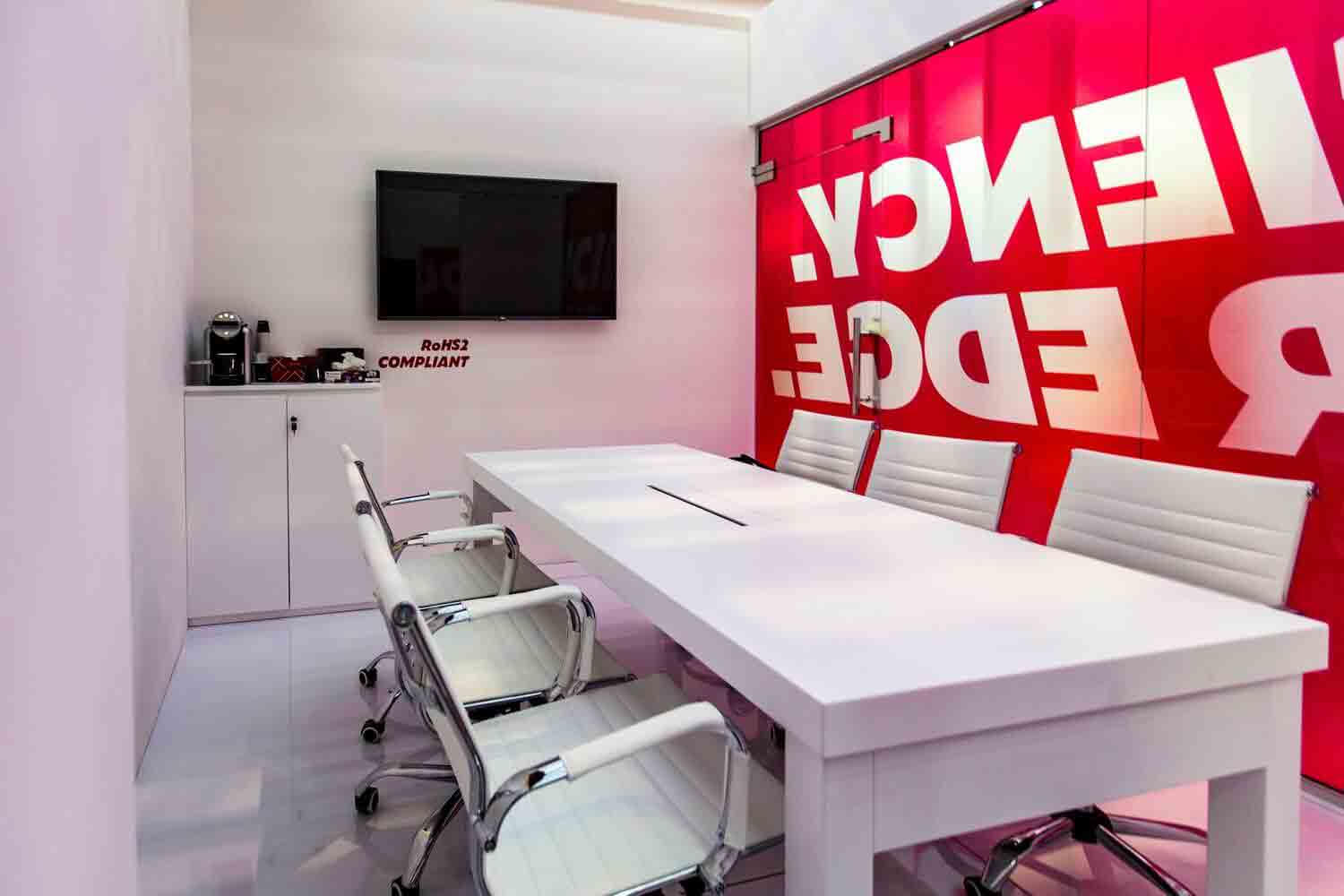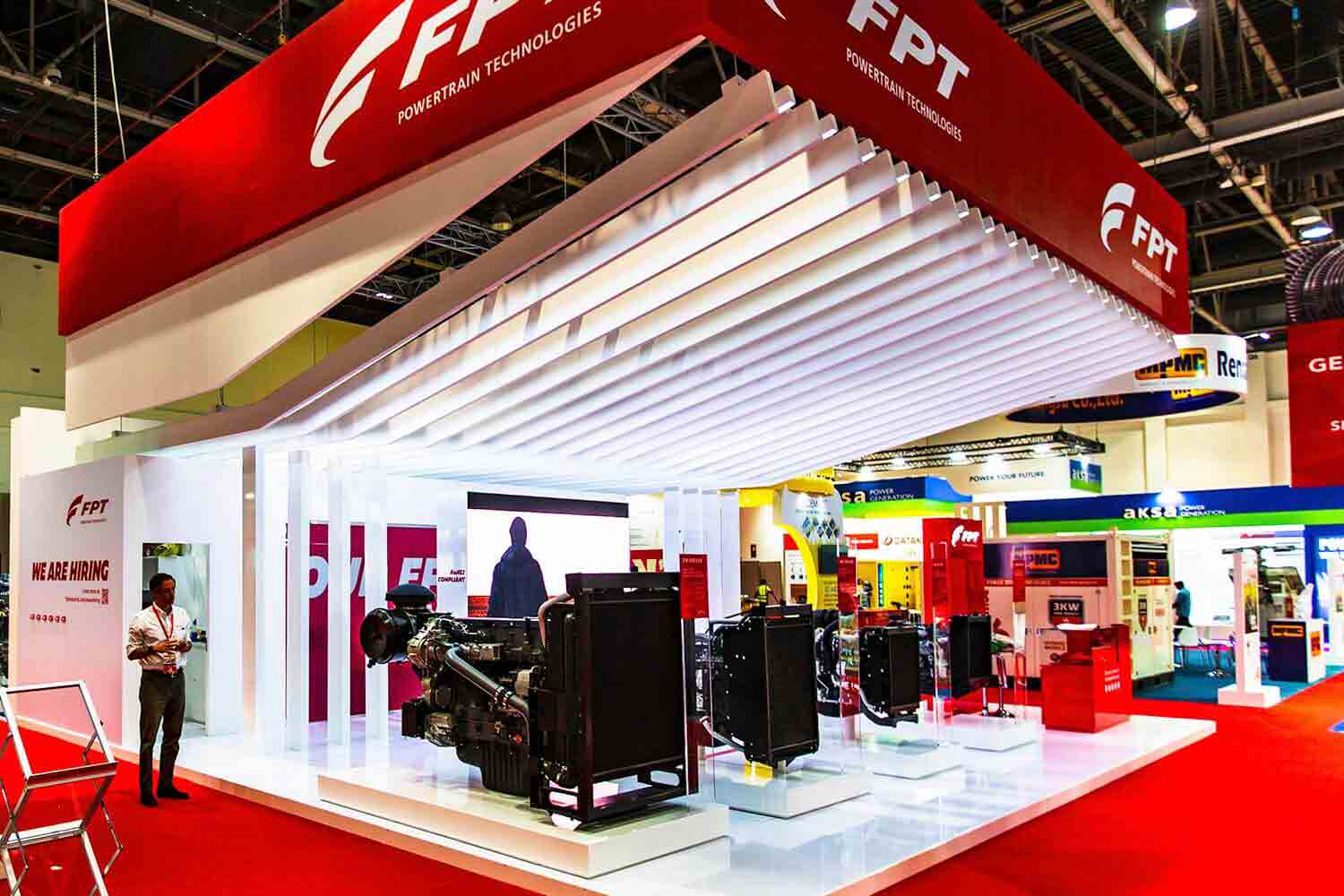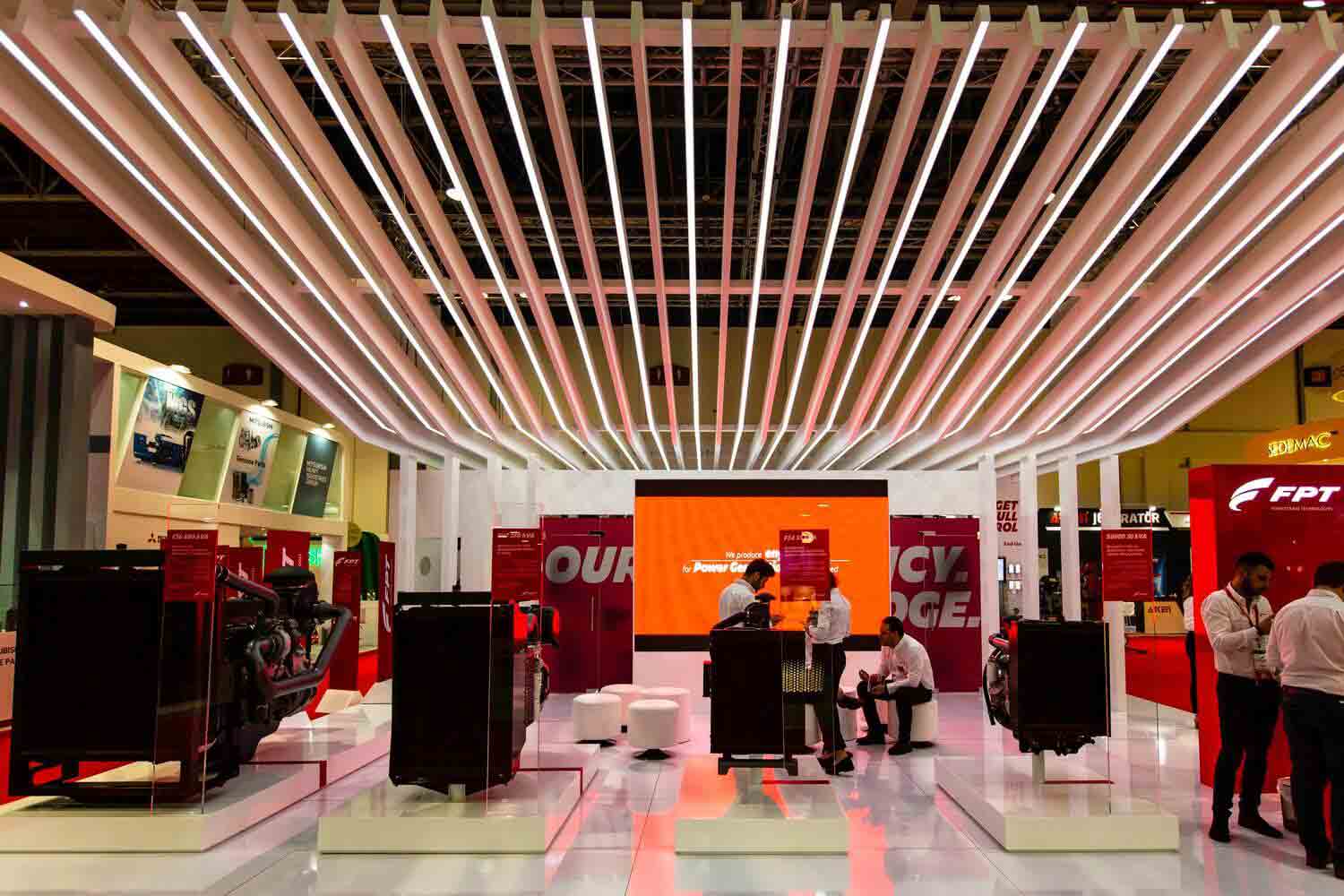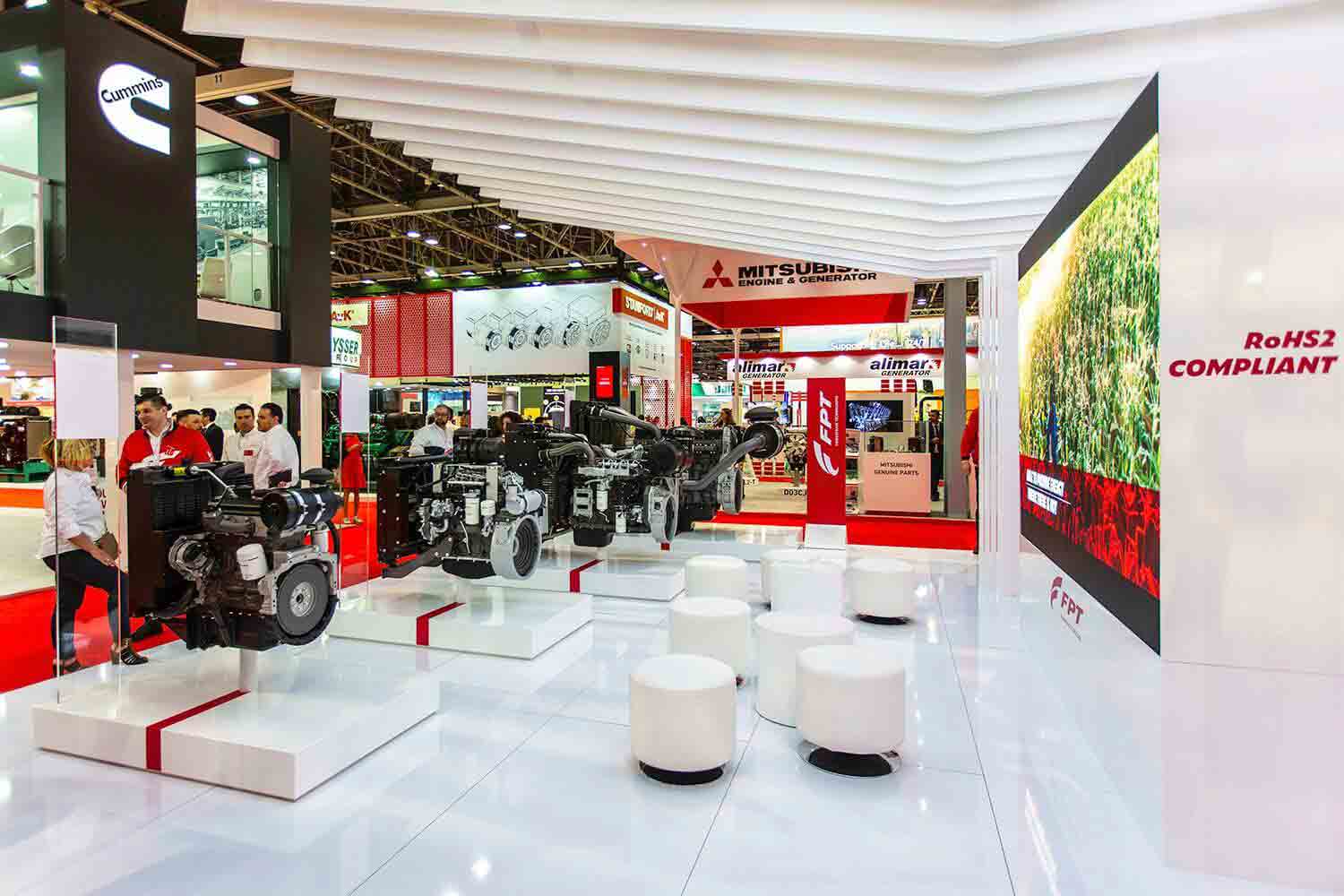 For Middle East Electricity show in 2019 Maverick GmbH was chosen as a trusted stand builder in Dubai by Italian world known company FPT Industrial. Client presented their own vision of a modern exhibition stand design which was impeccably realized by our local team in Dubai. One of the client's goals was presentation of modern products to the Middle Eastern market. Minimalistic stand design and exhibition stand lighting were applied to draw guests' attention to client's products.
Client was fully content with the job fulfilled on the booth construction. FPT Industrial signed new contracts and reviewed its agreements with existing partners.
UWC | EXHIBITION IN DUBAI | 2019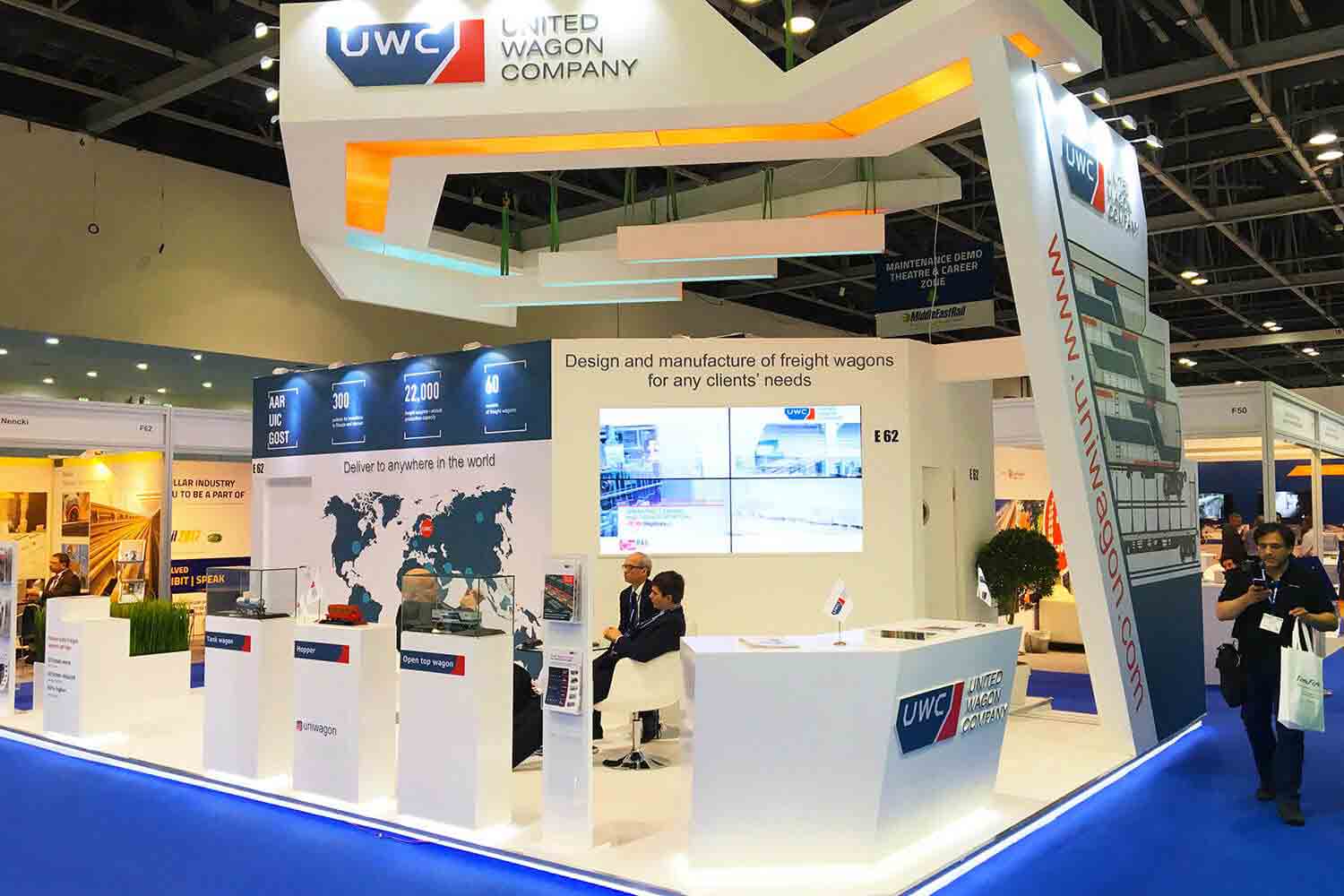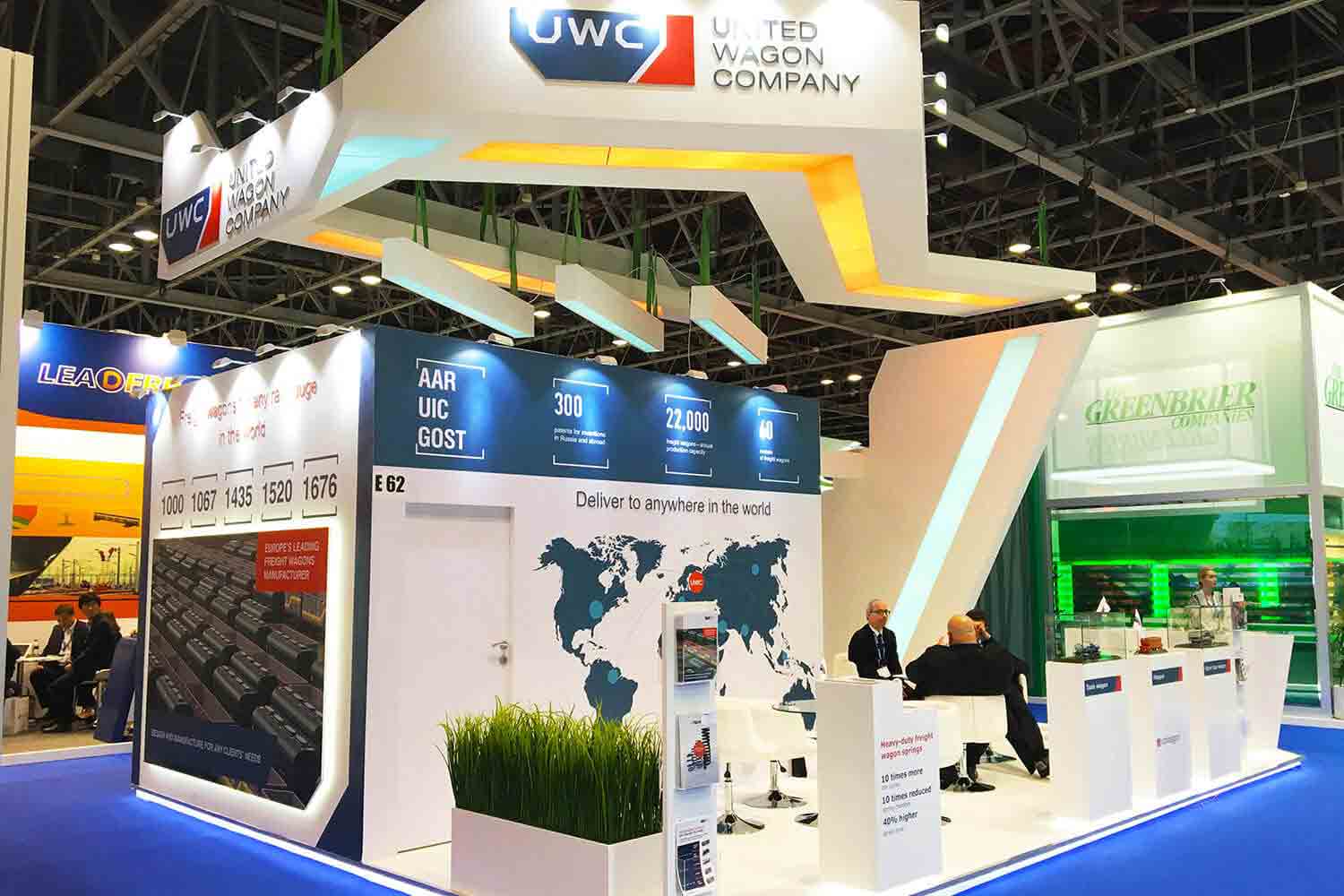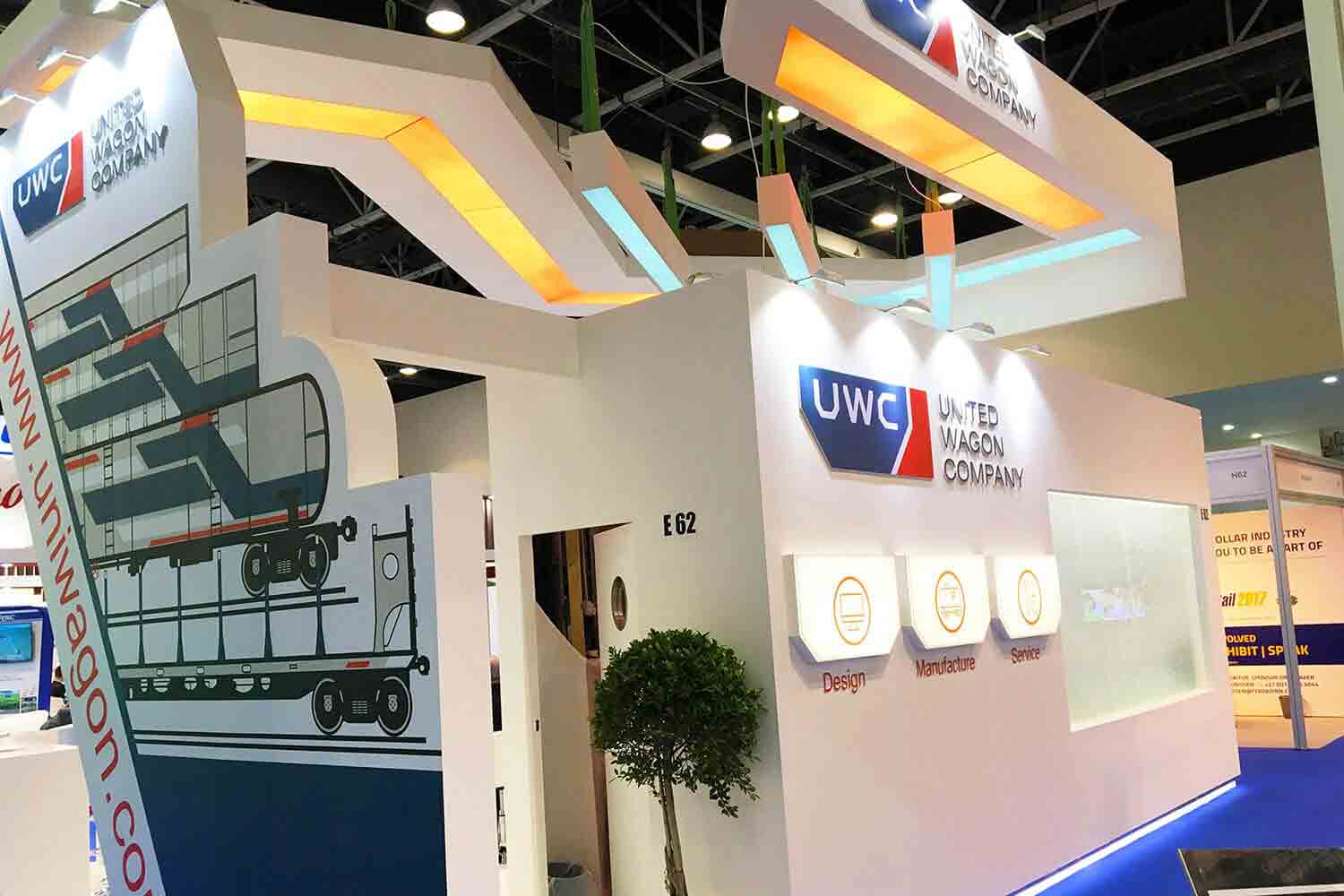 Here is another case of a successful project when Maverick GmbH was a exhibition display builder in Dubai hired by a leading Russian wagon construction enterprise: United Wagon Company.
UWC considered different stand design ideas for Middle East Rail trade show. Stand builder in Dubai was required to demonstrate client's innovative approach to modern wagon building and the scale of the company itself.
Necessary and challenging requirements for this projects were to deliver an trade show booth with LED screen (video wall) and the aquarium in the private meeting room.
This booth had a challenging exhibition sample printing task but Maverick GmbH delivered the booth on time. As a result Middle East Rail was an extremely successful show for United Wagon Company with multiple contracts signed.
NOVAVIN | EXHIBITION IN GERMANY | 2018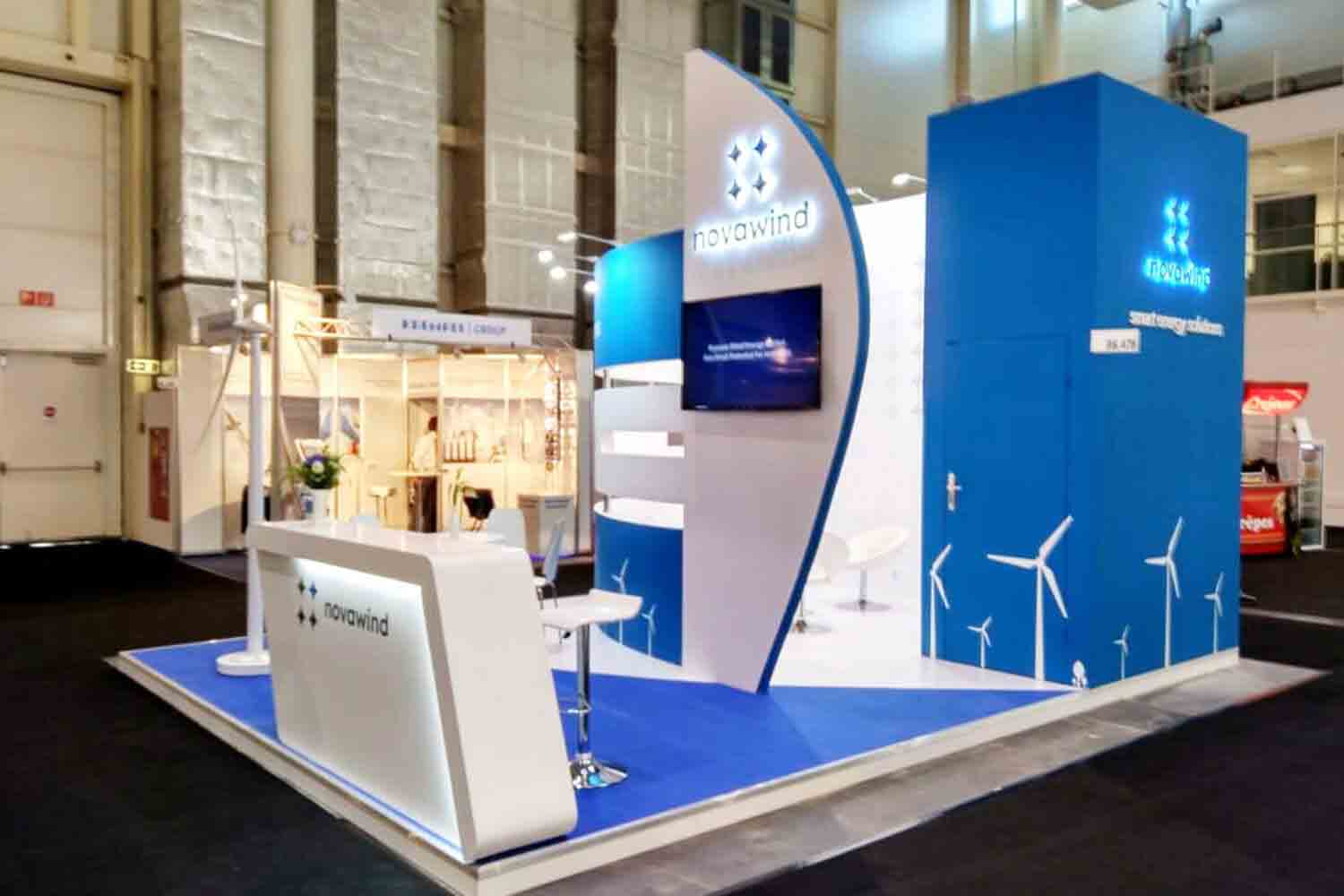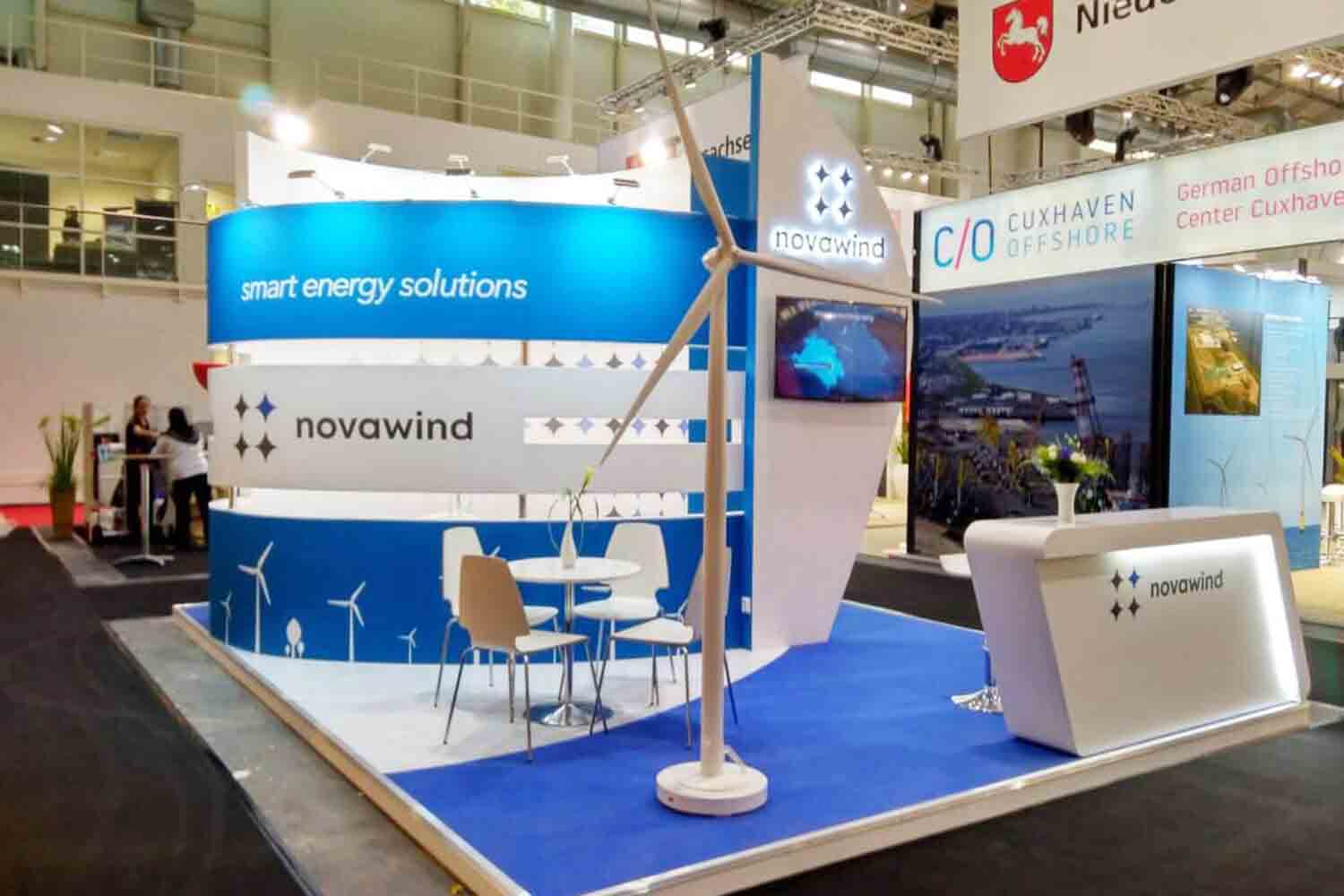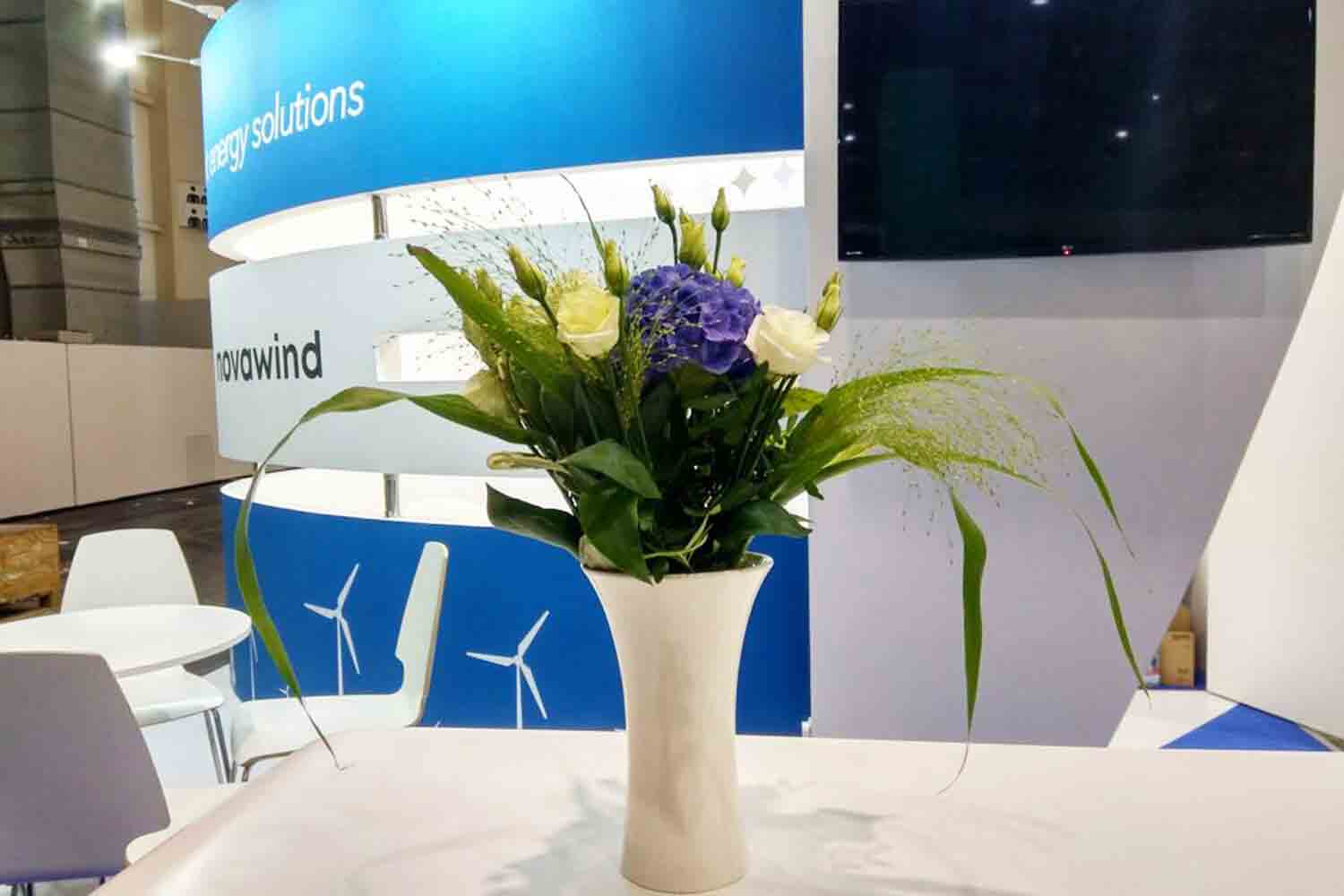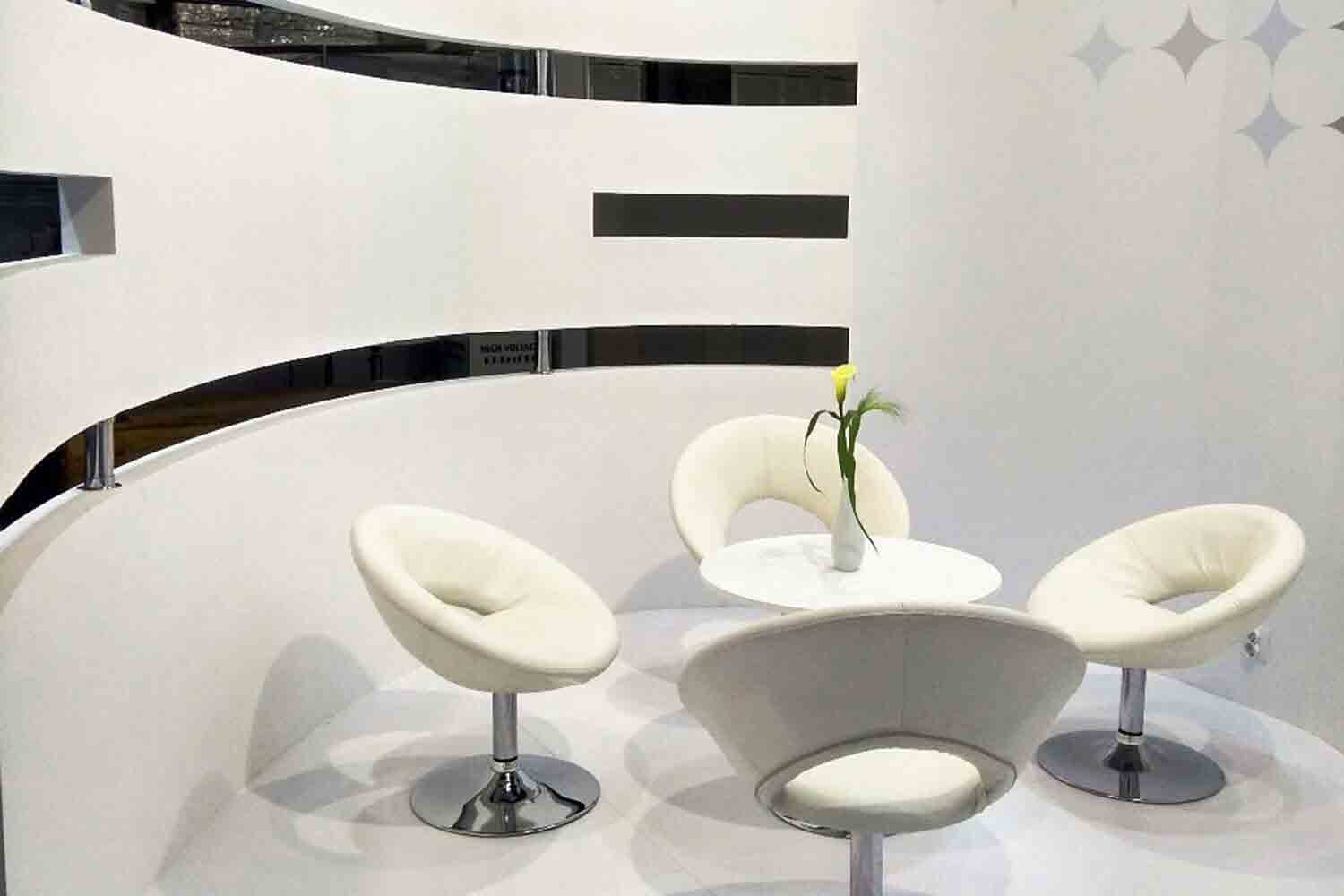 Germany is a country number one for global trade shows. Exhibitions in Germany are attended by millions of visitors from everywhere. The number of exhibiting companies counts in thousands. Thus, it is highly important to communicate each exhibitor's message clearly with the help of exhibition stand design. That was our main task for Wind Energy Hamburg exhibition.
Novawind company demanded from its German stand builder to inform their potential customers about main companies' activities: green energy producer. Exhibition stand design had to be airy, minimalistic, informative. Our client wanted to have an exhibition stand with TV screen and open negotiation area. We delivered the project which our client required by combining all the necessary elements on the modest booth space. Exhibition display images show how we managed client's requirements.
STAND BUILDER IN DÜSSELDORF
KUMZ | EXHIBITION IN DÜSSELDORF | 2018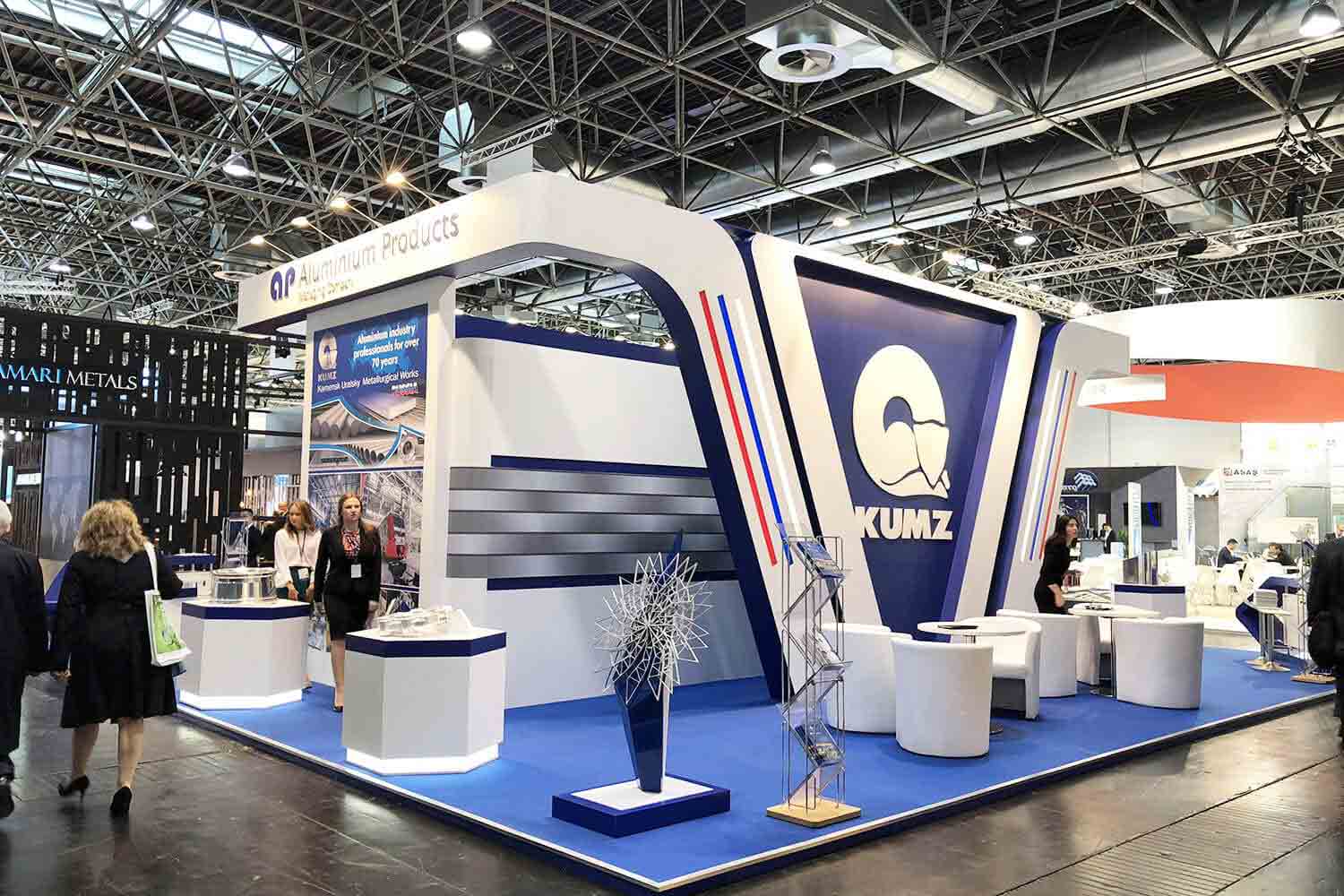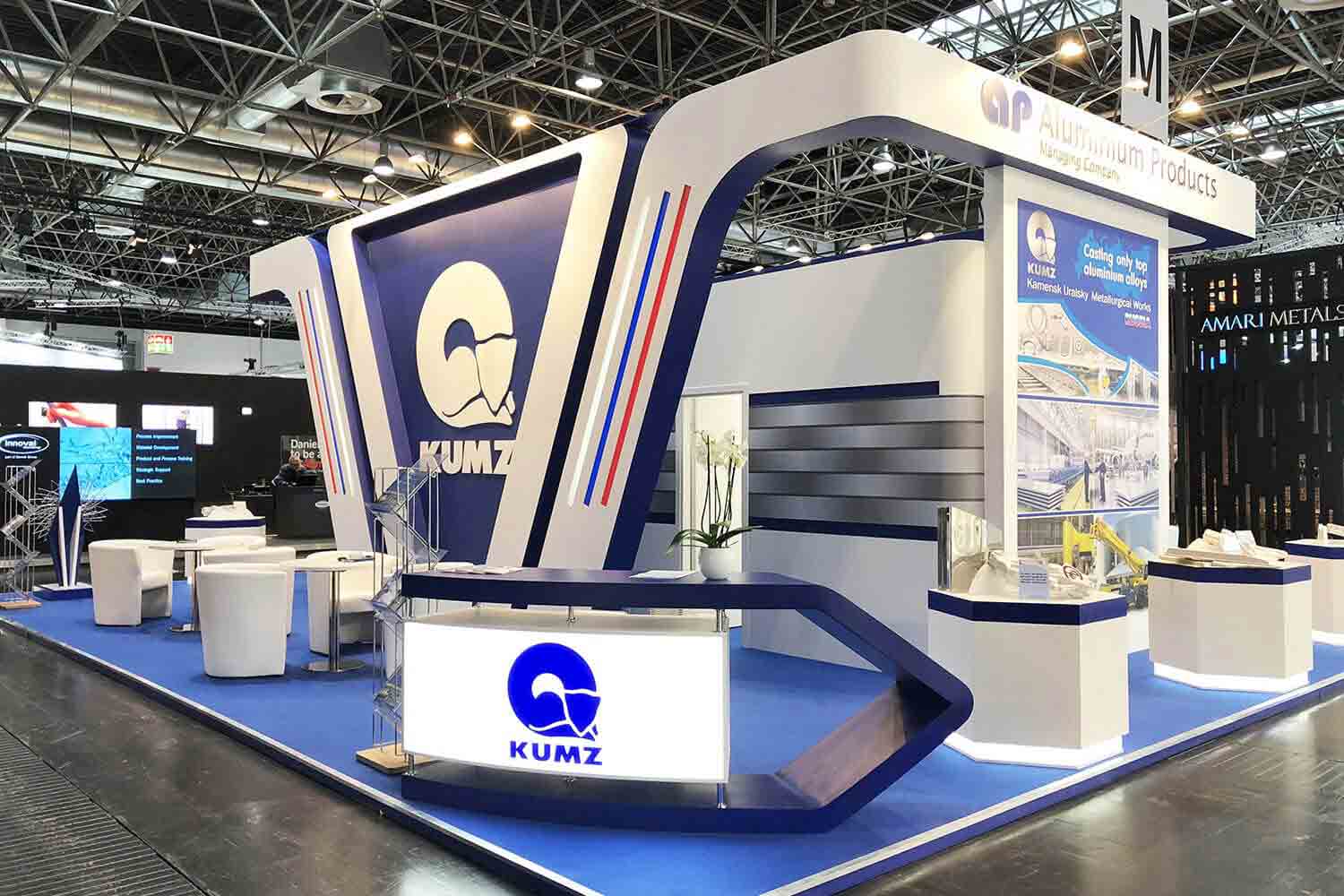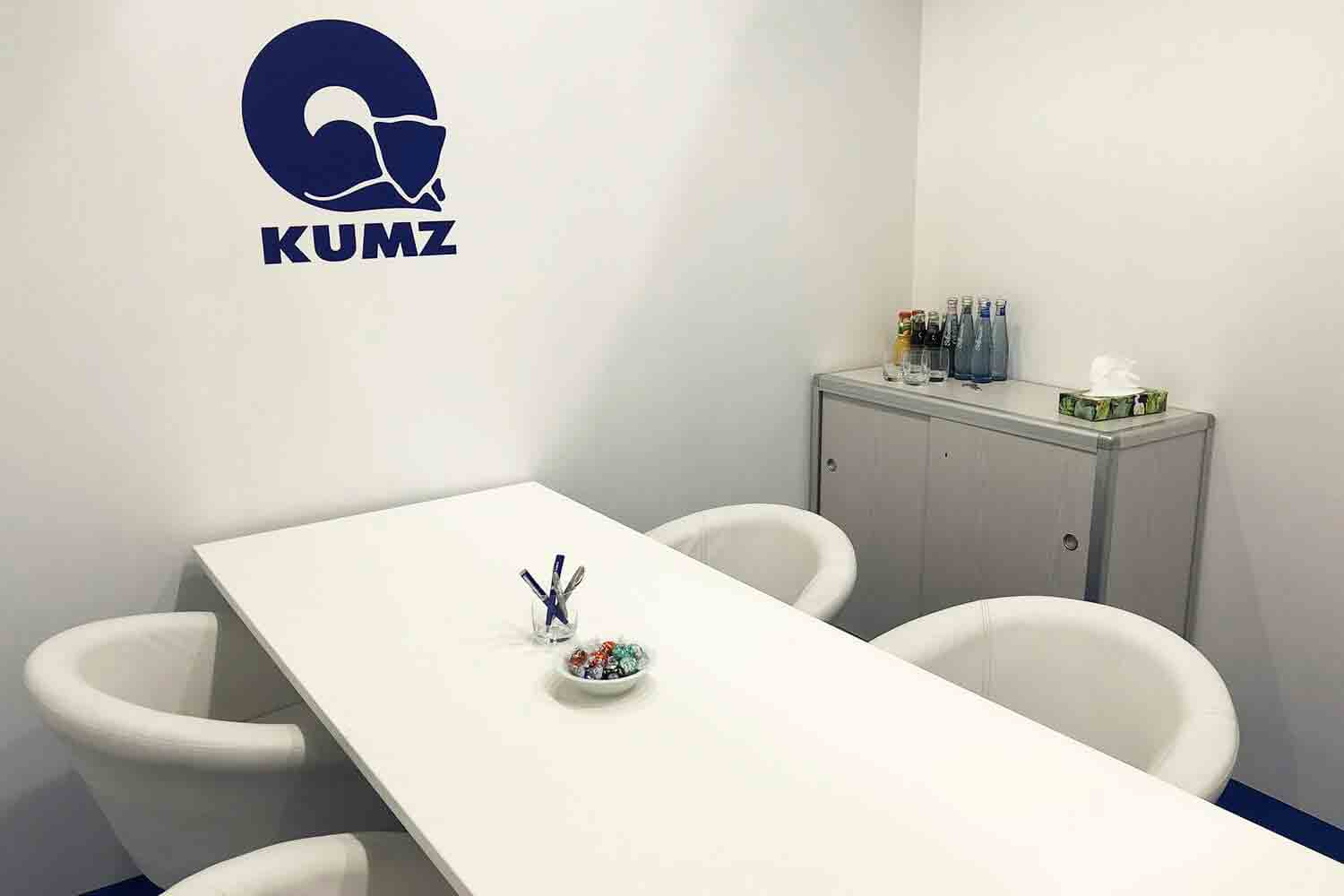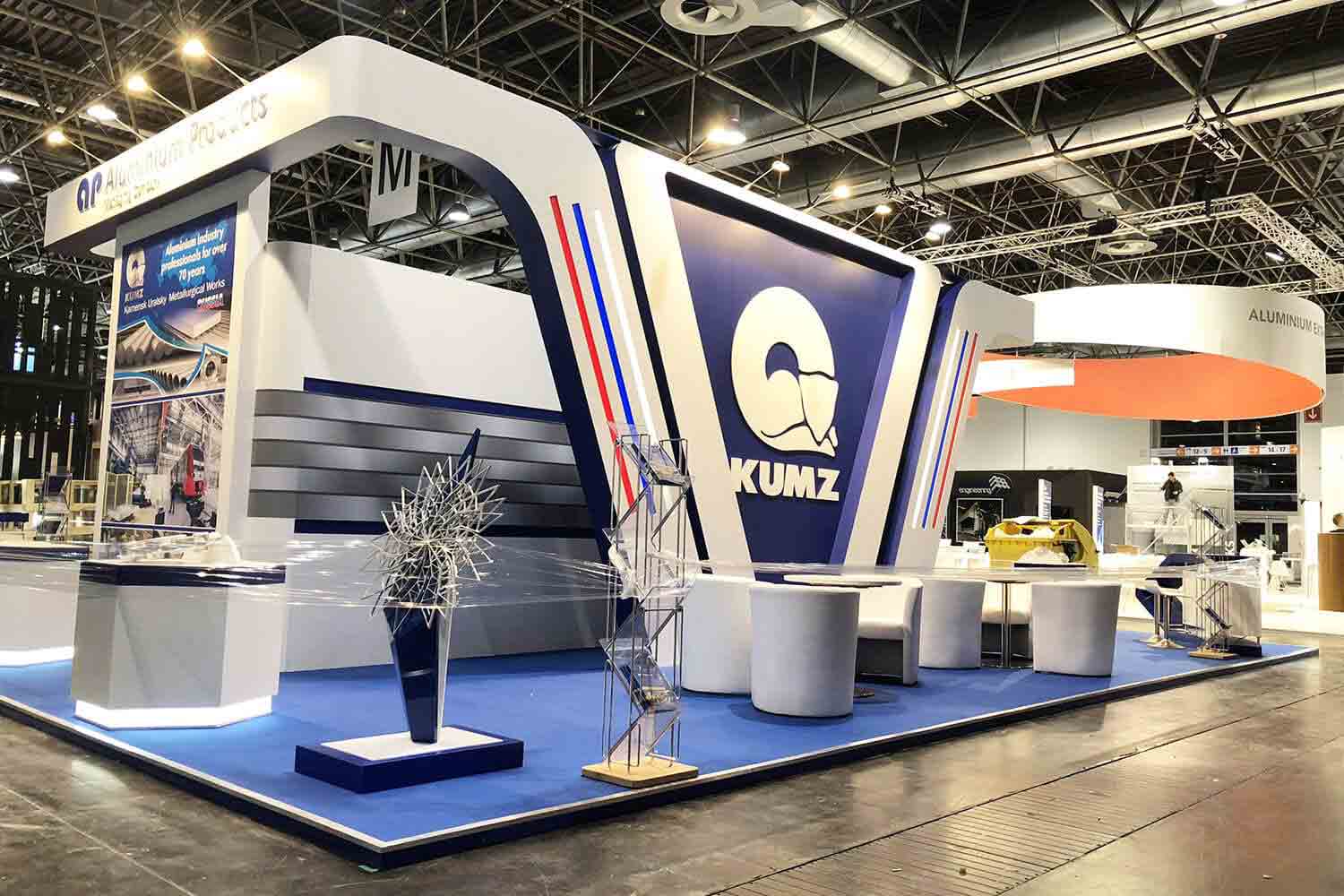 This exhibition stand was built in Germany in 2018. Düsseldorf is one of the best locations for large scale international trade shows.
Maverick GmbH was chosen as a stand builder in Düsseldorf for a large Russian company which produces aluminum and magnesium alloys high tech products.
Exhibition stand design ideas were centred on showcase visitors the scale of the company and present the innovations which KUMZ applies in the production process.
Client required that exhibition stand design included a cozy area for negotiations and contract signing. A unique piece made of aluminum was placed on the booth and showed customers that KUMZ is able to produce aluminum products of different complexity.
Client's requirements were fully fulfilled and the exhibition booth in Düsseldorf was built on time. KUMZ trade show display attracted multiple visitors and made Aluminium trade show successful for them.
If you are ready to make your order, FILL THE BRIEF
FILL IT
EXHIBITION STAND DESIGN IN USA
PRINCESS YACHTS | EXHIBITION IN USA | 2017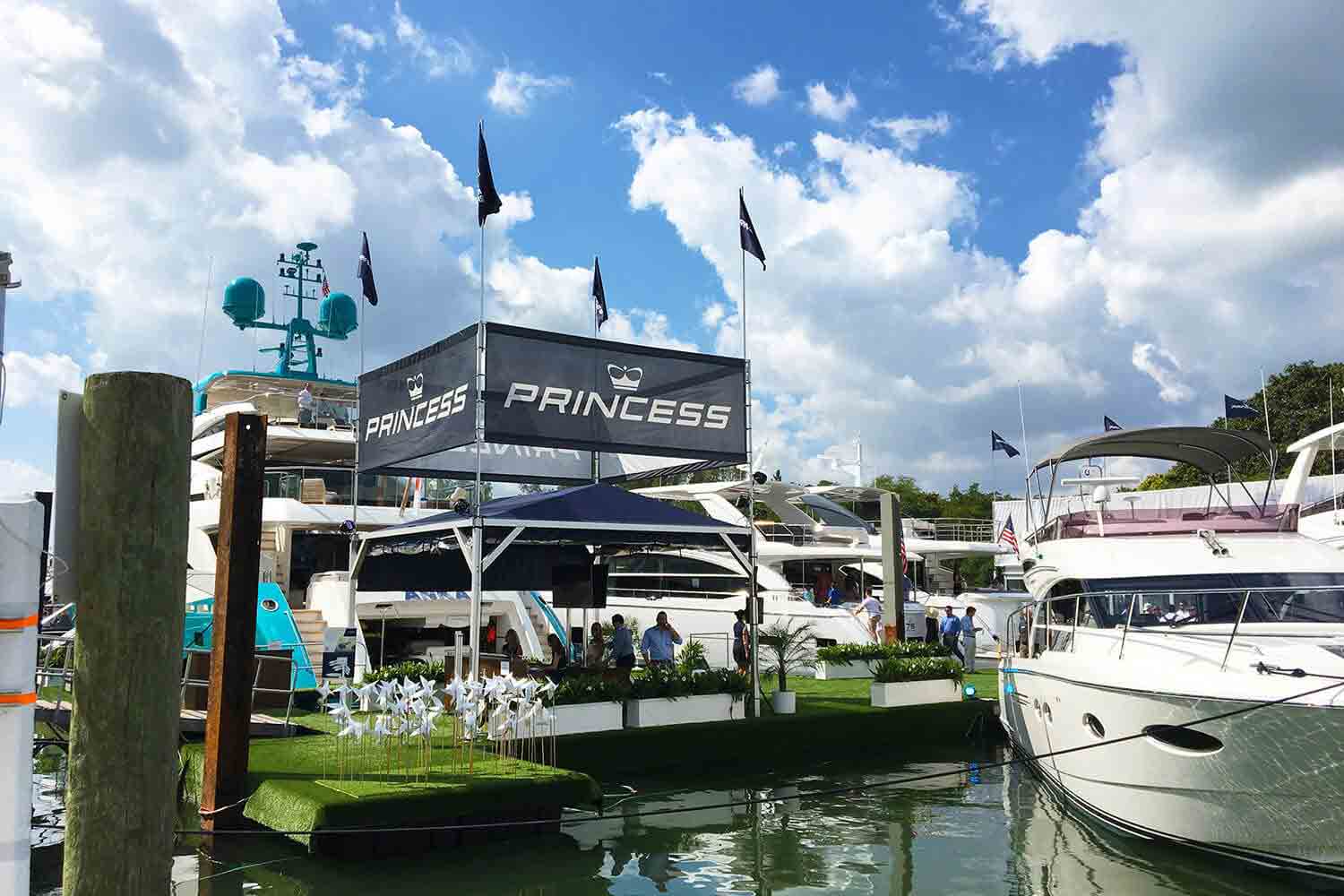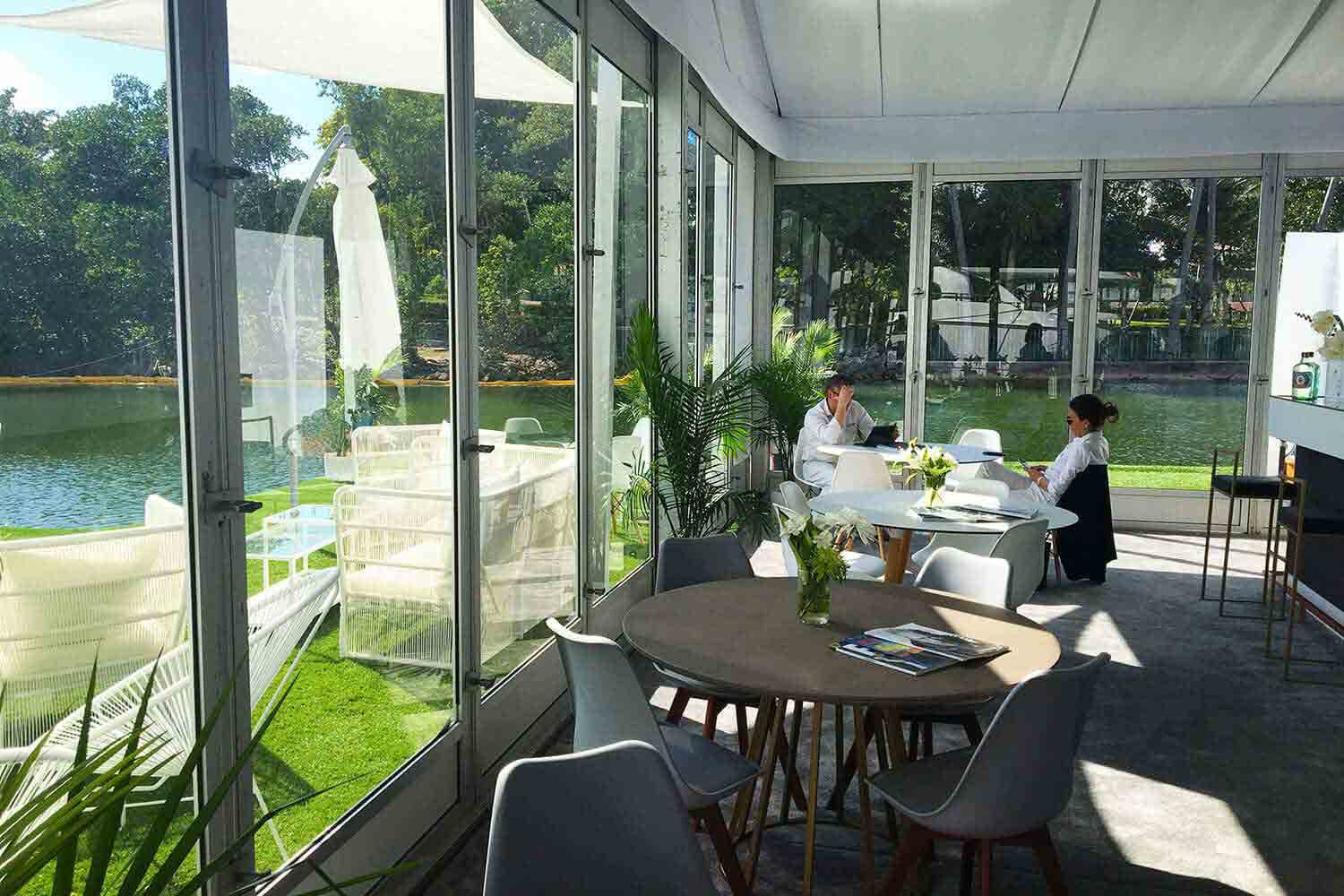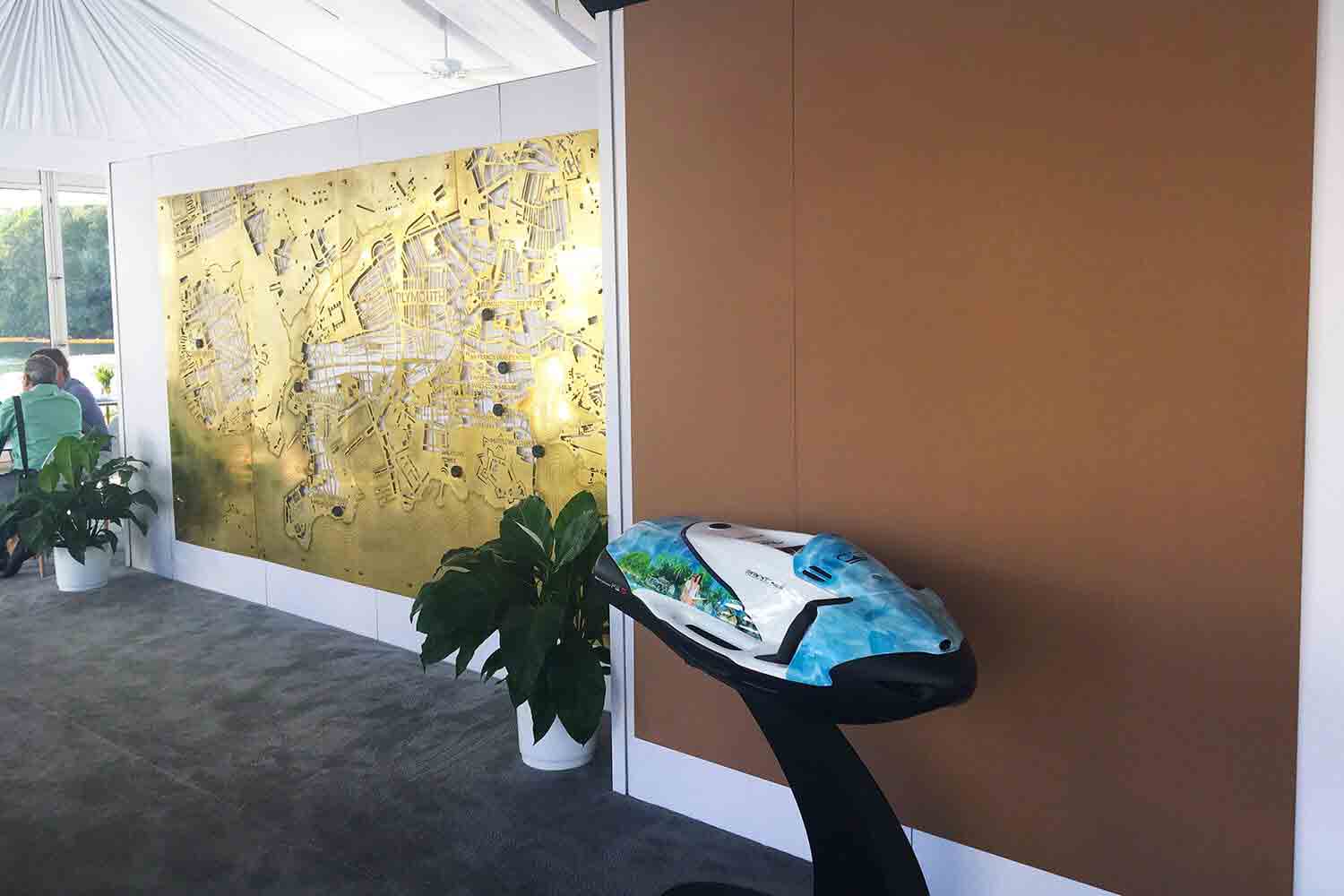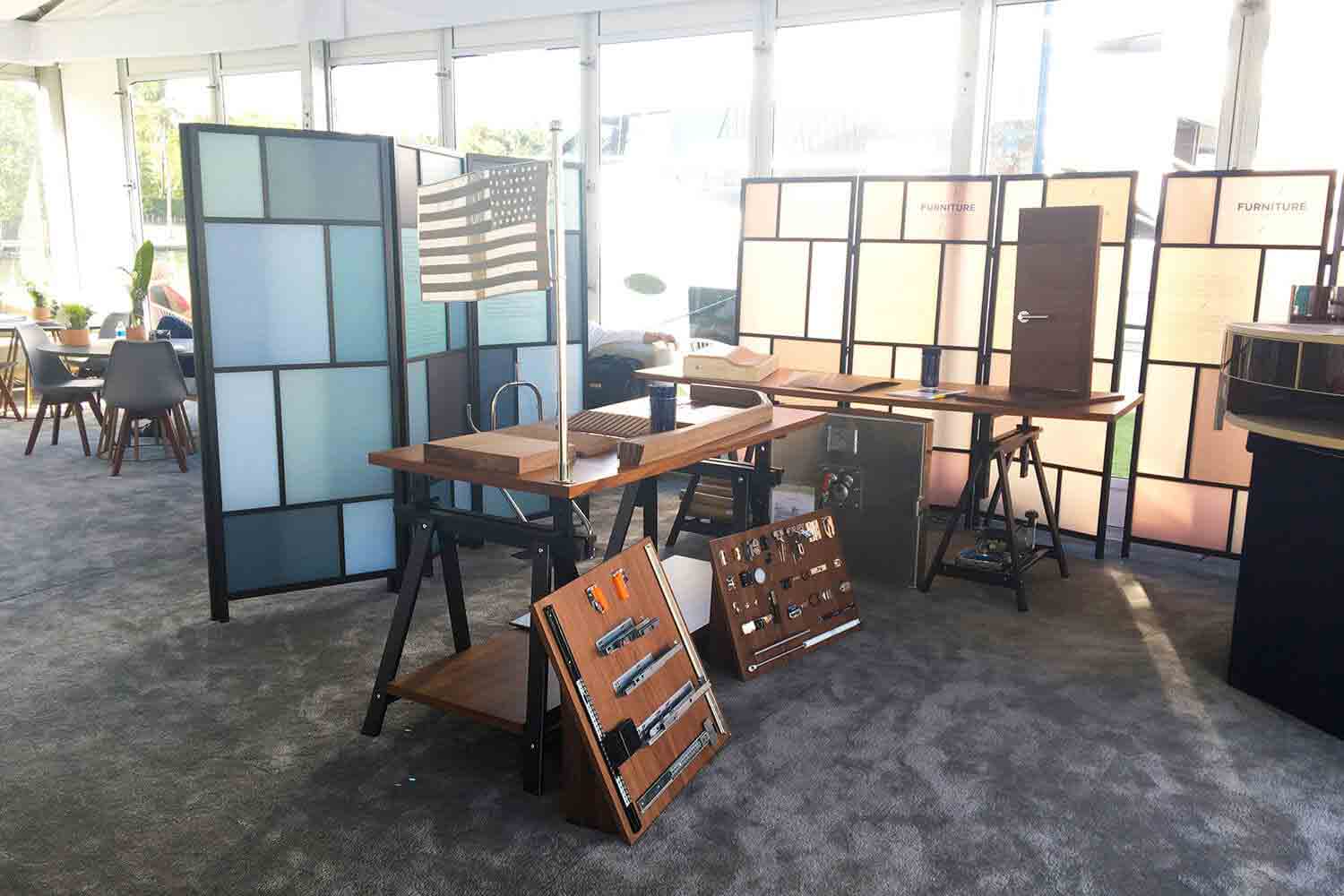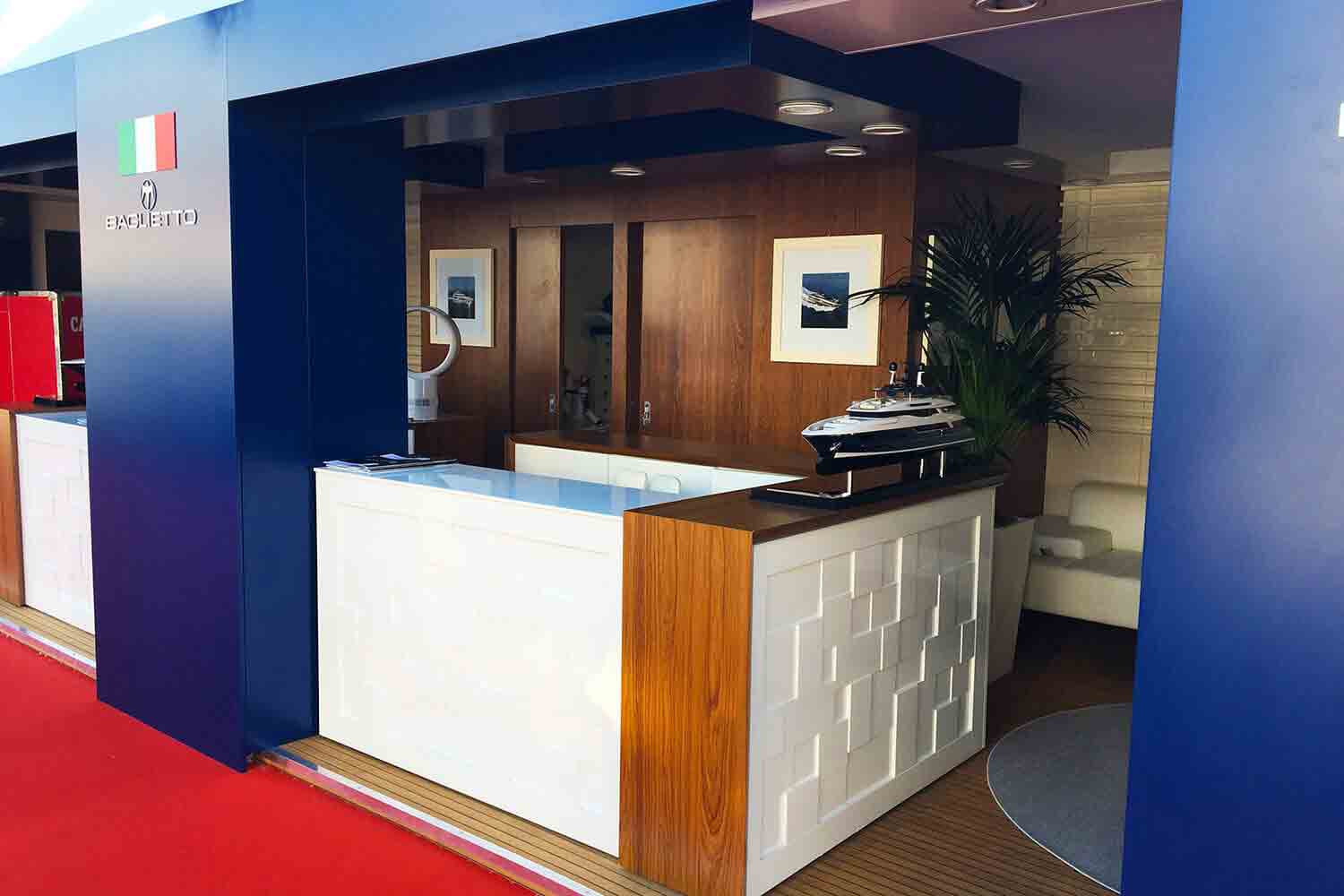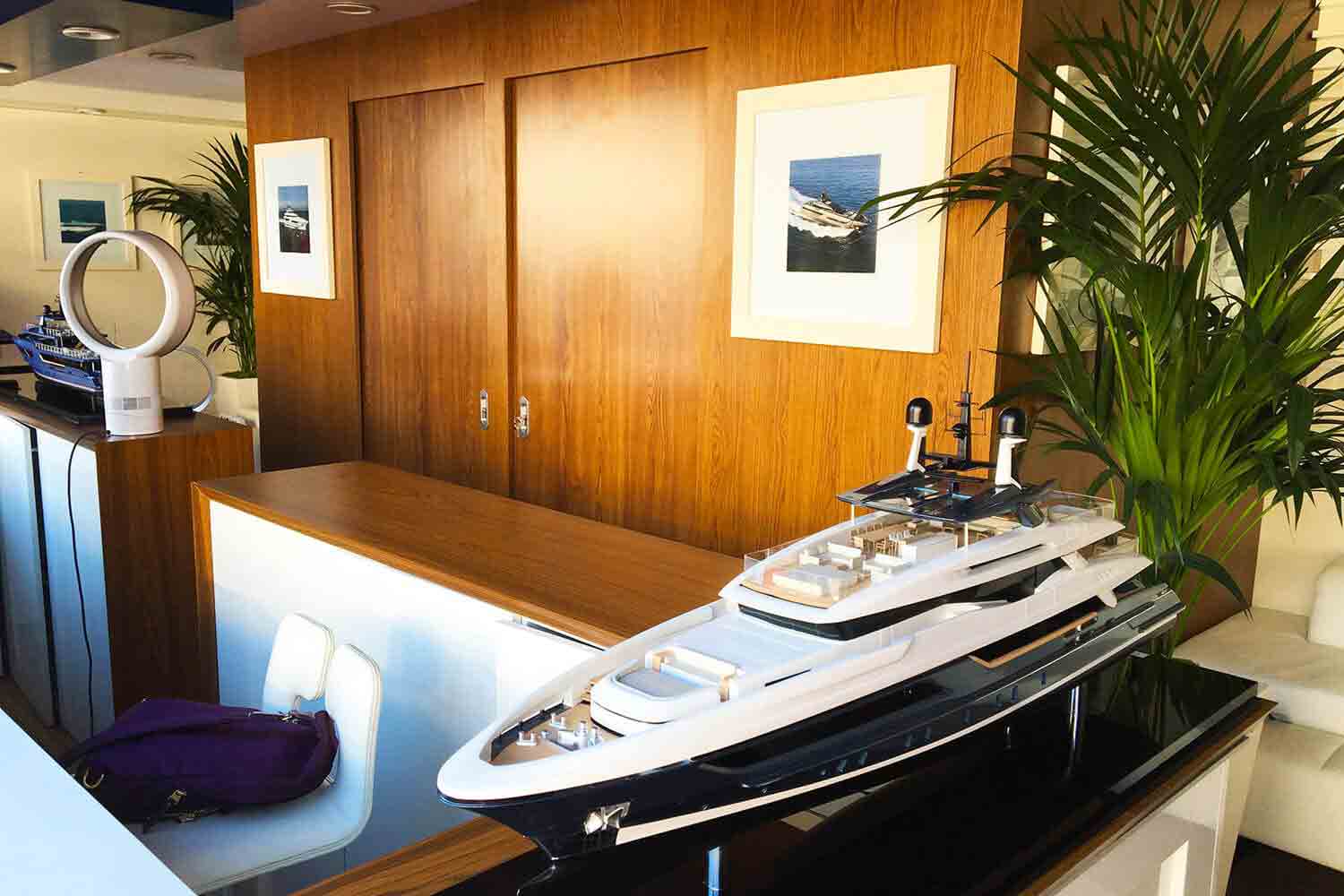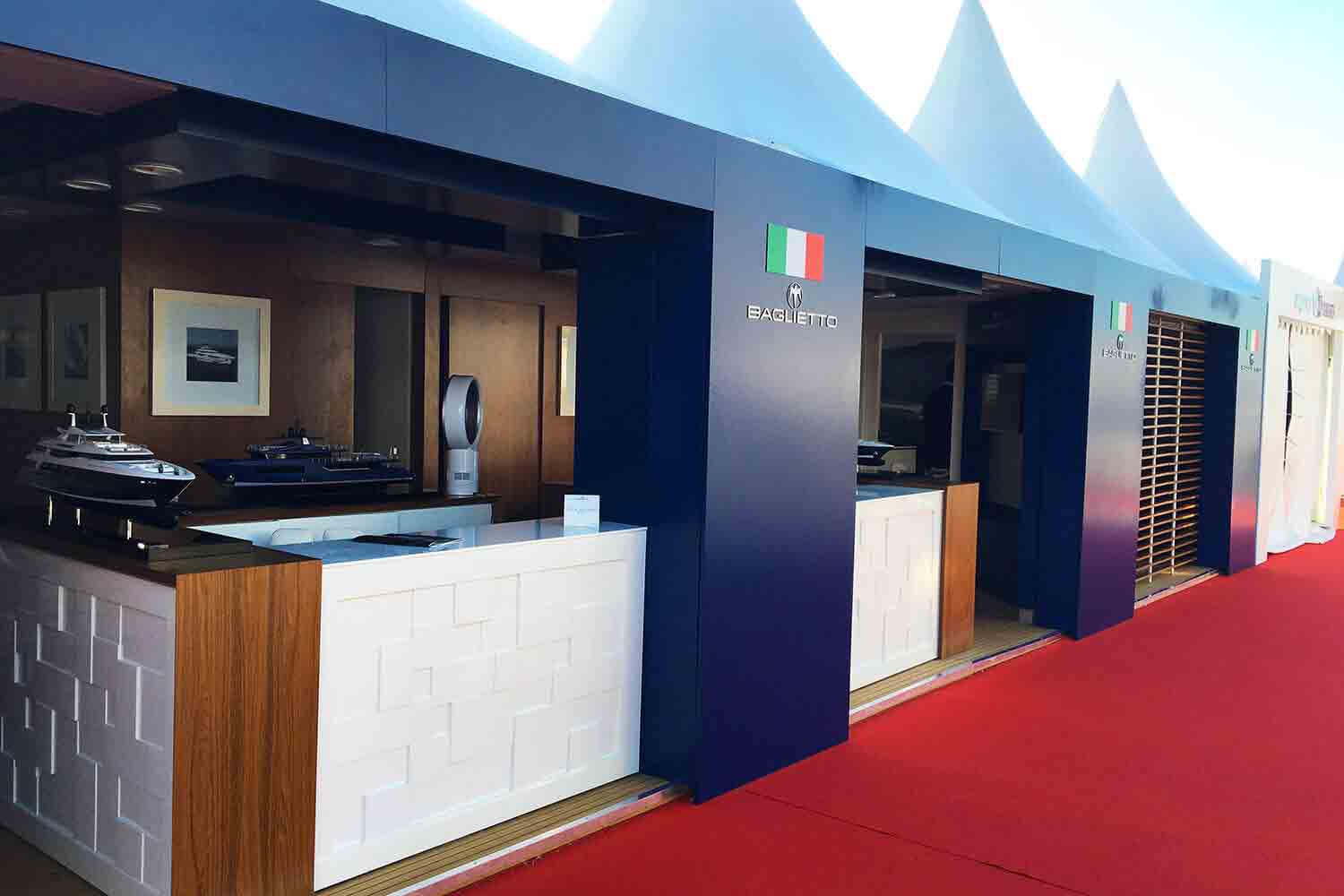 We made an exhibition stand design presentation in 2017 and our project won for Miami Boat Show for Princess Yachts.
Stand builder in Miami was required to create an open and green area for both visitors. As a trade show booth constructor we were also asked to build a negotiation area inside the tent. Princess provided several interior elements which added that special feel as when being on a luxury yacht. Exhibition display design was realized on a floating pontoon which made the task more challenging.
Miami Boat Show was successful for Princess Yachts and we are proud to have built their booth there.
FerrettiGroup | EXHIBITION IN FRANCE | 2016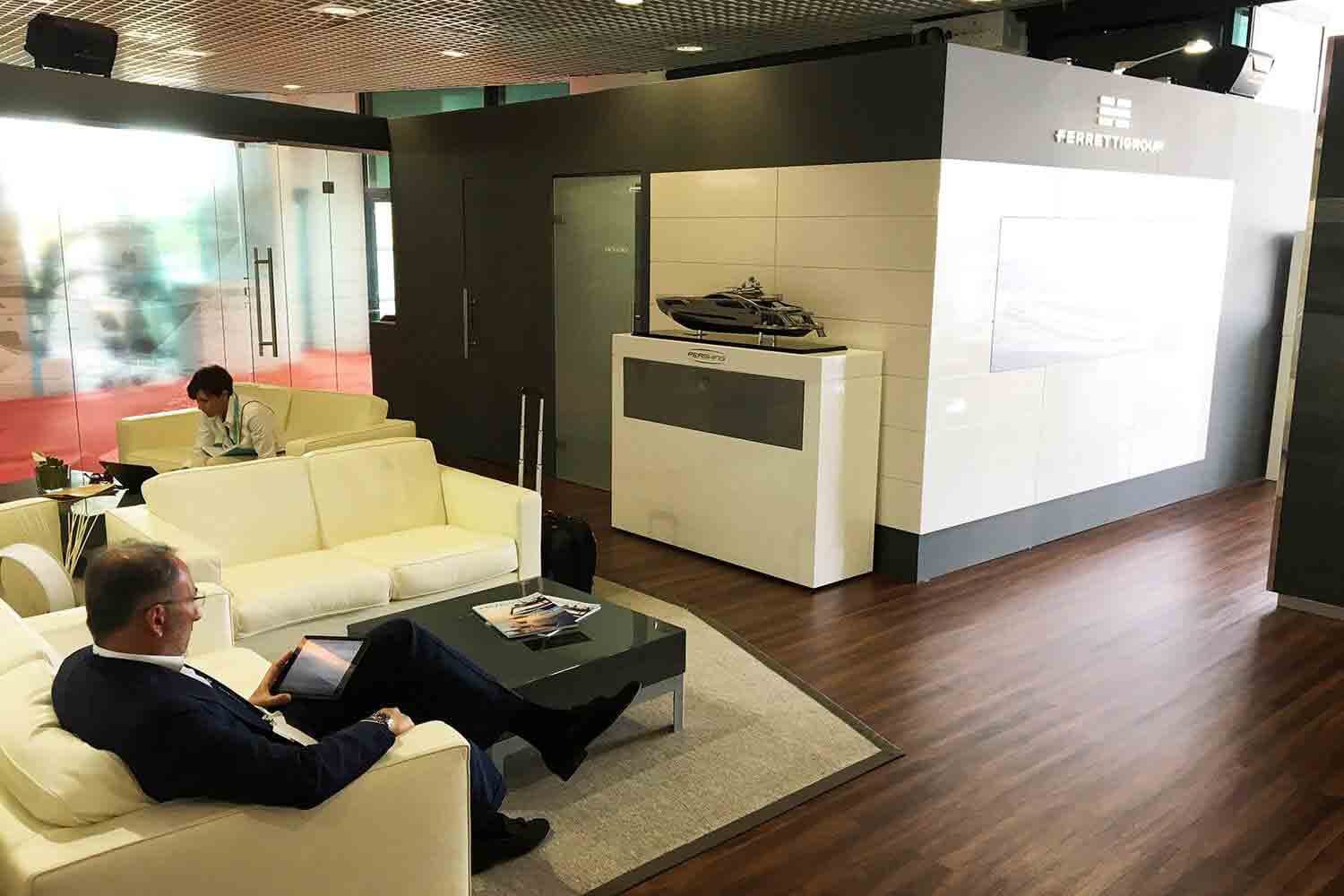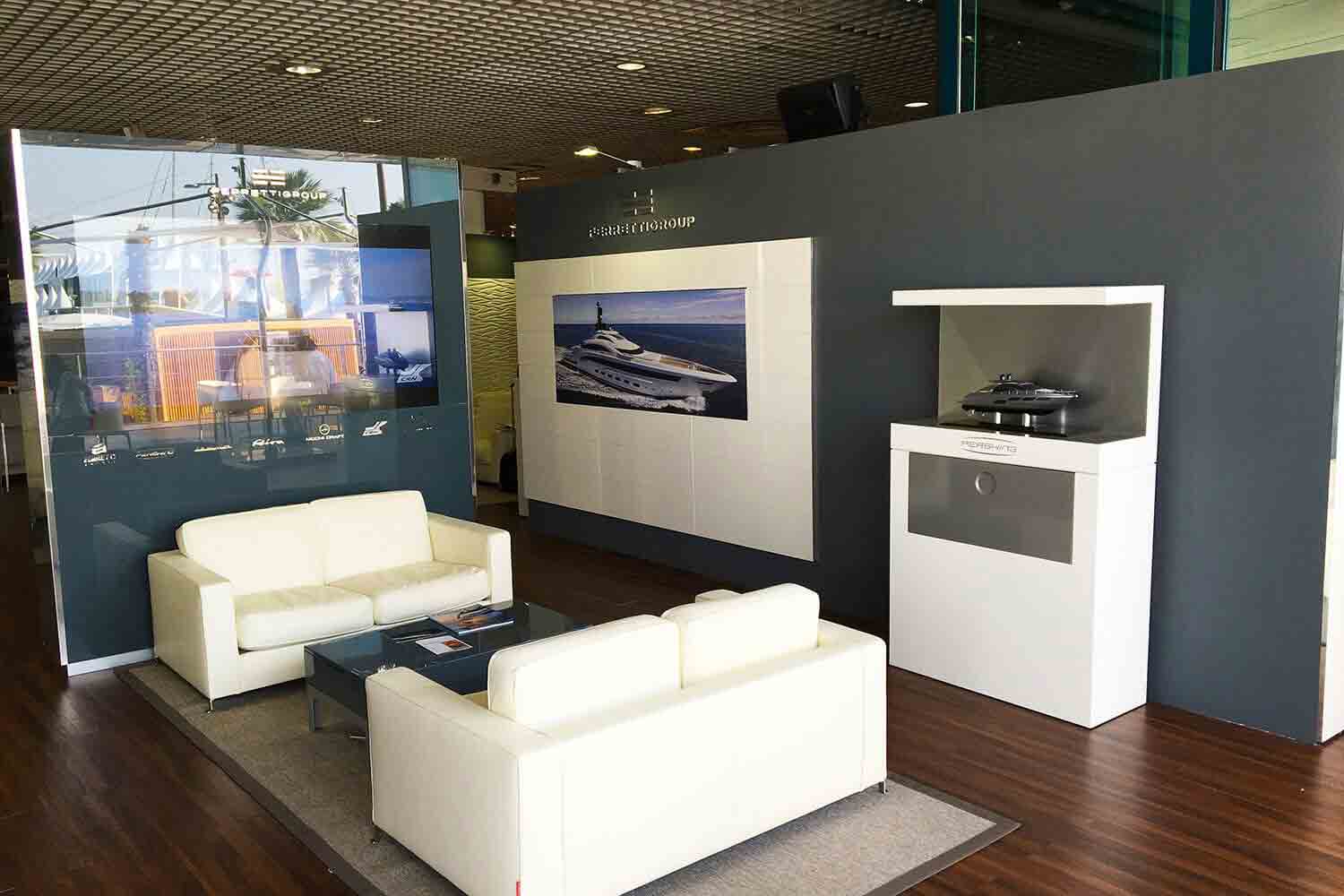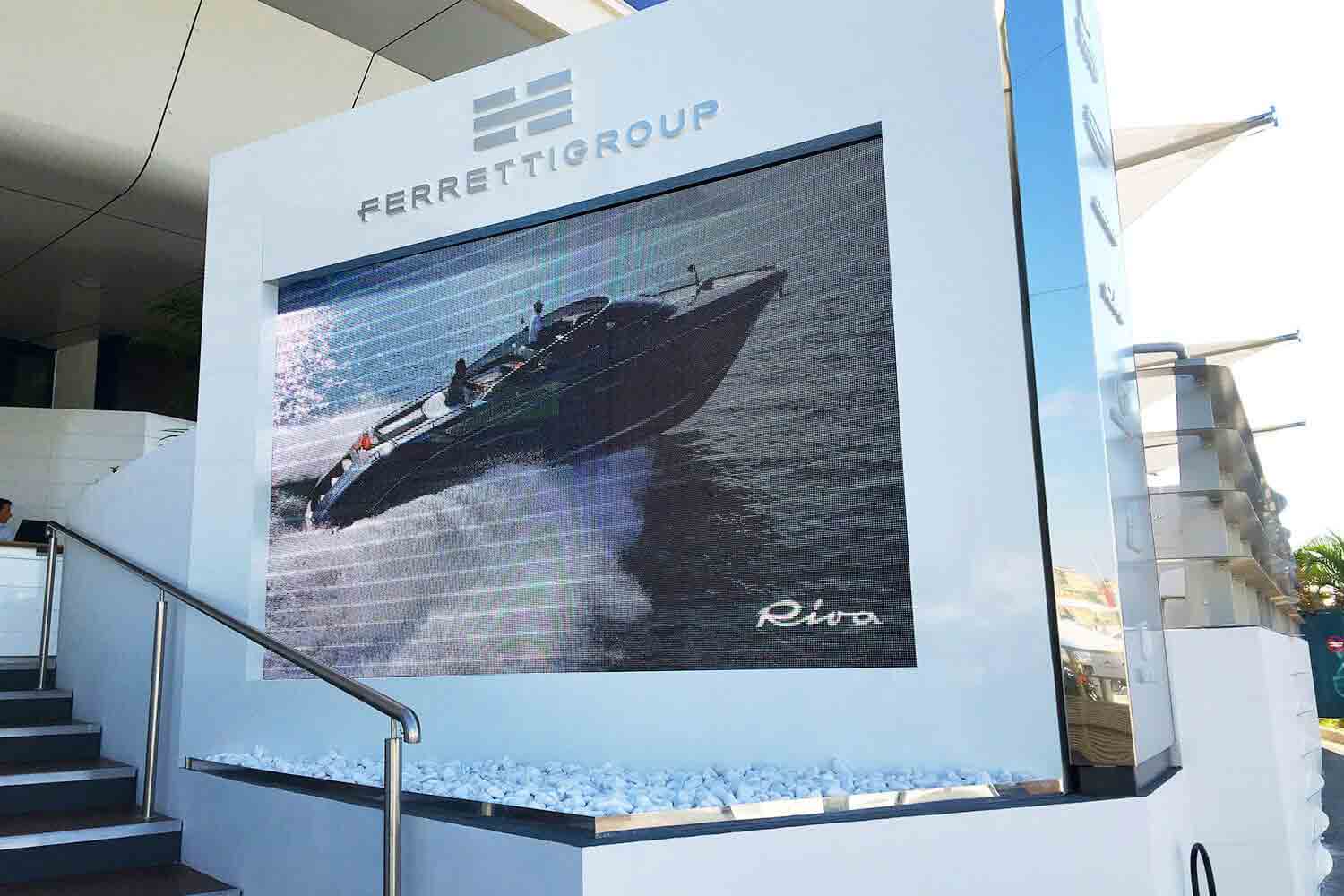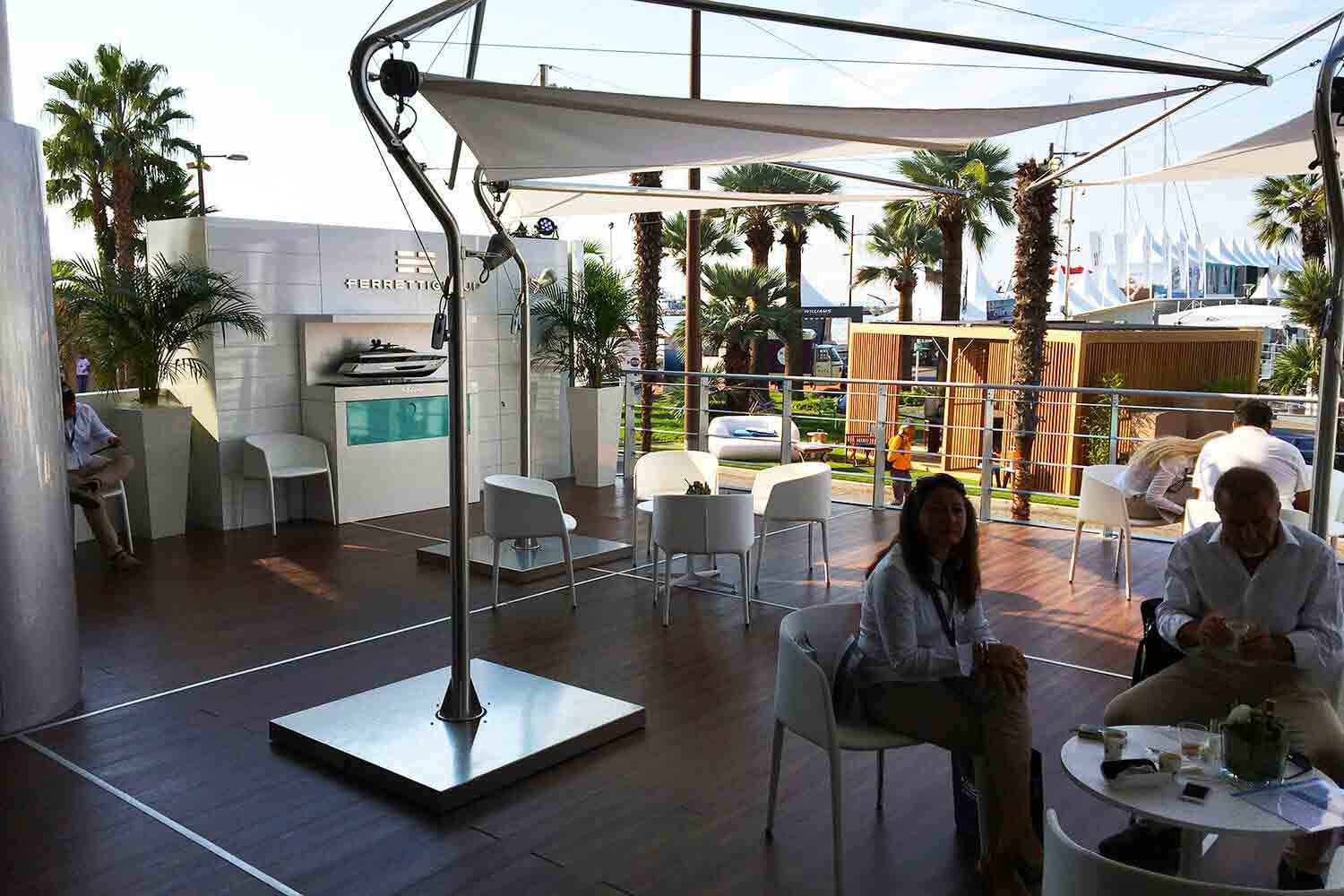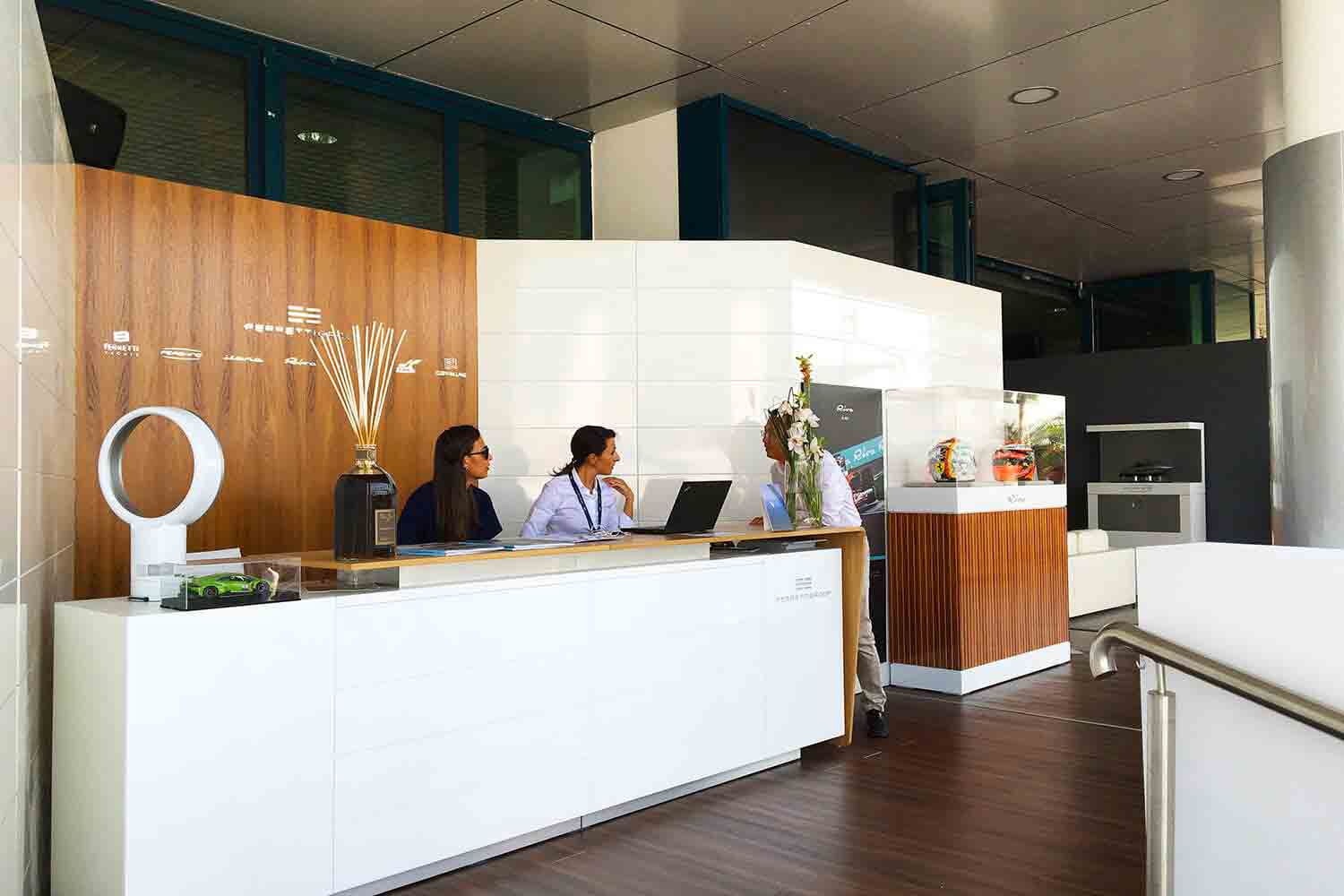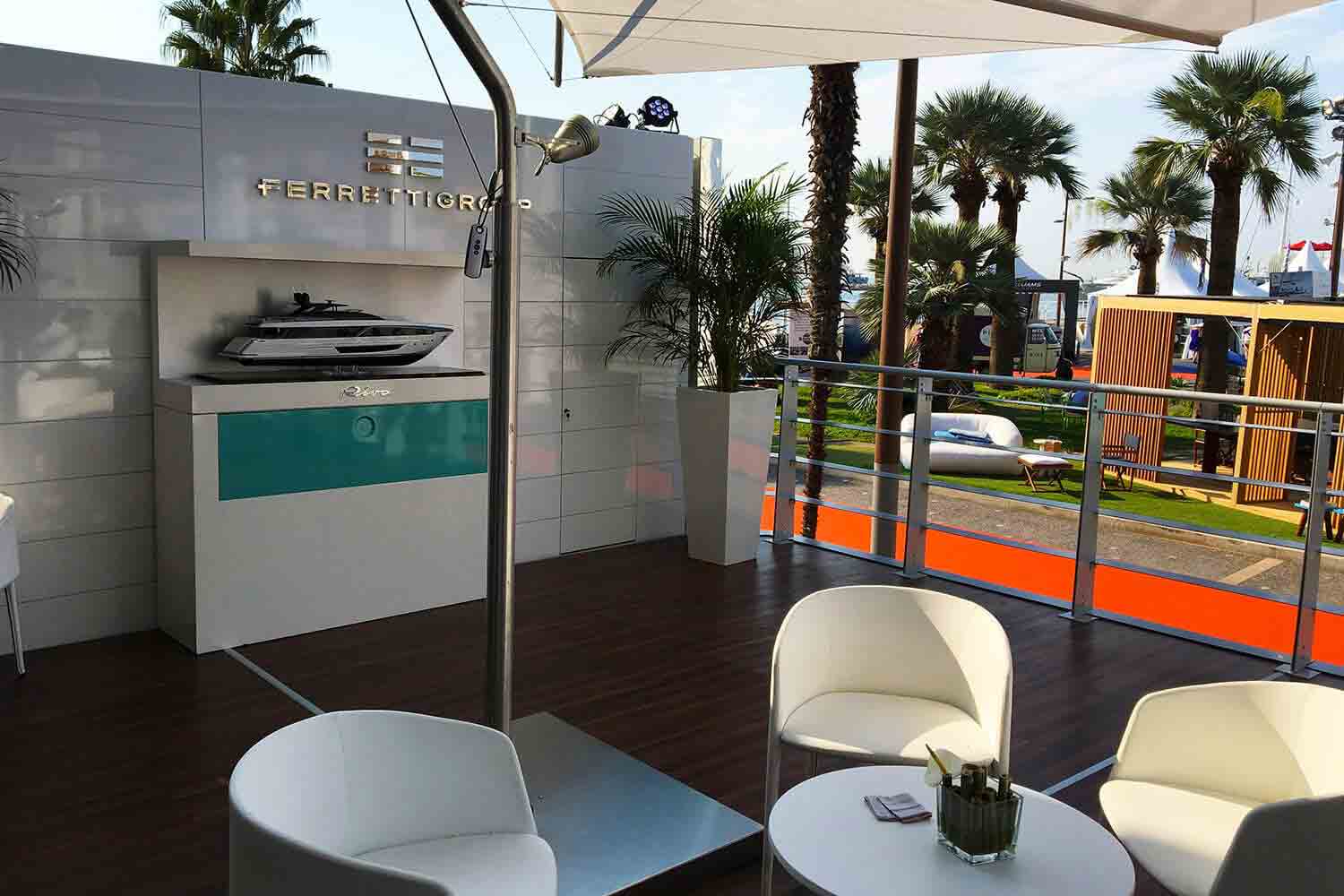 South of France is a key location for international boat shows. Maverick GmbH was chosen as a trade show display builder for two Italian companies.
Both exhibition stands had to transmit the ambiance of luxury and abundance. Each French exhibitor had its unique message which he wanted to communicate through a modern exhibition stand design.
We managed to respond to clients' needs. Trade show display visitors were fascinated by interiors, smells and overall ambiance. And yacht brokers were charmed by the amounts of new contracts coming their way.
EXHIBITION ACTIVITY AT ITS MAXIMUM
UNIQUE EXHIBITION
STAND DESIGN

Your exhibition booth design will reflect the idea which you want to wire to your clients and visitors. We do not work with standard solutions.

Responsible
management

An exhibition project from A to Z guarantees our responsibility at every project stage. We are responsible for the decisions that we offer and realize.

A flexible approach
to your budget

We fully understand the eternal budget struggle. This is why we consult you before you sign any contract. We advise how to spend your money with maximum results. We do not surprise you with hidden costs or overspending.

Exhibition projects delivered
on time

Our Project Managers always deliver your trade show booth on time. Not only is your project going on schedule, you also have time for a cup of tasty coffee.

Urgent exhibition
stand construction

If your project "burns" we will help to save the situation. After evaluating the situation and budget we can take your project and build the exhibition stand in four days.
MAVERICK STAND BUILDER IN RUSSIA
RUSAL | EXHIBITION IN RUSSIA | 2021
On 15-18 June Moscow hosted the 25th exhibition on packaging RosUpak – the largest event in the packaging industry in Russia and Eastern Europe.
Rusal took active part in the trade show.
Our company won the bid for exhibition stand design and construction as well as for the marketing services organization for Rusal for RosUpak.
The main goal was to present new and ecologically friendly aluminum packaging, demonstrate Rusal's priority in green packaging and production. A global giant has become a social responsible company long ago and the trade show booth at RosUpak demonstrated that as well. Another business goal was to reinforce Rusal's image amidst other packaging market players.
All the states goals were achieved.
As a result of our mutual cooperation Rusal received an award for the largest exhibition stand at RosUpak 2021. The trade fair display space was 150 m2.
Exhibition hosted 653 companies from 36 countries. And 23 051 people from 70 countries visited the trade show in Moscow.
ЕXHIBITION STAND DESIGN BRIEF
We've implemented hundreds of absolutely different projects, we do not use exhibition stand design template in our work. Our portfolio includes huge, middle, and little booths presented in 15 different countries.
We can both creatively present an interesting project or moderately render the essence of a serious design. Whatever the reason, we can arrange the booth that will catch attention at an exhibition and conform to the business needs of a client.
The trade show display construction is a diligent, creative and painstaking work, which includes the development of an exhibition stand design, its realization by applying chosen materials as well as exhibition management. That's why building of a booth starts with the selection of a team that will manage the project from beginning to end.
Before we create an exhibition booth design of your dream please fill in the exhibition stand design brief.